Top 10 Apps of 2011 (By Downloads)
One interesting tidbit in the Distimo app store report TechCrunch wrote about today is the list at the bottom of the top apps of 2011. The list is based on number of downloads across all major app stores and platforms, and reveals something about what most people use their mobile devices for right now.
Of the top 10 apps half are games. And three of those games are Angry Birds variants — the original at #1, Seasons at #7, and Rio at #4 — which is no big surprise. Fruit Ninja comes in at #8 and Talking Tom Cat is #9.
Distimo's data shows that games are by far the most populous type of app in most markets, so it's no surprise that they account for the majority of downloads.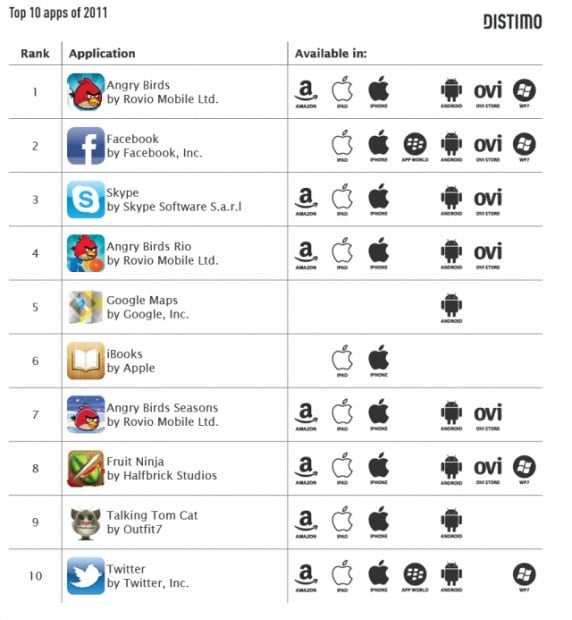 Facebook and Twitter also make the list, as does Skype. No big surprise that communication and social networking apps are so prevalent. I feel like Twitter would have been up higher than #10 if there weren't so many other apps that can post to the service (and are usually much better than the official app, anyway).
The other two apps seem like odd ones to include in the most popular: Google Maps and iBooks. Are these apps really being downloaded that much? After all, they come pre-loaded on iPhone/iPad or Android devices by default. I guess downloads of updates count? Seems odd, though. I wonder what would have made the list if you left these two off.
Overall, it looks like people use their mobile devices to communicate with friends and play games. It's about what you'd expect.
How many of these apps have you downloaded? Are they in your top 10 for the year?

As an Amazon Associate I earn from qualifying purchases.