Top 5 Android Grilling Apps: Grill Better Steaks, Burgers, Chicken and Seafood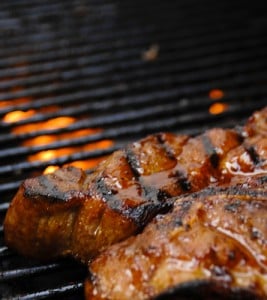 Judging by the 90 degree temps that have finally settled into the Midwest and the Memorial Day weekend festivities, Summer has finally arrived! It's time to clean off those grills and break out the propane and charcoal for a summer of wonderful grilling and barbecues.
To help you cook the perfect steak, burger, chicken or seafood as well as make sure you plan a perfect cookout. Best of all, you can purchase all of these Android grilling apps for just $2.99, leaving plenty of cash left to pick out the best cuts for the grill.
After you get through grilling with these apps, you'll deserve to wear that "Kiss the Cook" Apron you've been trying to pull off for the last five years. When you start grilling, don't forget to grill us a nice cut on Medium.
Top 5 Android Apps For Grilling and BBQing
Omaha Steaks Steak Time App – Free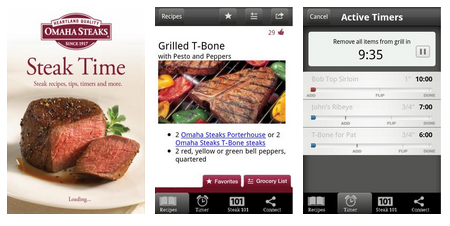 If you want to grill the perfect steak, the Omaha Steaks app has you covered with a collection of over 100 recipes, numerous how to videos and a steak timer to help you cook steaks perfect without cutting them apart on the grill to check how done they are. Search recipes by ingredients and easily add ingredients to your shopping list all form within the free grilling app. If you're short on conversation, you can play "Conversation Cards" in the app to generate ice-breaker type questions like, "What would be different about the world if there were no birds?", but we recommend you stick to the grilling side of the app.
Grill It! – $.99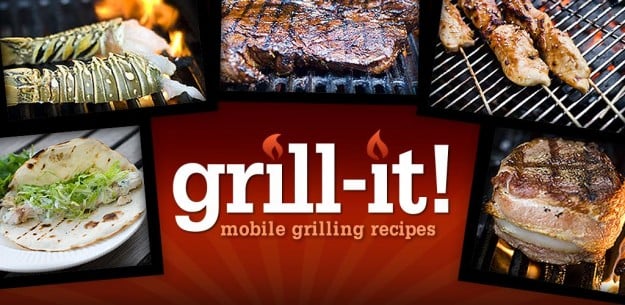 Grill It! is another great grilling app for Android with a collection of recipes covering beef, lamb, seafood, chicken and other grillable food. This app has a great selection of recipes that cover a broad range of foods, and cover how to grill your favorite vegetables like asparagus so that you can complete your meal.
Steak Timer Plus – $1.01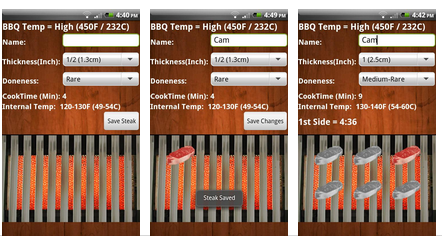 Steak Timer Plus takes steak timing to the next level, allowing you to set times for different levels of doneness and assigning a name and location to a steak so you don't mix up Jim's well done steak with Sally's rare steak. If you are grilling steaks for more than two or three people, this is a must have app.
BBQ Planner – $.99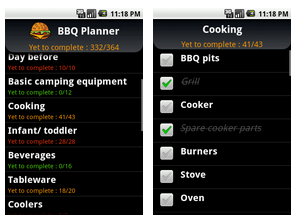 If you are inviting a group over for a summer cookout at home or on a camping trip, the BBQ Planner Android app will help you remember all the items you need  to take with you. You can probably come up with most of these items on your own, but if you love checklists, this is an app for you.
Epicurious and AllRecipes – Free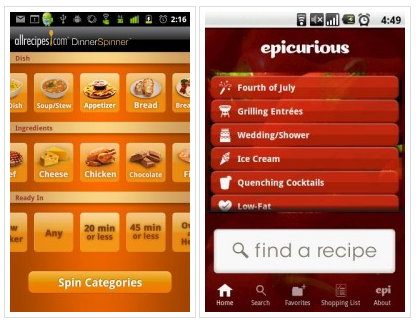 If you need some more recipes to spice up your cookout, take these two apps from our favorite recipe websites and start looking and cooking. Between Epicurious and AllRecipes.com, you'll have your appetizers, entrees, sides and deserts covered. These apps offer easy to follow recipes and pictures of recipes to help you plate the perfect meal.
Grilling Photo via Flickr – Mike Johnson – TheBusyBrain.com