Top 5 Phones to Consider Before Buying the Samsung Galaxy S5 [July, 2014]
The Samsung Galaxy S5 is an extremely solid smartphone and one that consumers should take a look at before settling on a new phone. That said, we think there are five phones in particular that consumers must weigh before committing to Samsung's current flagship Galaxy S.
Two years ago, Samsung elevated itself to a new level in the smartphone game. The release of the Samsung Galaxy S3 saw the company springboard up to the same pedestal as Apple thanks to the smartphone itself and thanks to an ingenious marketing campaign that not only promoted the device but attacked the iPhone in the process.
The Samsung Galaxy S3's success put enormous pressure on Samsung to deliver incredible successors. The Samsung Galaxy S4 may not have sold as well as the Galaxy S3 but it was considered one of the best smartphones of 2013. This year, more of the same.
Samsung's Galaxy S5 isn't selling as well as the company would like but that doesn't mean that the phone is terrible. No, we think that the Galaxy S5 is one of the best Android smartphones on the market. It's a device that should be on most shopping lists and a phone that we urge you to check out if you're looking for a new device this month.
We are constantly bombarded with questions about which phones to buy. In particular, we're constantly asked about the phones consumers should weigh against the Samsung Galaxy S5. There are a number of different devices that we could recommend, the smartphone market is full of solid choices, but we want to narrow things down a bit and take a look at what we consider to be the top five.
These devices represent the devices that we'd recommend to friends and family. And while our list may differ from yours, these are the devices that Gotta Be Mobile editors have selected for recognition this month. We feel like the devices listed here deliver the best, all-around package for this month and this month alone.
That said, here are the top five smartphones to consider before buying the Samsung Galaxy S5.
HTC One M8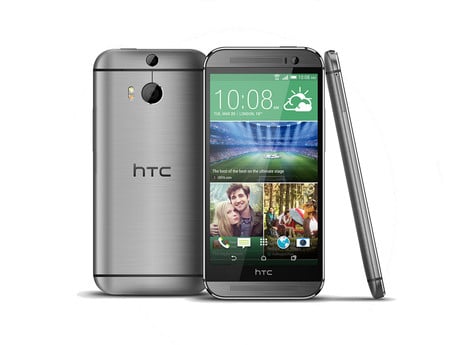 First things first. As we've pointed out numerous times, the new HTC One M8 is a device that walks the walk and talks the talk. This is a device that is certainly one of the Galaxy S5's top competitors thanks to its impressive spec list which includes a metal design.
HTC's top flight smartphone comes with an impressive sheet of features which include a spacious full HD display, speedy processor for games and multitasking, an impressive UltraPixel camera, and more. It also features HTC's Sense UI which some people like better than TouchWiz, the UI on board the Galaxy S5.
Like the Galaxy S5 price, the HTC One M8's price has dropped considerably since launch making it a smartphone that we think you need to rule out before buying into Samsung's ecosystem.

This article may contain affiliate links. Click here for more details.