Top 5 Phones to Consider Before the Galaxy Note 4 Release [August, 2014]
With the Samsung Galaxy Note 4 release now confirmed, consumers are turning their attention to one of the most highly anticipated smartphones of the year. And with the Galaxy Note 4 release date just weeks away, it's important for consumers to start doing their homework. Here, we take a look at five phones to consider ahead of the new Galaxy Note release.
Samsung Galaxy Note 4 rumors have been swirling for most of 2014. In the past month or so, we've seen those Galaxy Note 4 rumors start to firm up. The Galaxy Note 4 spec sheet is filling up before launch and the Galaxy Note 4 release date has been pegged for a very specific part of the fall. And while nothing is confirmed, the Galaxy Note 4 is shaping up to be one of more intriguing devices of the year.
Rumors continue to point to several big time upgrades including a 5.7-inch QHD display, a high-powered processor, an upgraded camera with Optical Image Stabilization, a new design that could include metal and a fingerprint sensor, new software, and more. It should be one of the year's most powerful smartphones and a device that consumers should be looking at in the lead up to the fall.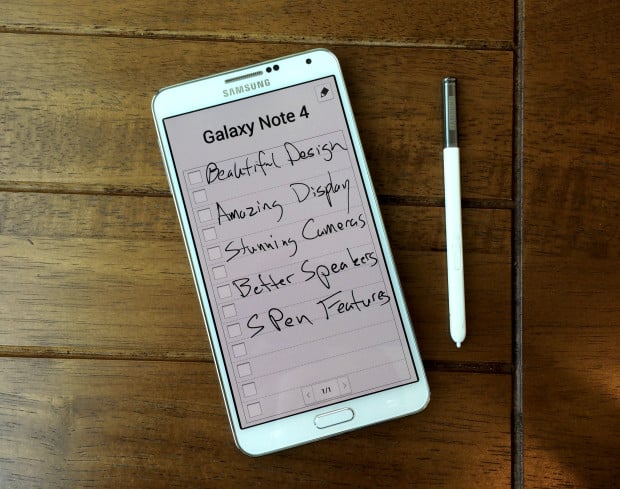 In the past week, Galaxy Note 4 release rumors have firmed up to the point that we now expect a Galaxy Note 4 launch on September 3rd ahead of a release later on in the month.
As we've pointed out, there are some compelling reasons to wait for the Galaxy Note 4. And while consumers can just sit back and wait for Samsung to release its new Galaxy Note, we suggest doing some homework ahead of the Galaxy Note 4 release to ensure that it goes as smoothly as possible. In particular, we highly recommend checking out the Galaxy Note 4′s opposition as we get closer to launch day.
Here, we take a look at the devices we think you need to weigh ahead of the Samsung Galaxy Note 4′s release. Some of you will probably walk out empty-handed, others may wind up with a brand new phone not called the Galaxy Note 4.
Samsung Galaxy Note 3
The Samsung Galaxy Note 3 is Samsung's current Galaxy Note 3 and a device that we think you need to consider for a few different reasons.
First, it's still great. The Galaxy Note 3's hardware and software has held up well over the past year. It's also worth considering because it's cheap. Its price tag used to be at $299.99 but we've seen retailers and carriers drop the price down signficantly in the past few months. It won't be as powerful as the Galaxy Note 3 but it's still going to be a solid smartphone.
We highly highly suggest going to check out the Galaxy Note 3 before the Galaxy Note 4's arrival. This way, you can make sure that you actually want the Galaxy Note instead of something else.

This article may contain affiliate links. Click here for more details.