Top 5 Smartphones to Consider Before Buying the iPhone 4s [May, 2014]
The iPhone 4s is still widely available and it remains Apple's cheapest smartphone option through its retail stores. With an iPhone 4s iOS 8 update likely, the aging smartphone remains a tempting option for those that don't want to break the bank. There are, however, some devices that we think consumers should check out before settling on Apple's cheapest iPhone.
Years ago, before Apple adopted the 4-inch Retina Display, 4G LTE data speeds and the Lighting port, the iPhone 4s was the top of the line iPhone. Thanks to a design comprised of glass, plastic and metal, a solid camera, a 3.5-inch Retina Display, and the addition of Siri, the iPhone 4s was one of the best smartphone options of its time. And while it's getting up there in age the iPhone 4s, even now, remains an option for consumers.
Last year, when Apple announced the iPhone 5s and iPhone 5c, many expected it to drop the iPhone 5 down to its cheapest iPhone slot. Instead, Apple killed off the iPhone 5 and plugged the iPhone 4s into the slot that was previously occupied by the discontinued iPhone 4. The iPhone 4s currently serves as the company's free iPhone and it serves as a nice option for those that are unwilling to shell out $100 or more for the company's other two options.
The iPhone 4s is a hard device to recommend but there will be those that consider it because of its affordability. Before buying the iPhone 4s, there are some smartphones that we think buyers must consider for various reasons. In particular, we think there are five devices that consumers must take a look at before buying into Apple's former flagship.
Keep in mind, our list may differ from yours but these are the devices that Gotta Be Mobile editors have selected for recognition this month. We feel like they deliver the best, all-around package at the moment. This list will change from month to month as rumored devices get closer to announcement and announced devices get released.
iPhone 5s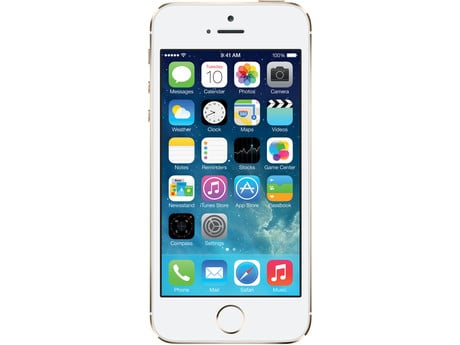 The first smartphone that we think iPhone 4s buyers should take a look at is the iPhone 5s, Apple's current iPhone flagship. While it's more expensive than the iPhone 4s, there are plenty of reasons why.
There are some key differences between the iPhone 5s and iPhone 4s. The iPhone 5s features a sleeker metal design, better camera, faster processor, larger Retina Display, fingerprint sensor for added security, 4G LTE data speeds, and the Lightning port that's now standard on Apple's devices.
The iPhone 5s also will get three major iOS updates while the iPhone 4s will likely only get one more. iOS 8 is expected to arrive for the iPhone 4s but that's still unconfirmed.
So, for $200, consumers will get a smartphone that's far and away better than the iPhone 4s. It's a proposition worth considering especially with the iPhone 4s closing in on its third birthday.