TweetCaster Pro Updates Facebook and Twitter on iPhone and iPad
My favorite Twitter app is TweetCaster Pro on the Android platform. I've been an iOS user for a couple of years and only recently switched my phone, and found this gem in the Amazon App Store. I'm not sure why I never thought to look for it in the Apple App Store, but today I did and found it. So now I'm going share with all of you iOS-wielding folks that there is an easy way to both tweet and update your Facebook status in one motion using this excellent Twitter app for both iPhone and iPad.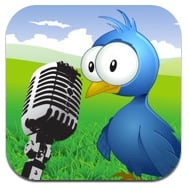 It has all the typical features you would expect from a Twitter app:
Showing the feed
Trending topics
Mentions, Direct Messages, Favorite Tweets, My Tweets, and Lists
Editing your profile
Customizing media shares (Twitpic, etc) and saving links (Instapaper/Read It Later)
All posting styles: Tweet, Retweet, Retweet with Comment, Direct Message, and Mentions
Tweetcaster masters some valuable tricks you won't find in most apps. First, you can write a single message and automatically post it to Twitter and Facebook simultaneously. Below you will see that I have selected both profiles for this Tweet composition window. When I hit send it will load the post to both sites for me. I can pick one or the other if I chose. There are a few others that do this on iOS, but I never really liked them.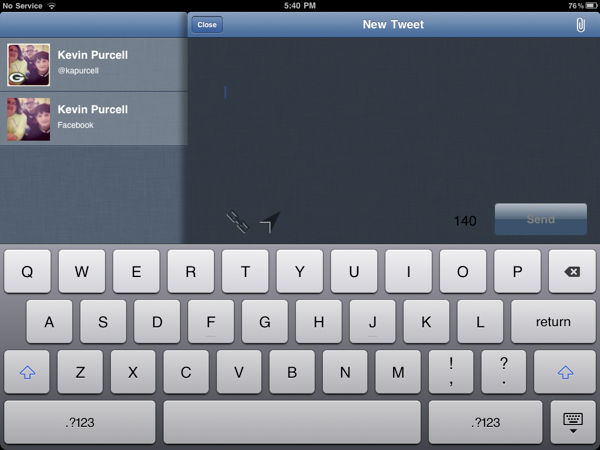 TweetCaster also arranges timeline Tweets of those you follow so that you can see all of them, which is the view seen below. Notice the middle column which has buttons for All Tweets, Photos, Videos, and Links. Tap each button and only that kind of Tweet will be displayed. For example the Photos button shows only the Tweets with photos linked in them. The same is true for the Videos button and the Links button.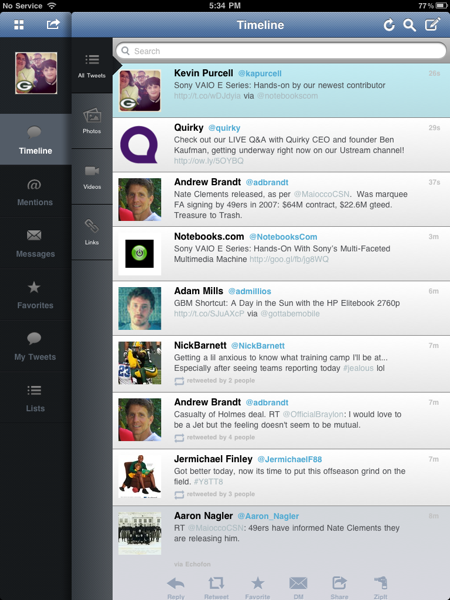 The app opens to another view. From this screen you can choose which Twitter account to use. Notice below I only have one account represented by the contact card. Add another account with the second "Add Account" card. Below the contact cards for each account are various kinds of searches, including your saved and recent searches. The trends list are all the most popular topics. Tap the topic and you see all the Tweets on Twitter about that subject. Nearby Tweets are displayed based on your GPS location.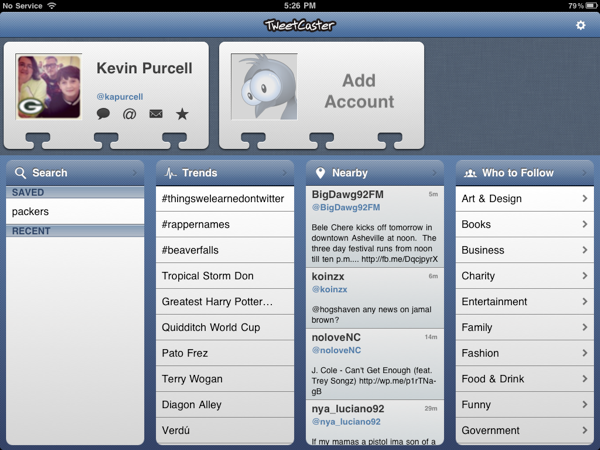 The Who to Follow column suggests users based on topic. These come from Twitter's curators.
TweetCaster is a rich and full-featured client. I loved the Android version, but I think I like the iPad version better. It works well in both portrait and landscape modes.
Some of the other extra features supported include posting longer than 140 character tweets broken up into two ore more messages, threaded conversations, iTunes music sharing, hiding unwanted spam tweets with the Zip It feature, and URL shortening.
When I first installed the app I had trouble finding the composition button. In fact it wasn't present until I closed the app and cleared it from the iPad task manager, which is accessed by double tapping the home button. Once I cleared the app and restarted it, the button was there.
The number of tweets is displayed in the column under your profile info. The badge shows how many unread tweets there are. There is a bug, because sometimes refreshing does not clear this badge, even if you have displayed them in the Timeline window.
There is a free version, and one without ads for $4.99. You can get it in the iTunes App Store for both iPad and iPhone and for Android in the Market or Amazon App Store.
Pros
Posts to Twitter and Facebook individually or simultaneously
Filters Tweets based on content like pictures, videos, links
Supports all major features you can think of
Spam tools
Cons
Bug doesn't show composition button when you first install
Bug doesn't clear unread Tweets badge in the Tweet category list below your profile