Twitter for iPhone and Android Get More Push Notifications, Better Search
Twitter has announced that it will be updating its mobile applications for both iPhone and Android today with better search and discovery functionality as well as the addition of new push notifications.
The update hasn't yet arrived in either the Google Play Store for Android or the iOS App Store for iPhone but the software should become available later on today.
The updates for both the iPhone and Android bring quite a bit new to the table.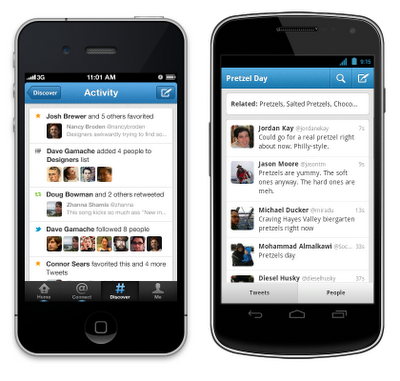 First, Twitter has included improvements to the Discovery tab, something that has seemingly been hit or miss with Twitter users. With the update, the Discovery tab now includes the ability to see Activity. This means that users will be able to see tweets that have been retweeted or favorited by friends.
Users will also be able to see accounts that friends start following and new additions to lists.
Stories has also been redesigned. Tapping once reveals tweets about that story and from there, users can now read that entire story or jump into the conversation in an easy fashion.
Twitter has also improved the search functionality of both apps. In Connect, the app will now autocomplete queries and in the iPhone specifically, users will be able to see their recent searches.
The apps will also both come with push notifications for Interactions which means users will be updated with a notification when tweets have been retweeted or favorited.
While this update probably won't lure people over from third-party Twitter apps, it's nice for those like myself who do, in fact, use Twitter's official app.

This article may contain affiliate links. Click here for more details.