Twitter Updates Its Mobile Apps, Adds Support for Android 4.0 and Kindle Fire
Twitter has gone ahead and released updates for both its Android and iOS applications while also bringing support for the Amazon Kindle Fire. The Barnes and Noble Nook Tablet will get support on February 23rd. It's also now available for devices running Android 4.0 Ice Cream Sandwich.
The iOS application in particular is jam packed with new features including two that will be familiar to those who have used previous versions of the application.
Once updated, both Android and iOS users will be able to use a swipe on individual tweets in order to reply, retweet or favorite. This will ensure that you'll never have to leave your timeline to perform any of these actions.
iOS users will also be able to copy and paste the text found in tweets.
Now, these might sound familiar to some of you and that's because they have both been in Twitter's software before. Both are extremely useful and we're grateful that Twitter decided to bring them back.
The iOS app also has been updated to include: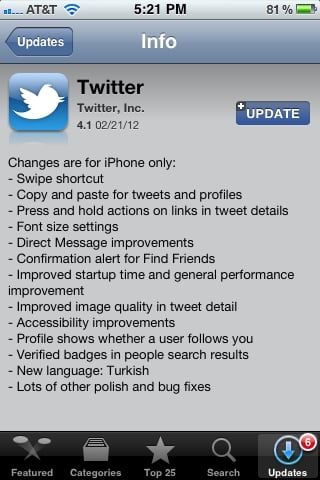 As you can see, there is quite a bit to like here.
One thing that might jump out at you is that "Confirmation alert for Find Friends." This clearly is a feature that was added as a response to the privacy fiasco involving another social application, Path.
(Read: Apple Will Force iPhone Apps to Ask Permission to Use Your Contacts.)
So now, when you select this feature, you will be prompted with a warning that states "We will securely upload your contacts to help you find friends and suggest users to follow on Twitter" when you try and find your friends.
Some of the other key features found in the iOS app include:
Link love: The "share" feature used to just give you the option to copy or email a link to a Tweet. Now, if there's a link within a Tweet, you'll see the option to tweet, copy or mail that link, or you can choose to read it later. (Select a "Read Later Service" under Settings > Advanced.)

Pressing and holding links provides similar options, along with the ability to open the link in Safari.

Direct messages: We updated the design for Direct Messages and returned the ability to mark all DMs as read. Simply tap the check mark in the lower right corner.
Font size settings: Change the font size under Settings > Advanced.
So while the iOS app gets loaded up with new features, the big thing with Android is that it's now available on a lot more devices. And that means that many of you will still be searching for that perfect Android Twitter application.
(Read: Why Does Every Twitter App for Android Suck?)
Something that we just haven't found quite yet.

This article may contain affiliate links. Click here for more details.