Ultimate Ears Wonderboom 2 Review
The Ultimate Ears Wonderboom 2 is an amazing Bluetooth speaker that is portable, packs in impressive sound and it floats so it's your perfect pool companion.
If you love to take your music to the beach, pool, shower or just where you'll get muddy, the Wonderboom 2 can handle it all thanks to an IP67 rating that makes it waterproof and dustproof.
After a torture test with my cousins listening to Old Town Road on repeat all afternoon at the pool, the Wonderboom 2 is as good as new and it was loud and clear for the whole afternoon thanks to 360-degree sound and up to 13 hours of battery life.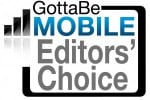 The Wonderboom 2 is an amazing value at $99, earning a Gotta Be Mobile Editor's Choice Award for the overall sound quality and the useful features that it packs in at the price.
You can buy the Ultimate Ears Wonderboom 2 direct for $99.99 and at Amazon or Best Buy for $79.99.
Ultimate Ears Wonderboom 2 Sound
Ultimate Ears upgraded the sound on the Wonderboom 2 to deliver more volume with a new Outdoor Boost mode that amps up the volume without distorting. This is a small speaker, but it easily filled the backyard area around a pool.
The sound is deep and there is a surprising amount of bass in this little package. You can even connect two of these in stereo mode to upgrade your sound. I was impressed with the performance over an array of genres at the pool party. At home, I use the Wonderboom 2 in our sunroom to listen to EDM or to listen to audiobooks, but it does just as well with Rap or Metal.
The Wonderboom 2 connects over Bluetooth, but it is not a speakerphone. At the price, this isn't something I miss in the Wonderboom 2, but if you want to use your Bluetooth speaker as a speakerphone, you'll need to look elsewhere.
Ultimate Ears Wonderboom 2 Design
The Ultimate Ears Wonderboom 2 design is top-notch. The knit fabric material looks great and has held up well to dirt and water over weeks of testing. It's easy to grip with the fabric material and it's sized perfectly for carrying around in your hand or by the little hang loop.
Bright volume buttons and the hang loop offer accent colors. The speaker is IP67 rated for water and dust. It floats in the pool and even after repeated dunking by my cousins it sounds like new. It's also rated to survive drops up to 5 feet. The speaker comes with a two-year warranty.
On the top there is a power button, Bluetooth pairing button, and a play, pause and skip button that you can also use to enter the stereo mode. On the bottom is a single button to turn on the Outdoor mode that boosts the volume.
Ultimate Ears Wonderboom 2 Battery Life
The Wonderboom 2 battery life is rated at 13 hours and that matches up well with our testing. After a full day of use at the pool, there was more than enough power to get me through a morning of work the next day.
The speaker charges with Micro USB, which is covered to keep water out. There is no USB C, which Ultimate Ears explained is to help keep the cost down.
[letsreview]
If you need bigger sound or a custom speaker, check out the Ultimate Ears myBOOM 3.