Ultimate Samsung Galaxy Nexus Buyers Guide
As we approach what we think is the upcoming release of the Samsung Galaxy Nexus for Verizon and carriers around the world and we get the feeling that some of you are thinking about picking one up. If that's the case, then you have come to the right place. We want to help make your phone purchase as painless as possible and that's why we have pulled together all of our coverage on the Galaxy Nexus into one post.
Here you will find an extensive timeline of news, opinions and comparisons to help aid you in your quest to find a new phone. How does it stack up against the iPhone 4S, HTC Rezound or Motorola Droid RAZR? When might it hit Verizon? What kind of battery life will it have? You'll find answers to all of those and more here.
—
Chapter 1: Hardware/Software
Samsung Galaxy Nexus Announced: 4G LTE, HD Display, Android 4.0
At an event in Hong Kong back in October, Samsung and Google unveiled the Samsung Galaxy Nexus alongside the latest and greatest piece of Android software, Android 4.0 Ice Cream Sandwich.
—
Android 4.0 Ice Cream Sandwich Fully Detailed
A detailed look at Google's Android 4.0 Ice Cream Sandwich operating system.
—
Verizon's Galaxy Nexus Will Be Slightly Thicker
Samsung confirmed that the 4G LTE version of the Samsung Galaxy Nexus will be thicker than the HSPA+ version. How much thicker? That remains to be seen.
—
Verizon Samsung Galaxy Nexus Poses for the Camera
Hiding in plain sight at the Android 4.0/Galaxy Nexus event was Verizon's Galaxy Nexus. A good look at the device in the wild.
—
Samsung Galaxy Nexus Won't Have Gorilla Glass
Samsung confirmed that the Samsung Galaxy Nexus wouldn't have a Gorilla Glass display but that it would utilize un-branded fortified glass for its touchscreen. Details surrounding this are a bit murky. Gorilla Glass of course is the virtually indestructible material, developed by Corning, that is found on many flagship smartphones.
—
Verizon Galaxy Nexus Poses in New Image
Another great look at the Verizon Galaxy Nexus, this time a press image.
—
Verizon Galaxy Nexus Shows Off Promising Battery Life
Many have been wondering about the battery life on Verizon's 4G LTE enabled Galaxy Nexus. Well, if these early results are anywhere close to being legit, it should be fine. Of course, experiences will differ based on usage, so keep that in mind.
—
Samsung Galaxy Nexus Accessories Land at Verizon Stores
Thinking about picking up a case or a dock for your Galaxy Nexus? Verizon will of course have those in stock when the device arrives.
Chapter 2: Release Date/Price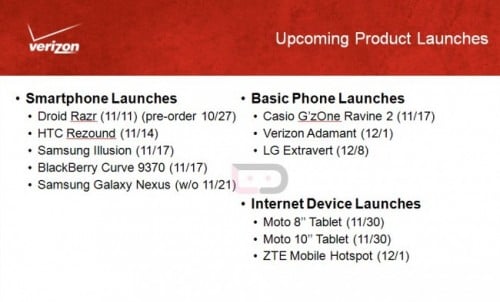 Samsung Galaxy Nexus Headed to Sprint?
A leaked memo seems to point to a possible release on Sprint at some point in the future. Samsung and the carrier haven't confirmed anything yet though.
—
Verizon Getting Galaxy Nexus First, Other Carriers Later?
It's also possible that it might end up on AT&T.
—
Samsung Galaxy Nexus Coming to Verizon "Later This Year"
Verizon finally confirms that it will play host to the Galaxy Nexus but fails to give the device any specific pricing or release date only saying that it will be available later on in 2011.
—
Samsung Galaxy Nexus Officially Coming to UK on November 17th
Samsung confirms that the Galaxy Nexus will be hitting the UK and the rest of Europe on November 17th.
—
Samsung Galaxy Nexus to Cost $289 at Costco?
Finally, some pricing. We assume that the Galaxy Nexus will hit Verizon for $300, just like the HTC Rezound and the Motorola Droid RAZR and this Costco pricing seems to point to that fact. Off-contract? We expect it to go for $650 like Verizon's other two 4G LTE flagships.
—
Samsung Galaxy Nexus Might Hit Verizon on November 21st
November 21st is the last of the original rumored release dates. Currently, we sit five days out and there is no word from Big Red. So it's looking unlikely. Still, anything is possible.
—
Verizon Galaxy Nexus Release Date Pushed to December?
In a bit of sad news, a rumor sprouted up just a few days ago indicating that the Galaxy Nexus launch on Verizon had been pushed to December due to bugs found in testing. As we continue to push through November, this is looking like a viable possibility.
—
Verizon Galaxy Nexus Gets Closer to Launch
That sad news was followed up by a bit of good cheer as the Galaxy Nexus passed through the FCC on its way to Verizon. The filing didn't reveal much though.
—
Amazon UK Lists Galaxy Nexus Release Date as December 2nd
And finally, our current Galaxy Nexus mystery.  Amazon UK has the Galaxy Nexus release date listed as December 2nd. Is this a mistake? Is this a sign that it's coming in December? We should know tomorrow, November 17th.
Chapter 3: Analysis
Droid RAZR vs. Galaxy Nexus: Features, Release Date, Carriers
Exactly what the title says. A comparison between the Motorola Droid RAZR and the Samsung Galaxy Nexus.
—
Why I Am Passing on the iPhone 4S
Why I Am Passing on the HTC Rezound
Why I Am Passing on the Motorola Droid RAZR
Adam's passing on the iPhone 4S, HTC Rezound and Motorola Droid RAZR. The Galaxy Nexus is a big part of that.
—
Spec Showdown: Galaxy Nexus vs. Droid RAZR vs. HTC Rezound
A comparison between all of Verizon's 4G LTE smartphones. See how the Galaxy Nexus compares hardware-wise.
—
Why The Samsung Galaxy Nexus is Worth Waiting For
And finally, a look at why the Samsung Galaxy Nexus is a phone that you should be waiting for.
—
Again, we haven't endorsed this phone as the Android phone to buy just yet. But, at the very least, you'll want to wait for it to come out before you make your final decision on which phone you want to buy.
And by that time, after you've digested all of this, you should be an expert and you'll be able to decide whether you want the Galaxy Nexus or something else entirely.

As an Amazon Associate I earn from qualifying purchases.