Unlocked Dell Streak Coming to U.S.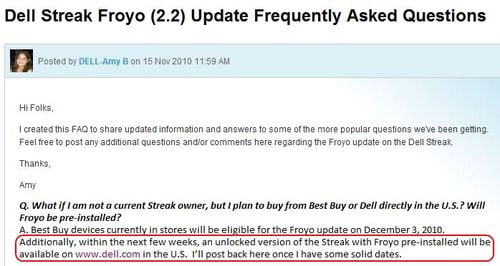 In a few weeks time, Dell will be making a version of its Dell Streak Internet tablet/smartphone hybrid available in unlocked form and pre-loaded with Android 2.2 Froyo for U.S. customers. The Dell Streak was launched, and locked to, with partner AT&T in the U.S. though the tablet device is not sold through AT&T nor the carrier's retail stores. Instead, the Streak has only been made available thus far through Dell's website and more recently through Best Buy locations in the U.S.
With a 5-inch capacitive touchscreen, the Dell Streak has a lot of potential as a phone and tablet hybrid–it's still compact enough to travel with you, can make telephone calls, and provide more screen real estate for e-reading and Web browsing than a traditional 3- to 4-inch smartphone can. However, the Dell Streak had launched with a stale version of Android 1.6 when Android 2.1 and Android 2.2 (also called Froyo) are en vogue, offering such features as tethering, Adobe Flash support for Flash-based webpages, and faster optimizations.
Customers who have purchased a Dell Streak through Best Buy will be receiving Android 2.2 Froyo beginning December 3.
Source: Streak Smart