V-Moda Forza Metallo Wireless Earbuds Review
Seldom does a product like the V-Moda Forza Metallo Wireless Bluetooth earbuds surprise us with great design, quality and functionality. That's what this set of high-end wireless earbuds did. They also have a gimmick that some people might like: 3D printed caps that attach to the earbuds for some added bling, just like the other set of V-Moda Forza wired earbuds reviewed. The decorative caps didn't wow us. The sound and incredible battery life did.
V-Moda Forza Metallo Wireless Earbuds Design
The V-Moda Forza Metallo Wireless Earbuds come in two colors, gunmetal black and white silver. The box includes the earbuds, a set of sport fins that help hold them in your ears while working out, a nice large carrying pouch and a charging cable. You also get four different sizes of earbud inserts for people with extremely small to larger ear canals. The set that came pre-installed fit my ears perfectly.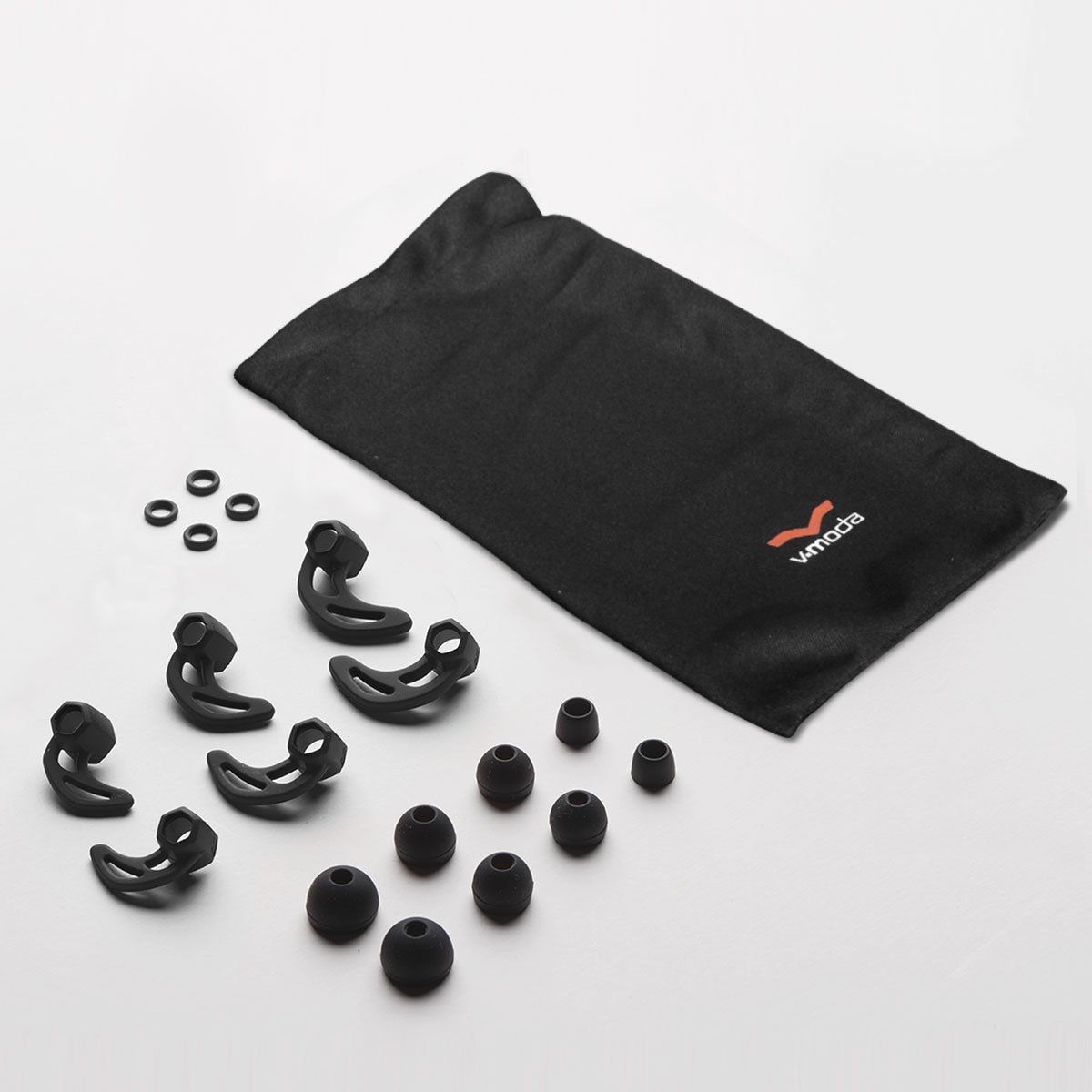 The earbuds are small and light. They connect by a thin wire to the back part that houses the electronics, including a high-capacity battery. Two controls sit inline on either side of the wired part of the earbuds. On the right side the controls include three buttons and a noise cancelling mic that does a good job of picking up your voice but little other background noise. The other side has a single button plus another noise cancelling mic. Each of these collar controls sits back away from the earbuds so they don't annoy your neck by hitting your cheeks or neck.
The controls are simple to use. Power on and off with the single left button. Control volume, music or phone calls using the three buttons on the right.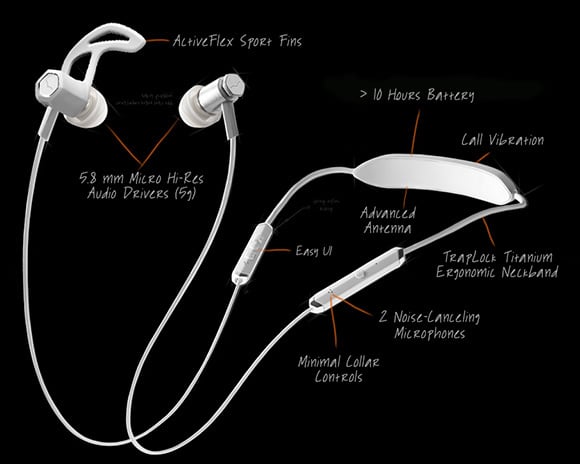 The part that houses the battery and sits against the back of your neck vibrates when a call comes in. It's comfortable even after hours of use. When I'm wearing a shirt with a collar I tuck this part under my collar, away from skin. This part didn't make me sweaty or annoy me while using them during normal activity. They're comfortable during exercise as well.
V-Moda Forza Metallo Wireless Earbuds 3D Custom Caps
V-Moda wants to make the 3D Custom Caps the headline for these earbuds. Buyers can get one of a few designs made of different materials, depending on their tastes or budget. They offer three styles, called V-Design, Steampunk and Lion. They come in either HD Acrylic material or precious metals, from gold brass to platinum, that can add over $1,300 to the cost.
If you have the cash and want the bling, then go for it. I'm not terribly impressed with this part of V-Moda's design. However, some people might enjoy throwing money away like this.
The Forza Metallo earbuds don't need the gimmicky add-ons to make them worth your time. They work great, last forever and sound nice without any caps.
V-Moda Forza Metallo Wireless Earbuds Sound Quality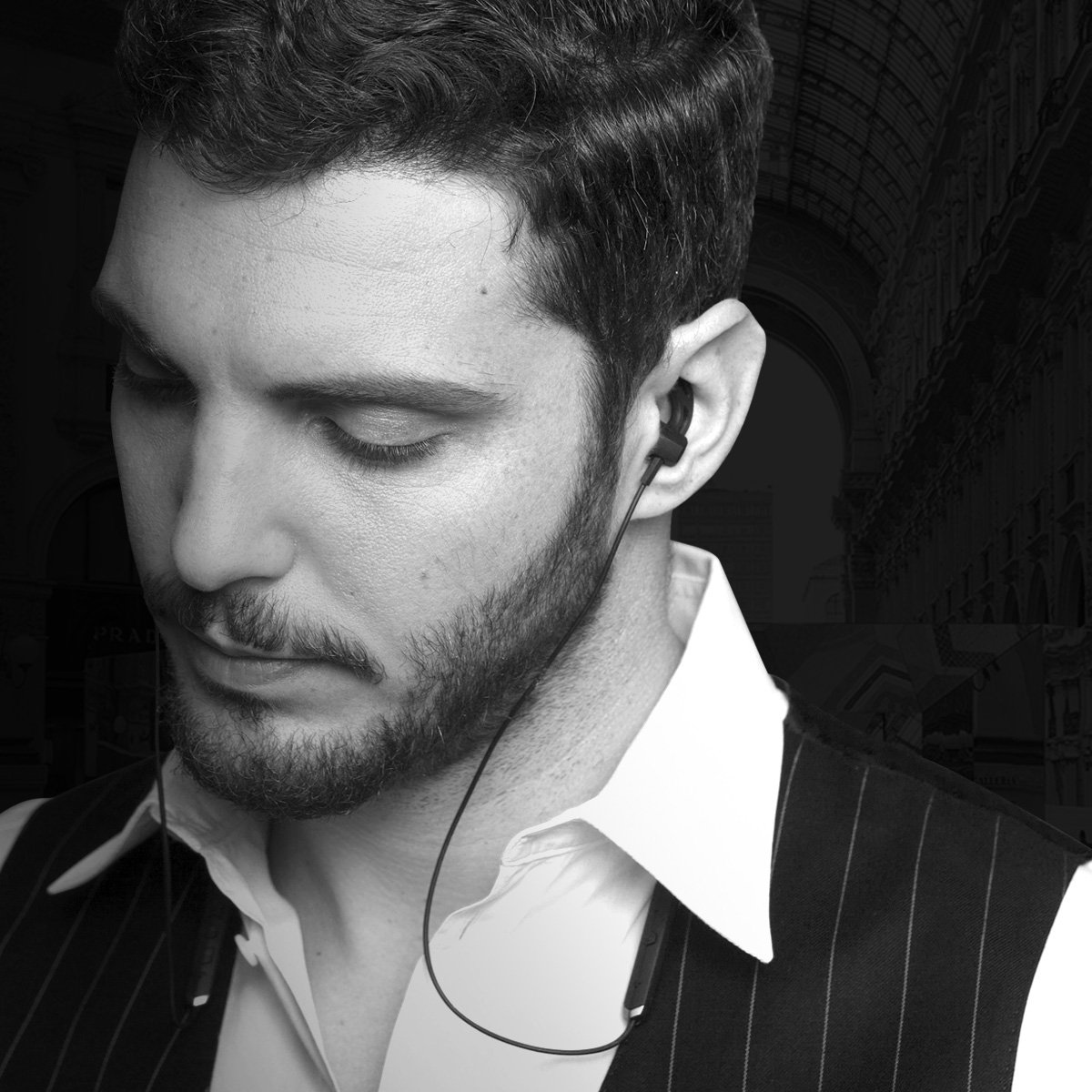 The sound from the V-Moda Forza Metallo Wireless Earbuds is good. The tech inside the earbuds comes from Qualcomm. The aptX audio codec delivers rich music with acceptable bass for Bluetooth earbuds. I'm no audiophile, but I liked how they sounded better than my other favorite wired earbuds, and even my Apple AirPods.
When people talked to me on the phone I made a point of asking them how clear my voice sounded. Everyone agreed that it sounded like I was using my phone and they didn't notice a difference. That's where the dual noise cancelling microphones on both sides comes in handy.
The earbuds fit well and, as a result, I could shut out ambient sound easily. In loud places sound will bleed in, but in the settings where I often used them, coffee shops, outdoors while walking, and while riding in a car, I didn't hear much outside my music, podcasts or movies.
V-Moda Forza Metallo Wireless Earbuds Functionality
The connection process went smoothly. Press and hold the power button on the left side from the off state until the tiny LED flashes. On the phone, tablet or computer begin the pairing process. They connected quickly and without any problems.
The earbuds will connect to two audio sources at the same time. That's a great feature for people who use two phones or a phone and a tablet. I often connected to my phone and my laptop. When a call comes in, the earbuds know to use that connection for voice and audio.
I work at a local Wi-Fi hotspot often and sometimes get up from my table to get a refill at the counter about 15 feet away. Since my favorite table's within line-of-sight I leave my belongings there. The sound doesn't fade out or drop and sounds the same as it does when I'm within a couple of feet of my phone.
V-Moda wants the bling to set them these apart, but the real headline comes from the 10-hour battery life. The earbuds charge up quickly in about half an hour and last all day.
Recommendation
I really like the V-Moda Forza Wireless Earbuds. They work and sound like a $170 set of earbuds. That's a lot for some people, but I think it's worth the price to get 10 hours of battery life and quality sounding music and movie audio.
If you're the type of person who wants long-lasting wireless earbuds, then take a serious look at these. They cost more than most Bluetooth earbuds, but they sound great and don't run out of juice quickly. When they do, you can charge them up in under half an hour to get a few hours more playtime.