Verizon Galaxy Nexus Jelly Bean Update Arrives for More Users
We are hearing that the Verizon Galaxy Nexus Jelly Bean update arrived today for many more users, just a day after many Verizon Galaxy Nexus owners said that they were still waiting for the update.
We've heard from a number of Galaxy Nexus owners, from various parts of the United States, who received the Verizon Galaxy Nexus Jelly Bean update today. So, it would appear that today could be the day that Verizon makes a huge push to get Android 4.1 Jelly Bean out to its Galaxy Nexus owners.
Those who are still waiting for the update should definitely check to see if an update is available if a prompt has yet to show up. To do that, head into the device's Settings, About section and then perform a check for the update. Jelly Bean may be there waiting.
Read: Verizon Galaxy Nexus Jelly Bean Update: First Impressions and Performance.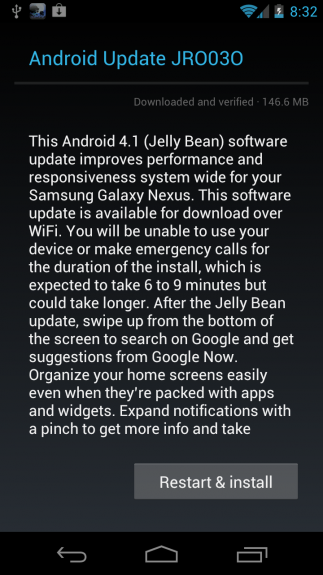 There is also another method to try for those that aren't seeing anything.
First, make sure the Galaxy Nexus is connected to Wi-Fi.
Users will want to go into Settings.
Then, tap Data usage.
Toggle Mobile data to off.
Go to Apps.
Scroll down and find Google Framework Services.
Tap Clear Data.
Tap Force Stop.
Once the Clear Data symbol lights up again, go into Settings, About, and check for an update.
The above method has worked for several people it seems so it's worth a try for those that are still without an upgrade to Android 4.1 Jelly Bean on their Nexus.
For those that wish to wait, we imagine that the update will arrive very soon as the software doesn't seem to have any major bugs and thus, it gives Google and Verizon more of a reason to roll the software out to even more users.
We still aren't sure how long the update is going to last for, we heard October 1st via Wi-Fi only at the beginning, but thus far, Verizon has remained mum.
Anyone else seeing Jelly Bean today?

As an Amazon Associate I earn from qualifying purchases.