Verizon Galaxy Nexus Update Appears Close
It has been nearly five months since the Samsung Galaxy Nexus launched on Verizon's 4G LTE network and since then, the phone has yet to receive an update from the carrier. However, it appears that we might be close to a roll out now that some users are claiming to have received the Android 4.0.4.
Droid-Life has posted some photos of Galaxy Nexus users claiming to have Android 4.0.4 on their stock device. It doesn't appear that there is a full-blown roll out taking place so it may just be that these users either got lucky or, better yet, were the first in line for the roll out.
If that's the case, it's certainly possible that Verizon may start rolling the update out later on today or later on this week should every go well.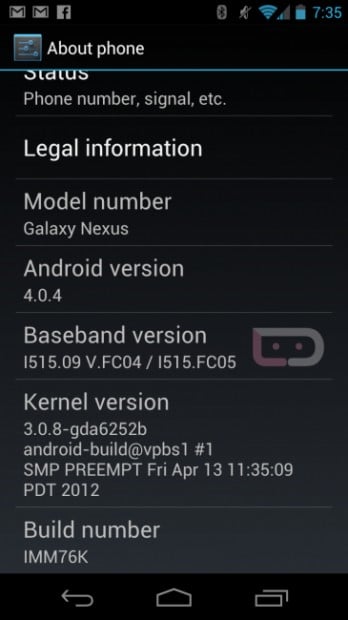 Read: Verizon Dropped the Ball with the Galaxy Nexus.
Galaxy Nexus users have been clamoring for an update since launch. The phone is plagued by bugs, some more nasty than others. Throw in the fact that the carrier hasn't played nice with a 'Nexus' branded device and it's easy to see why users are fed up.
The update was rumored to be coming in April with a ton of fixes on board but it appears now that the software won't be hitting the device until May. Verizon has been rumored to be the cause of the delay with at least one Android engineer lashing out about the situation publicly.
The report claims that early May is a possibility and May 1st just so happens to fall into early May.
Read: Why Did I Buy the Galaxy Nexus Again?
So, those who own a Galaxy Nexus on Verizon should definitely be on the look out for an update sooner rather than later.
Be sure to shoot us an email should anything official pop up.

As an Amazon Associate I earn from qualifying purchases.