Verizon Galaxy Nexus Update: Final Impressions and Performance
After spending a little more than a week with the Verizon Samsung Galaxy Nexus update, I can comfortably say that the update has improved the device enough to the point where I am using it every single day.
Earlier this month, Verizon finally got around to updating the Samsung Galaxy Nexus with the Android 4.0.4 that owners like myself had been waiting for for over five months. Before I downloaded the software, I was a little apprehensive because the changelog didn't list all the issues I had had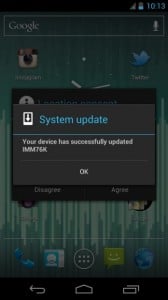 However, after extensively using the device over the past week or so, the issues that plagued my experience for months on end have finally dissipated and I have been left with the device that I envisioned having from the start.
Here is a list of the issues that I was having prior to the update, just to recap:
Random reboots
Microphone cut out often
Crashes
Horrid battery life
Connection problems
Overall sluggishness
I can't even imagine what the outcry would have been like if Apple let those issues linger on the iPhone for five months like Verizon did with the Galaxy Nexus.
Anyway, when I first got the software, those issues seemingly had been taken care of. On day one, I didn't experience a single random reboot. The microphone issue did not interrupt any phone calls. The sluggishness of the UI seemingly vanished. The trade-off issues between 3G, 4G and Wi-Fi were no longer an issue. Apps didn't crash and the phone didn't randomly lock up. And, surprisingly, my battery life improved.
I thought I was dreaming but I remained skeptical. After all, this was the first day that I had the update and there was still time for stuff to go wrong.
Since then, I have waited for chaos. I have waited for a meltdown. I've been waiting to stick my Galaxy Nexus back into my drawer.
None of that has happened though. Instead, I have been left with the Samsung Galaxy Nexus that I thought I had received back in December of 2011.
In the past week, my phone has not randomly rebooted. I have had the microphone issue happen once but I am still not convinced it was a software issue. The sluggishness of the operating system has dissipated. I have had no issues with my 4G, 3G, and Wi-Fi connections and no issues trading off between them. My device hasn't locked up and apps still haven't crashed. And, remarkably, my battery life has been tolerable.
Read: Five Months With The Verizon Galaxy Nexus.
Better yet, it seems as though, as our own Xavier Lanier pointed out, the mobile hotspot that had been shaky before is much improved as well.I used it in Las Vegas over the weekend and it worked like an absolute charm.
It's all a bit crazy, especially after what I endured over the last five months with the Galaxy Nexus. Like I said, it's almost like a dream. So, now that Verizon has seemingly ironed out these issues, here is my hope for the future.
Verizon releases timely bug fixes for the Galaxy Nexus in the future.
The Samsung Galaxy Nexus on Verizon is one of, if not the first, to get Android 4.1 Jelly Bean when it arrives later this year. If there was a way to make it up to owners who went through five months of Android hardship and silence on Verizon's part, getting Jelly Bean 4.1 to owners is it.
That being said, as always, I'd love to hear how your experience with Android 4.0.4 for the Galaxy Nexus has been. Has it been as good as mine or are you experiencing issues?