Verizon Galaxy Nexus Update Nightmare Continues
As many of you know, I have problems with both my Samsung Galaxy Nexus and the fact that it hasn't been updated and over these past few days, my Verizon Galaxy Nexus update nightmare got a whole lot worse.
When I travel, I like to bring both of my phones with me in case one dies and I need to find directions or make a phone call or text or I need to snap a photo. I did that this weekend taking along my iPhone 3GS and my Samsung Galaxy Nexus. Sure enough, my iPhone died and I was left with old faithful, my Galaxy Nexus.
I almost wish I hadn't turned it on.
Read: The Worst Part About the Wait for the Verizon Galaxy Nexus Update.
I've been having issues with my device since launch and over the past few months, the problems have proceeded to get worse.
A few days ago, I detailed how my experience with Galaxy Nexus has gone from bad to worse. The microphone issues that were occasional at first started to become more frequent. My battery life has gone from atrocious to even more atrocious. And random reboots happen frequently.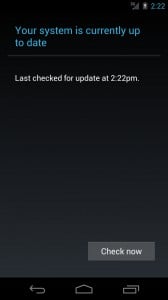 I had left my Galaxy Nexus off during all of last week because of how frustrated I was with it and with Verizon for not providing any sort of information about an update.
With my iPhone 3GS dead, I had nowhere else to turn and so I decided to take the plunge and flip on the Galaxy Nexus. Well, not only was I greeted with an immediate reboot, the phone tried to outdo itself by rebooting five times in one day alone.
I'd open the music application. Reboot. I'd open the camera. Reboot. And what's worse is that the phone seems to like to do this at random. Opening the Music or Camera app often works. But sometimes they just decide not to.
The whole experience is like walking on eggshells and it's tiresome.
And then, today happened.
Sony began rolling out Android 4.0 Ice Cream Sandwich to the Xperia arc and Xperia neo, two relatively obscure Android smartphones.
Thing is, this isn't any old version of Android 4.0, it's Android 4.0.4. The piece of software that Verizon Galaxy Nexus owners have been waiting for since December. A piece of software that's already on the Sprint Galaxy Nexus.
What? How is this even possible? The Xperia arc and the Xperia neo now have a more recent version of Ice Cream Sandwich than the Galaxy Nexus?
Infuriating. Unbelievable. Puzzling.
Read: Wait for Galaxy Nexus Android 4.0.4 Update Gets More Bizarre.
And it's a nightmare and it's one that won't be ending anytime soon, not even when Verizon decides to release an update for it. Wondering why?
Google I/O is next month and Google is rumored to be announcing Android 5.0 Jelly Bean, its next version of Android.
If it has taken Verizon nearly five months to release a simple bug fix update for the Galaxy Nexus, I wonder how long I'm going wait for Android 5.0 on the Galaxy Nexus.
Six months?
A year?
Forever?

This article may contain affiliate links. Click here for more details.