Verizon Note 4 Release Date: 5 Things Buyers Need to Know
With a Samsung Galaxy Note 4 release in the United States creeping closer, the Verizon Galaxy Note 4 release date remains a bit of a mystery. Here, we take a look at what we know about the Verizon Galaxy Note 4 release ahead of October 17th.
Samsung's all new Galaxy Note 4 is an impressive smartphone and one that comes loaded with high-powered specs including a 5.7-inch Quad HD display, a brand new 16MP camera with Optical Image Stabilization, a new S Pen stylus, Android 4.4.4 KitKat software that's backed by TouchWiz, and a brand new design that comes with both plastic and metal materials.
The Galaxy Note 4 is set to replace the Galaxy Note 3 in several regions starting this month including the United States where it will land on the nation's five largest carriers including AT&T, Sprint, T-Mobile, U.S. Cellular, and Verizon Wireless. All five of those carriers are currently taking pre-orders for the Galaxy Note 4 ahead of their respective releases. And while things have been going relatively smoothly for buyers this far, the Verizon Galaxy Note 4 release date is still unsettled ahead of Friday's big day.
There seems to be a ton of confusion regarding the Verizon Galaxy Note 4 release that's expected to emerge later this month. The concern is that Verizon might actually be a week behind the rest of the pack when it comes to the Galaxy Note 4 release date. While that's not a huge deal, it's eating at some buyers ahead of the U.S. Galaxy Note 4 release.
Here, we offer what we know about that situation and present some other key details ahead of the Verizon Galaxy Note 4 release date.
U.S. Galaxy Note 4 Release Kicks Off Friday
First off, Verizon buyers need to know that the Galaxy Note 4 release in the United States is extremely close. October 17th will serve as a release date for a majority of U.S. carriers and we've even seen some Galaxy Note 4 orders arrive well ahead of the Galaxy Note 4 release date. Not all pre-orders are shipping early though.
This is also the first day that retailers will officially start selling the Galaxy Note 4 in the United States. You're able to pre-order and you're able to buy expensive unlocked Galaxy Note 4 models through sites like Expansys but you're still not going to be able to officially be able to walk out of a store with a Galaxy Note 4 until October.
Verizon Galaxy Note 4 Pre-Orders
Second, buyers need to know that Verizon and Best Buy are still taking Galaxy Note 4 pre-orders ahead of its murky release date. Amazon recently ended its Galaxy Note 4 pre-orders and it's pretty apparent that they will not be coming back. The retailer does say that it plans to stock the Galaxy Note 4 once its release date rolls around.
Verizon's pre-orders have, all along, listed it as shipping out by October 23rd, or, a week after the October 17th release date in the U.S. This has been a point of contention amongst Verizon customers though we should note that the ship by date has always read October 23rd. Key words there are  "ship by" so it's possible that we could see them ship before October 23rd rolls around but don't get your hopes up.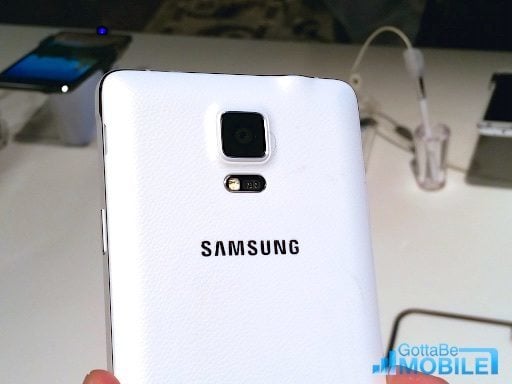 The company continues to hold to that October 23rd ship by date and so there's a good chance that Verizon Galaxy Note 4 pre-orders won't be arriving before October 17th. Keep an eye on those shipping dates.
Verizon Galaxy Note 4 Release Date
Many people have assumed that the Galaxy Note 4's release date also applies to the Verizon Galaxy Note 4 release date. It's an easy assumption to make given that the four other carriers appear to be gearing up for a release that day. However, this is Verizon we're talking about here and what would a Verizon smartphone release be without a little drama.
While we still don't have a clear cut answer regarding Verizon's plans, here's what we know about the release date itself. We know that pre-orders have always mentioned October 23rd. We know that Best Buy's pre-orders don't offer any details about the release date. We know that Amazon's Verizon Note 4 pre-orders pointed to an arrival a week after AT&T and Sprint. We know that Clove UK recently had to delay its orders to October 24th. We know that Samsung UK had to push its release date from October 10th to October 17th due to demand. We also know what Verizon's customer service is telling its customers.
Verizon's customer service have pointed to a potential arrival on October 23rd. At the very least, no customer service committed to an in-store release on October 17th. One customer service agent told us that "it will not be in stores this Friday." Customer service is generally hit or miss when it comes to release dates but Verizon's Twitter account is generally reliable and it's interesting that they're both saying the same thing.
@admillios At this time the information we have is it will ship by and be available 10/23. *AC

— VZW Support (@VZWSupport) October 14, 2014
There's a ton of back and forth going on at XDA-Developers about the release date. Same people are saying October 17th, some are saying October 23rd. We're not sure what's what just yet but if we were planning to buy the Verizon Galaxy Note 4 on its release date, we'd simply prepare for October 17th and October 23rd.
Point is, don't count on October 17th just yet because there's a chance that the Galaxy Note 4 will arrive on Verizon next week. We've reached out to Verizon corporate and will update this when we hear back.
Verizon Galaxy Note 4 Deals
Do not buy the Verizon Galaxy Note 4 for full price. We repeat, there's no reason to buy the Verizon Galaxy Note 4 for full price. If you act fast you can get in on a new Galaxy Note 4 deal that cuts $200 off the price of the Samsung Galaxy Note 4. Best of all, this Note 4 deal is available even if you already bought the Galaxy Note 4 from AT&T, T-Mobile, Sprint, Verizon or US Cellular.
This Galaxy Note 4 deal on AT&T, T-Mobile and Sprint is only valid until October 16th, but it is available on Verizon until October 22nd. You need to pre-order the Galaxy Note 4, but you can do this at any participating retailer that also takes trade-in devices. Those of you that are interested can find out more in our extensive run down of the deal.
Do not pay $299.99 for this phone.
Go Hands-on Early
The Galaxy Note 4 may not land in stores until October 17th or October 23rd in Verizon's case but that doesn't mean that you can't go hands on right now. You can. Select Best Buy stores with Samsung Experience shops have Galaxy Note 4 demo models out for you to use ahead of the device's release. We highly suggest going hands on before buying this phone and we highly suggest calling ahead to see if the Galaxy Note 4 is available at your local Best Buy.

This article may contain affiliate links. Click here for more details.