Verizon Motorola Droid 4 Accessories Leak Ahead of Launch
Verizon's Droid 4 leaks get better every time. After an anticipated, yet still unofficial, launch date of December 8, we are now seeing some of the compatible accessories that will be available for this Webtop-enabled smartphone. The first accessory is a Lapdock 100, which is a more compact and lighter accessory that converts your smartphone into a lightweight laptop, thanks to the Webtop OS and full Firefox browser. That device has a 10.1-inch display. The larger and more fully-featured laptop accessory, the Lapdock 500, will also be compatible with the Droid 4.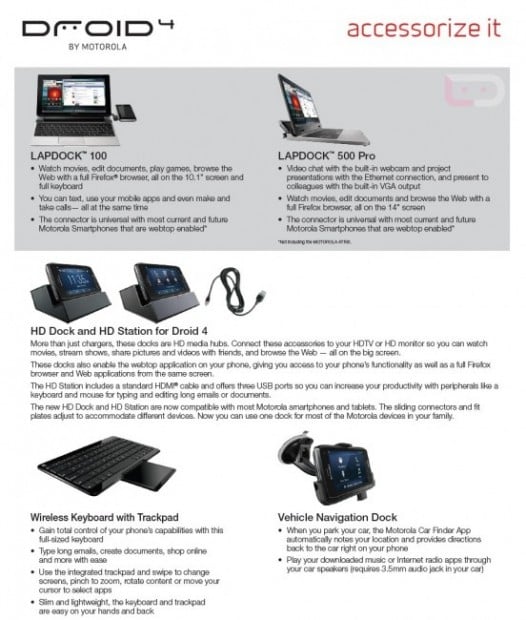 Additionally, there are two HD dock accessories. There's a standard HD Dock and an HD Dstation that also has several USB ports on the back so you can connect additional accessories, like a USB-enabled keyboard or mouse to use with the Webtop OS.
A vehicle dock will also be forthcoming as is a wireless keyboard with trackpad, which would be a great companion accessory to your HD Dock or HD Station to use your phone on an HDTV.
The Droid 4 is essentially a Droid RAZR with a full sliding 5-row keyboard in landscape orientation.
Via: Droid-life

As an Amazon Associate I earn from qualifying purchases.