Verizon Thunderbolt: My Best Buy Pre-Order Experience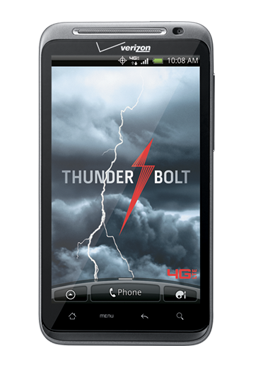 The HTC Thunderbolt's release date is a moving target, but that's not stopping Best Buy from taking pre-orders. I've been standing on the Android smartphone sidelines and have decided to buy a Thunderbolt as soon as it's released…whenever that may be. I forked over $50 to get my name on the list at the local Best Buy and now the waiting begins.
The Thunderbolt is one f the most-anticipated Android phones of the year. It's Verizon's first 4G LTE phone and can be used as a wireless hotspot, perhaps replacing my MiFi, which recently ceased working.
There have been a lot of negative comments about how Best Buy is handling HTC Thunderbolt pre-orders here at GBM and on other mobile phone sites. After experiencing the process first-hand, I can tell you what I personally liked and dis-liked about the process.
I visited San Francisco's largest Best Buy store yesterday to pick up some iPad 2 accessories I decided to make the move. I asked one of the guys in the mobile department a few questions about the Thunderbolt's release date and he told me that the Thunderbolt launch keeps getting pushed back week after week. He said it was originally supposed to launch in February, but the latest rumor puts the release date at March 24. While he was being completely honest, I think he should have simply said he didn't know when the Thunderbolt would be in. I could certainly see why Thunderbolt fans are getting their hearts broken every week.
He explained that I'd have to put down a $50 deposit to reserve a Thunderbolt, which are being doled out in order. We've heard reports from some Best Buy shoppers that they've been told everyone on the list will be called and whomever shows up first will get the first dibs. I think the way the San Francisco Best Buy is doing things is the way to go.
He showed me the list and told me that I'd be  27th on the list, but it wouldn't guarantee me a Thunderbolt on launch day. He explained that the first shipment of devices varies greatly from device to device. He said they could receive a ton of them or just a few. He said that the carriers, in this case Verizon Wireless, have been allocating fewer and fewer units at launch to Best Buy stores in recent months. He made it very clear that I might have to wait for a second or even third shipment. Fair enough.
The Best Buy salesman made it clear that I could use the gift card for anything in the store if I changed my mind or decided the wait was to long. I filled out a Thunderbolt pre-order form and am now waiting it, just like many GBM readers.
While the Best Buy employee I spoke to was pretty forthcoming with information, I could certainly see how some blue shirts would fib a little to make a sale. They also have to work with the limited information given to them and Best Buy customers aren't exactly patient when it comes to buying new gadgets.
The biggest surprise to me was that I was number 27 in line for the Thunderbolt. Considering how much buzz there is around the device, I was expecting that there would have been at least a couple of hundred Android geeks ahead of me.  San Francisco is of course home to countless Google employees, app developers and Android fans.
Best Buy's HTC Thunderbolt Fine Print
Best Buy began selling pre-orders of the HTC Thunderbolt on February 6. A one-page flyer is used to collect Thunderbolt pre-orders and I'm guessing almost nobody reads the fine print.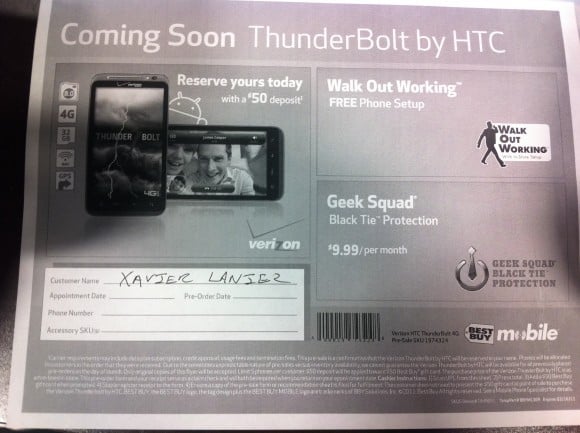 Carrier requirements may include data plan subscription, credit approvalm usage fees and termination fees. This pre-sale is a confirmation that the Verizon Thunderbolt by HTC will be reserved in your names. Phones will be allocated to customers in the order that they were received. Due to the sometimes unpredicttable nature of pre-sales versus inventory avilability, we cannot guarantee the Verizon ThunderBolt by HTC will be available for all previously placed pre-orders on the day of launch. Only original copies of this flyer will be accepted. Limit 5 phones per customer. Limit 5 phones per customer. $50 deposit will be applied toward $50 BEst Buy gift card. The purchase price fo the Verizon ThunderBolt by HTC is as advertised in store. This pre-order form and your receipt as a claim check and will both be required when you return on your appointment date. Cashier Instructions: 1) Scan UPC from this sheet. 2) Press total.3) Add a $50 Best Buy giftcard when prompted. 4) Staple register receipt to the form. 4) Ensure a copy of the pre-sale for or recommendation sheet is filed for fulfillment. The customer does not need to present the $50 gift card at point of sale to purchase the Verizon Thunderbolt by HTC. BEST BUY, the BEST BUY logo, the tag desig plus the BEST BUY MOBILE logo are trademarks of BBY Solutions Inc 2011 Best Buy All rights reserved. See a Mobile Phone Specialist for details.

SKUS Shown #194905 TempPart#BBYM1309 Expires 02/16/2011
While Best Buy's technically sticking to the fine print, I think the expiration date of February 16 points to the fact that the retailer was expecting the phone to be available on February 17th or soon after.  I can certainly understand why those who pre-ordered the Verizon ThunderBolt expected to have their phones almost a month ago.
While it's good business to sell as many Thunderbolts pre-orders as possible, Best Buy should have held off until Verizon made a launch date crystal clear. As it stands now, Verizon says that the Thunderbolt will be coming 'soon,' but the latest official word from Verizon states that 4G phones are on track for the first half of 2011. The latest Thunderbolt rumors call for a March 21 launch.
While the pre-order process was pretty painless for me, the Thunderbolt launch has turned into somewhat of a debacle. Best Buy employees share a good portion of the blame as some have given out false information to consumers. One employee used an  official Best Buy Twitter account to Tweet an official release date. As the exclusive nationwide retailer of the Thunderbolt, I sure hope Verizon allocates plenty of Thunderbolts to cover all of Best Buy's pre-orders. I suspect there will be some raging Android fans if they're forced to wait a few days after the product launches to get their units after sitting on the waiting list for a month.
You can read more about the HTC Thunderbolt and watch hands-on demos here.

As an Amazon Associate I earn from qualifying purchases.