ViewBook 730 Android Tablet Affordably Priced at $250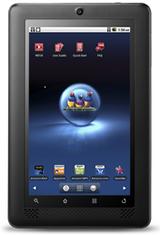 The ViewSonic ViewBook 730 is a 7-inch Android slate that runs the Android 2.2 Froyo operating system and is among one of the cheapest Android tablets on the marklet. Though the device doesn't run the latest Android 3.x Honeycomb operating system software, the ViewBook 730 packs enough of a punch for tablet enthusiasts to consider, including 8 GB of storage, micro SDHC expansion slot, and a single-core 1 GHz ARM processor.
Though the device's 7-inch screen is the same size as Samsung's Galaxy Tab 7-inch, the Barnes & Noble Nook tablet, and the HTC Flyer, the resolution comes in a bit lower at just 480 X 800, compared to the competing higher resolution 1024 X 600 displays. In fact, the WiFi-only ViewBook 730 has the same screen resolution as the Dell Streak 7, which is available with 3G/4G for T-Mobile USA's mobile broadband network.
With Flash support and an included stylus in the box, though not the active digitizer variety found on the more expensive HTC Flyer, the ViewBook 730 may be a good option for those looking at an entry-level tablet. Priced competitive against the similarly priced Barnes & Noble Nook, the ViewBook 730 offers the full Android Froyo experience out of the box without any hacks, rooting, or tweaks involved, so it's good for beginners. Advanced users may find more value, however, in the Nook tablet as that device has a higher resolution screen and can be hacked to run Android 3.0 or prior versions of Android without having to go through Barnes & Noble's curated tablet experience for e-reading. Additionally, another difference is that the Nook has a lower CPU clock speed and lacks what appears to be a front-facing camera that the 730 sports.
The ViewBook 730 is quoted to last between 8 to 10 hours on a single charge. For a higher-end tablet offering, ViewSonic had also announced the ViewPad 7x at Computex, which brings with it a dual-core Tegra 2 CPU and Android 3.x Honeycomb.
Via: CNET

As an Amazon Associate I earn from qualifying purchases.