Virgin Mobile Appeals to Business-Minded Android Users with QWERTY Alcatel Venture
Virgin Mobile had unveiled a new Android smartphone with a candy bar QWERTY form factor in the form of the Alcatel-made Virgin Mobile Venture. The Venture, which will appeal to those who are enterprise-geared and coming from a BlackBerry, or for those who prefer a front-facing QWERTY keyboard for quick and easy messaging, will be priced at just $99.99 on the prepaid Sprint-owned carrier. The device isn't quite available yet, and Virgin Mobile is taking pre-orders right now. The Virgin Mobile Venture is expected to ship on March 15.
In addition to the basic Android OS that's found on the Venture, the device boasts a 2.8-inch touchscreen just above the QWERTY keyboard. The Venture is powered by a 600 MHz processor and has a rear-facing 2-megapixel camera with LED flash. Users can add a micro SDHC card to the device to augment storage capabilities.
As Virgin Mobile is a Sprint-owned prepaid carrier, the Venture will work on Sprint's 3G CDMA Now Network.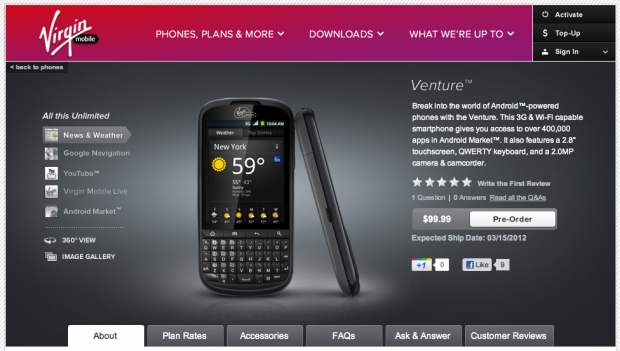 The Venture uses Android 2.3 Gingerbread. The phone features Mobile ID, which is Virgin Mobile's version of Sprint ID. Mobile ID and Sprint ID allows users to download customizable packs that cater to their lifestyles. These packs bundle together apps, wallpapers, widgets, ringtones, and other features to allow users to easily customize their devices.
In addition to the Venture, Virgin Mobile USA also offers other affordable Android smartphones on its prepaid network, including the Samsung Intercept, the LG Optimus V, the Motorola Triumph, the HTC Wildfire S, and the LG Optimus Slider. Both the LG Optimus Slider ($199) and the Samsung Intercept ($99) offer landscape-oriented slide out keyboards whereas the rest of the phones listed have a traditional slate form factor.

As an Amazon Associate I earn from qualifying purchases.