Vizio 5.1.4 Dolby Atmos Soundbar Review: Incredible Sound, Amazing Price
The Vizio 5.1.4 Dolby Atmos soundbar is the most affordable way to add Dolby Atmos to your living room or game room while still getting impressive sound and a super simple setup. This Vizio SB36514-G6 soundbar is $699, and it includes all the speakers that you need to get up and running.
It's way easier to set up than a dedicated Dolby Atmos setup with a receiver and it's half the price of what you'll spend on many Atmos setups. As an added bonus, you don't need to cut holes in your ceiling or run a lot of wires. This makes it especially tempting to install in a living room if you want more than a standard soundbar.
The appeal of Dolby Atmos is the sensation of sound coming from above and immersing you into the movie more. With up-firing speakers in the soundbar and in the satellites, Vizio accomplishes this nicely and it really is close to what you'll find with many systems that cost well over $1,000. This system includes 10 channels, but they are in the soundbar, a subwoofer and two satellite speakers, so it fits nicely into almost any room.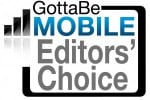 The Vizio 5.1.4 Dolby Atmos soundbar earns a Gotta Be Mobile Editor's Choice for the great sound and amazing value it delivers.
Whether you are gaming, binging on Netflix, watching movies or just catching up on must-see TV, the Vizio 5.1.4 Dolby Atmos soundbar is an excellent upgrade to your viewing experience. I tested the Vizio SB36514-G6 with the Vizio M Series Quantum TV and with a BenQ projector and loved the sound quality. I've also tested a dedicated Atmos sound system from Focal and use a multi-speaker Atmos setup as well.
Impressive Sound
This is the 36-inch model of the Vizio 5.1.4 Dolby Atmos soundbar, and it's arguably the best value at the price. I came away impressed with the sound quality on the SB36514-G6 when connected to my Apple TV or Xbox One X.
With Atmos content, the system does an amazing job of immersing you in a movie with distinct overhead noises that match up nicely to what's happening on screen. While there is some sound engineering happening to place the effects and noises, the system sounds natural and in line with what I get from speakers mounted in my ceiling. You can use the included remote to fine-tune the height adjustment, bass, and surround.
The subwoofer provides a good low end, even with the smaller 6-inch woofer, but it would be nice to see a slightly larger or more fine-tuned performance. While it gets the job done I missed the low end I've experienced with other Atmos setups.
When playing Atmos content from Netflix or a 4K Blu-Ray the soundscape is great, and even when you're playing a game or watching content that isn't encoded with Atmos you get a great sound. It's easy to hear dialogue and explosions and battles in movies are crisp.
You can also use this to listen to music easily thanks to the built-in Chromcast that makes streaming Spotify direct to the soundbar as simple as choosing it in the App.
Design, Setup & Inputs
With black cloth and silver accents, the Vizio 5.1.4 Dolby Atmos soundbar looks modern and easily fits into the decor of most game rooms or living rooms. It's a clean design that carries over to the subwoofer and satellite speakers. The soundbar is about 2.5 inches tall, which is perfect in my game room, but a little too tall to sit in front of an older Samsung TV in our living room. Check your TV clearance before you buy.
The remote is very simple with small buttons and a small screen to show you what your options are and to show you the inputs as well as make adjustments. It's an OK remote, and once you set up the system, you can simply use your TV's remote to control many of the features.
Setting up the system is easy thanks to the built-in WiFi and the Smartcast app. The subwoofer is wireless, but you need to connect it to power. From there, you connect the two satellite speakers to the subwoofer, where they get sound and power. This can limit the installation to a small degree, but I found that it worked perfectly for my setup. Yes, you can find wireless speakers, but they still need a power connection, and I prefer this connection method. Plus, Vizio's included cables are pretty long. You can mount the satellites or set them on an end table as I did.
The Vizio soundbar features one HDMI input and one HDMI output that is ARC, allowing it to connect and essentially control your TV's power and take over the sound so that you get a seamless experience. The single HDMI is limiting to an extent, but you can connect devices to the TV directly and then the HDMI ARC connection brings the sound to the soundbar. Just make sure you have enough 4K HDMI ports on your TV. There is also an ethernet port, optical audio in and 3.5mm in. You can use the Google Assistant to control the soundbar.
Last update on 2023-03-22. This post may contain affiliate links. Click here to read our disclosure policy for more details. Images via Amazon API