Watch the State of the Union Address On Your Phone
Tonight's State of the Union address will air on all the major networks (and Fox) and on C-SPAN at 9PM eastern, but you don't need a TV to watch the president speak.
Just like last year, the White House will stream the speech online (with an enhanced version, even), as will CNN, C-SPAN, and Quora. If you have a smartphone or tablet you can ditch the bigger screens for tiny ones.
You'll be able to watch via the White House Android and iPhone apps or by going to m.whitehouse.gov on any other smartphone.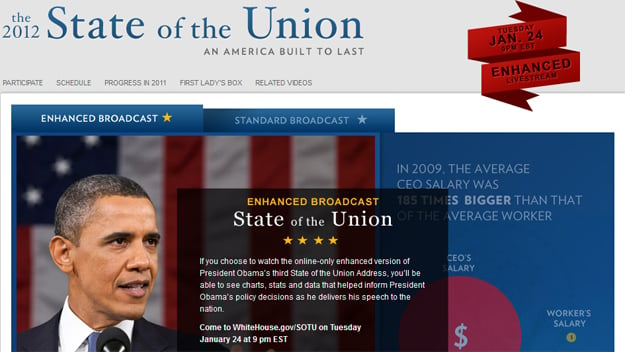 And don't forget apps from cable companies that allow iOS customers to watch live cable TV on their devices: TWC TV (both iPad and iPhone), Xfinity TV, and Optimum.
Those of you not on unlimited data plans should try to find a Wi-Fi hotspot to connect to if you're going to stream the whole speech on your phone or tablet.
Once the speech starts there will be no shortage of running commentary to be found. I won't be at one of the many viewing parties in my city, just following the #SOTU hashtag on Twitter. Also, the League of Young Voters is hosting their second #BarackTalk watching party on USTREAM with the festivities kicking off at 7:30PM eastern.
How do you plan to watch the address?

As an Amazon Associate I earn from qualifying purchases.