All the Pixel 3 Features Coming to the Pixel and Pixel 2
Most of the best new Google Pixel 3 features are coming to the Pixel and Pixel 2 XL. In fact, several of them are available as we speak on your older phone. In this guide we'll explain each of Google's neat new features, tell you which older Pixel devices will get it, and when. Including the new Night Sight camera or Call Screening using artificial intelligence.
While some of the new stuff is exclusive to the Pixel 3 and Pixel 3 XL, or just aspects of Android Pie, a lot of these features will roll out to other Pixel phones. You don't need to spend $800-$900 on a Pixel 3 to get these sweet new camera tricks.
Call Screen will answer phone calls, transcribe it, and let you decide to join in or hang up
Google Duplex brings AI smarts to your phone and makes calls for you (like dinner reservations)
Night Sight uses machine learning to take great photos so you'll never have to use the flash again
Playground and AR blends the real world with lifelike characters right on your screen
Google didn't share a list of every feature older Pixel and Pixel 2 devices will get, or when they're coming. What we do know though, is that several exciting new features or camera enhancements will arrive via software updates in the coming weeks, if they haven't already.
Call Screen & Google Duplex
Earlier this year Google announced Duplex, AI smarts built into the Google Assistant. You surely saw a video of Duplex making phone calls and dinner reservations for you, and it was so amazing it's almost creepy. And while Duplex is still coming out later this year, another part of Duplex known as Call Screen looks awesome. As of November 15th, this is available for the Pixel 2 and Pixel 3.
Coming to both Pixel and Pixel 2 devices
Get ready for Call Screen to answer phone calls for you, transcribe conversation, and let you know if the call is worth answering or not. You can take over and pick up, hang up, or report the caller as spam. Here's a screenshot of this working on the Pixel 2 XL. We expect the original Pixel to get it too.
Even if you do know the number calling, this is a great way to decide if an incoming call and conversation are important enough to answer while you're busy at work. Then, the full Duplex feature set will roll out city-by-city in November and December.
Night Sight (Google Camera)
We've seen "Night Mode" options on smartphone cameras for years and years, but Google's new Night Sight takes it to an entirely new level. No more glowing or red eyes, terrible shadows, and lack of detail. Here's a photo from Google's press event comparing its new Night Sight to the iPhone Xs. Now that Night Sight is available, we're happy to confirm that the results below are REAL. Night Sight is amazing.
Coming to both Pixel and Pixel 2 devices (Available now)
As you can see, the photo still looks like the environment isn't all that bright, but the difference between the two is incredible. Google went as far as to claim you'll never need to use a camera flash again. Not on the Pixel 3 or even the older Pixel 2.
Download: Google Camera
Without getting all technical, Night Sight is basically using Google's advanced machine learning to enhance low-light photographs in subtle yet highly accurate ways. There are likely a few different things at play here, including the phone taking several photos and stitching them together. It's like Night Mode, HDR, and AI blend together into one powerful camera mode.
This is available now for all Pixel devices, and people love it. Get it yourself with the link above.
Playground and Augmented Reality
Google's new Playground brings some awesome AR elements to the Pixel phone and camera. In fact, these are an upgrade over the 'AR stickers' that many enjoyed last year.
Coming to both Pixel and Pixel 2 devices
With Playground, the characters have a natural lifelike feel that's really impressive. Characters like Iron-Man and the Hulk from Marvel movies, or even Childish Gambino (Donald Glover) can now respond to your actions and facial expressions right on the screen. They'll even interact with each other.
This is basically AR Stickers on steroids. The Playground characters have appropriate lighting and shadows and look so real it's quite amazing. There are also new packs for Weather, Pets, Sports, and Signs coming soon. Google Lens is getting better too.
These are available right now for the Pixel 2 and Pixel 3, and likely the original Pixel before the end of November. They should be inside the Google Camera app or get it right here.
Motion Auto Focus
While it wasn't mentioned up on stage by Google, the official Google Camera v6.1 has more than Night Sight and a few other things hiding inside. Another new feature likely coming to the Pixel 1, 2, and 3 is Motion Auto Focus.
Coming to both Pixel and Pixel 2 devices
Tapping on a subject in the viewfinder will tell the Pixel camera to keep track of the in-motion objects. Whether that's their own movement or if the person holding the phone moves to adjust or better frame a shot. A white circle will lock-in on the subject. We're also seeing hints of a new PhotoBooth and Super-Res zoom features, but we're not sure if they'll actually come to older Pixel devices. Most likely some of the more advanced features like depth effects and Super-Res will work on the Pixel 2, Pixel 2 XL and Pixel 3, but not the original Pixel.
Gmail Smart Compose
Another thing we're expecting on the original Pixel, Pixel XL, Pixel 2 and Pixel 2 XL is Gmail's new Smart Compose tools. This new feature, like many others, uses Google's efforts in machine learning to predict what you want, need, or should say while replying and typing an email.
Coming to both Pixel and Pixel 2 devices
Basically, it's like predictive text for Gmail conversations. It's available in the all-new Gmail, and on the Pixel 3 first, then eventually older Pixel phones will get it. Not to mention other Android devices in 2019.
Top Shot (Maybe)
Last but not least, we want to talk about the Pixel 3's best new camera feature — Top Shot. While Google didn't specifically say up on stage that it's coming to older devices like the Pixel 2, we have a sneaking suspicion that it will eventually.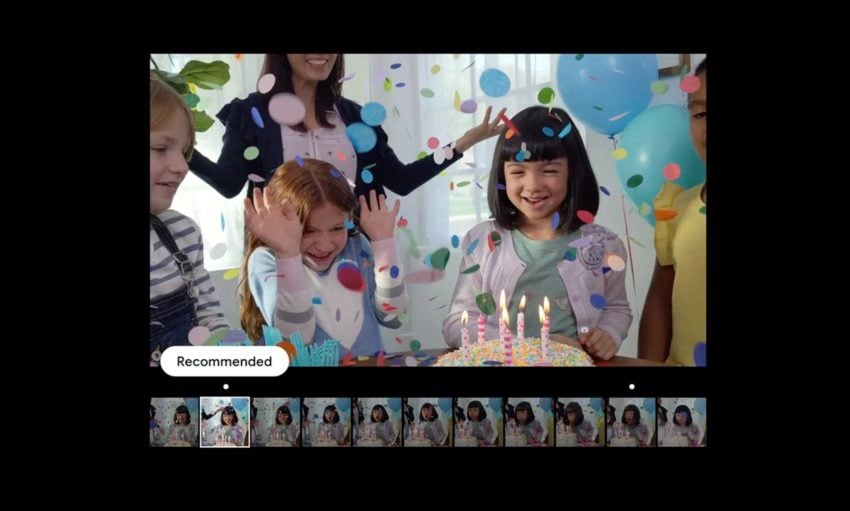 Top shot is like Motion Photos or Apple's Live Photo, but more useful. It'll take tons of photos in rapid succession, then detect the best photo for you automatically. Just watch the video below to get blown away by Google's AI.
The idea here is that Google's camera uses AI and machine learning to screen out any photos where a subject might have their eyes closed or be making a weird face unintentionally, choosing "smiles instead of sneezes" and offers you the best photo automatically. You don't have to scroll through the list like the video, it does it for you. Users don't have to look through all of the photos, but you can if you want.
Again, everything in this post will come to your older Pixel devices in the coming weeks or sometime this month, except for Top Shot. However, it's all software-based, so we're hopeful it'll arrive at some point down the road. You can already enjoy Night Sight and Call Screen on the Pixel 2 and Pixel 2 XL.
Some of the other features like Group Selfie require new hardware, like dual front cameras, and are exclusive to the Pixel 3. We'll update this post as Google continues to deliver the best Pixel 3 features to the Pixel and Pixel 2.