Where to Try the Galaxy Note 4 Ahead of Release
If you can't wait to use the Galaxy Note 4 you can try the new Galaxy Note well before the Galaxy Note 4 release later this month at select Best Buy stores.
This is also a great way to figure out if the Galaxy Note 4 is the best smartphone for you, or if you should look at the new Moto X, LG G3 or iPhone 6 that Apple announces next week.
Unfortunately there are not a lot of stores that will offer you early access to the Galaxy Note 4, but it is better than launches that only cater to New York City.
Best Buy is hosting Galaxy Note 4 experience events that let users touch, feel and use the Samsung Galaxy Note 4 well ahead of the October Galaxy Note 4 release on U.S. carriers. There is no news on if the Galaxy Note Edge is also on display at these locations, but you shouldn't hold your breath for that.
With this cross-country Galaxy Note 4 hands-on tour it's clear that Best Buy is a Galaxy Note 4 release partner, and will sell the phone on multiple carriers, even though there is not an official confirmation from every U.S. carrier.
There are 24 Best Buy locations where you can get your own Galaxy Note 4 hands on time this week, but five of these locations are over since the little advertised event started on September 4th in New York City. The remaining Galaxy Note 4 hands on opportunities are in Chicago, Dallas, Los Angeles and San Francisco.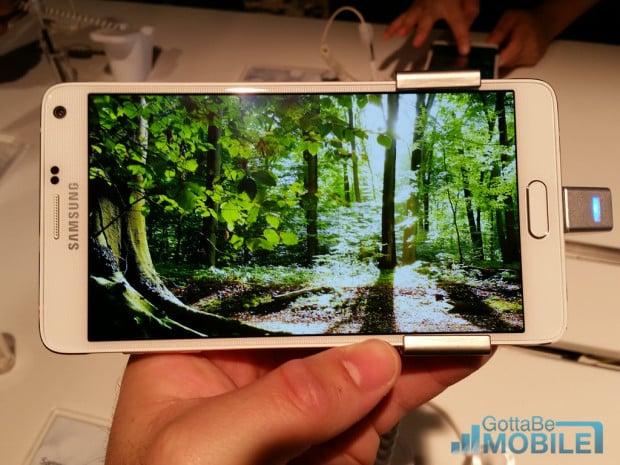 You can check out the Best Buy Samsung Galaxy Note experience tour page for store details and hours, but the basics are below.
Chicago Galaxy Note 4 Hands On – Four Stores – 9/5
Dallas Galaxy Note 4 Hands On – Five Stores – 9/6
Los Angeles Galaxy Note 4 Hands On – Five Stores – 9/7
San Francisco Galaxy Note 4 Hands On – Five Stores – 9/8
You;ll be able to try the Galaxy Note 4 from 10AM to 9PM in Chicago, 10AM to 10PM in Dallas, 11AM to 8PM in LA and 10AM to 9PM in San Francisco.
If you can't make it to these events you'll need to settle for our Galaxy Note 4 hands on video that walks through some of the new features that Samsung introduced earlier this week.
There are an overwhelming number of exciting Galaxy Note 4 features that we think users will love and a QHD display is something you need to see in person to fully realize the benefits of this super-high-resolution display that packs in more pixels than most HDTVs.
When the Galaxy Note 4 release date arrives in October you should be able to walk into a Best Buy store with Best Buy Mobile and pick up a new Note 4 on most carriers. It is possible that we will see a gift card bonus or a trade in deal to help bring down the Galaxy Note 4 price. Samsung did not confirm the Note 4 price at the event this week, but a contest shows that the Galaxy Note 4 off contract price should be around $680, which points to a $299 on contract Galaxy Note 4 price.
The Samsung Galaxy Note 4 features a 5.7-inch QHD display with a 2,560 x 1,440 resolution that delivers vivid colors. Samsung includes a metal frame, ditching the plastic trim from the Note 3 and includes a soft touch back. We also see an improved 16MP camera with smart optical image stabilization that Samsung promises will deliver better photos and a faster shutter speed than a typical OIS system on a smartphone.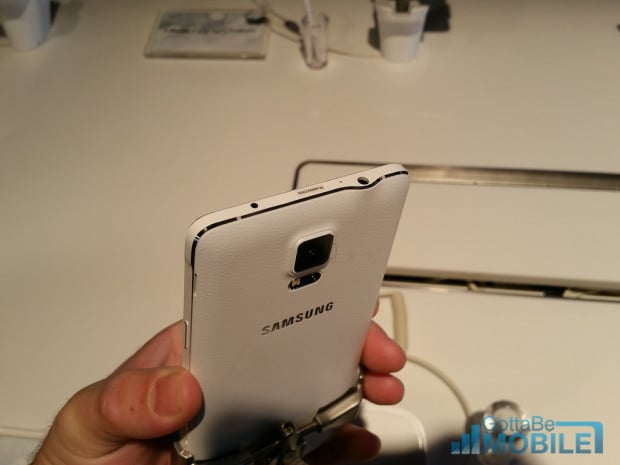 The new Galaxy Note 4 also features a quick charge option that can charge the device 50% in 30 minutes. There is a new S Pen with a more sensitive screen for a better writing experience and new software features as well. Samsung also delivers an update version of Multi-Window mode that allows you to use multiple apps at the same time.

This article may contain affiliate links. Click here for more details.