Why I Bought the AT&T Galaxy Note 5
Samsung's latest Galaxy Note 5 was released late last month, and is available on all major carriers in the United States. Last weekend I went out and bought the AT&T Galaxy Note 5 with 64GB of storage, and chose the Sapphire Black model. Here's why I chose it and decided to part ways with my Galaxy S6 and Nexus 6, the two device I'd been using for the past five months.
Lately all the hype has been about the new iPhone 6s and iPhone 6s Plus, but I went with the best Android smartphone available in 2015 instead. In the past I've bought Nexus devices, or the latest Galaxy S device simply because a large "phablet" sized smartphone was just too big for me. That changed with the Galaxy Note 5, and below I'll explain why.
Read: Samsung Galaxy Note 5 Review
The three the most important factors in my decision regarding a smartphone is the carrier, screen size and the camera. That's because I use Android smartphones and the software can always be changed, customized, or tweaked with custom ROMs. This means that Samsung's TouchWiz interface isn't a problem for me. The excellent performance of AT&T along with the Note 5 having the best camera in any smartphone, made the choice easy for me.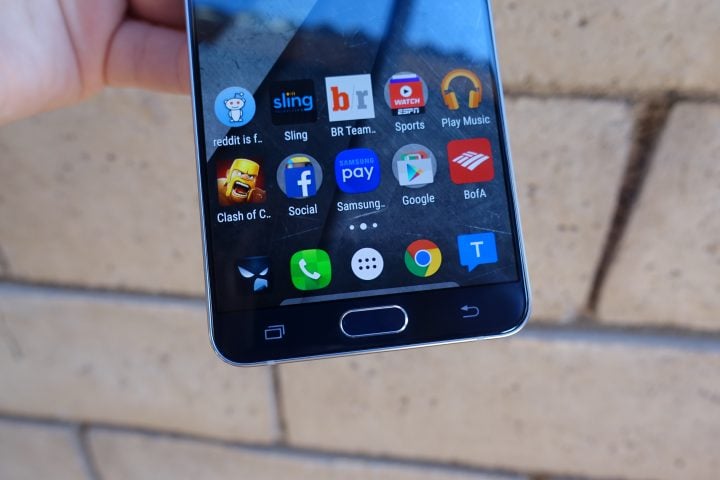 Here in Las Vegas AT&T and Verizon have the best service. T-Mobile has made huge improvements, but I travel to Utah often to see friends and family, or to vacation and enjoy fishing, camping at my cabin and hiking. After I get 10 minutes out of Vegas, T-Mobile goes to 3G, or even Edge, making data usage impossible. Nothing but phone calls. Same goes for Sprint, who drops to 3G and has some of the slowest data speeds I've ever used, makes them a no-go even if they gave me the Note 5 for free.
I have a Business Account with AT&T and split the cost with two others, sharing 15GB of data, and my bill is $75 a month. I have unlimited calls and texts with about 13GB I can use, as the other two barely use the internet. No carrier can match that, and deliver the reception and 4G LTE speeds I require. The only reason I'd ever switch to Verizon would be for NFL Mobile, but I hear AT&T is making changes next year to deliver the Sunday Ticket to AT&T subscribers now that they own DirecTV. We'll see.
I have a confession to make, I've never owned an iPhone until the iPhone 6 Plus. They were always just too small, not to mention I've been on Android since the T-Mobile G1, the Nexus One, Galaxy Nexus, and so on.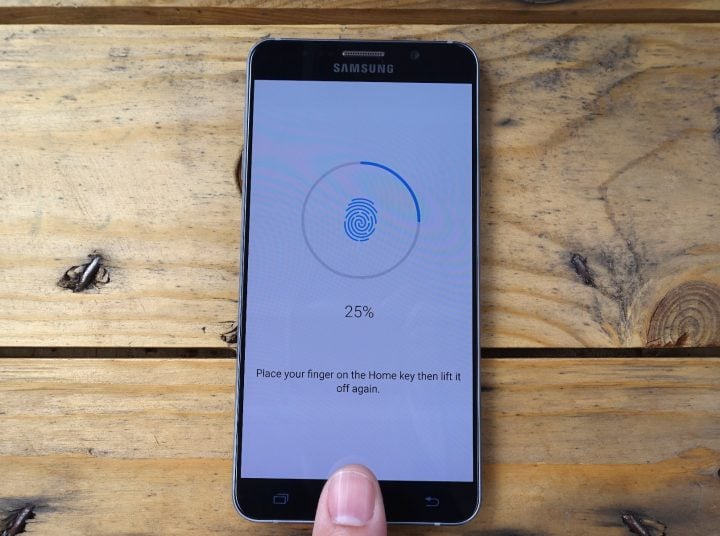 In addition to the Galaxy Note 5 I own several flagship smartphones. The LG G4, Galaxy S6, an iPhone 6 Plus, and the Motorola-made Nexus 6 from last year. After using the Nexus 6 for a month I quickly realized it was simply too big, and the same goes for the iPhone 6 Plus. Both are too tall, slightly too wide, and just not comfortable to use with one hand.
I never felt safe using them, and was always worried I'd drop my phone, not to mention they barely fit in my pants pocket. I hate things in my pockets, you see, and I don't even carry a wallet. The Galaxy S6 became my daily phone for the great camera, decent size, and fingerprint scanner. All of that and more arrived with the Note 5 making it the perfect device for me.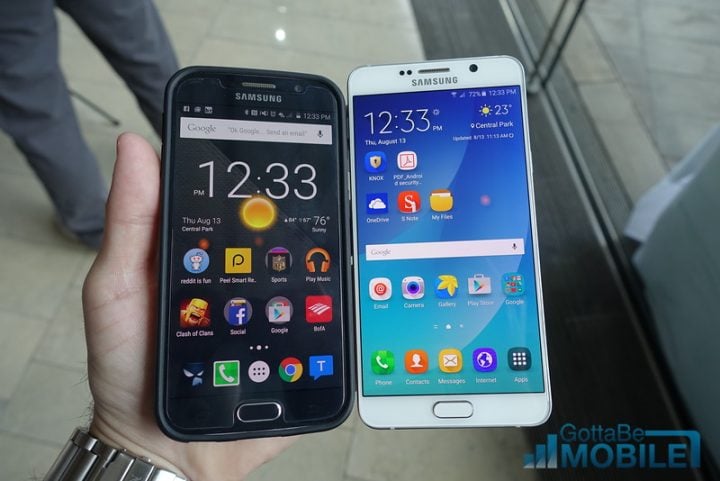 The new Samsung Galaxy Note 5 fixes a few of these problems, and delivers everything I want, aside from a micro-SD slot, which is why I chose the 64GB model. The Note 5 features a beautiful 5.7-inch Quad-HD display, but the physical size of the phone is smaller than the Note 4, and smaller than the 5.5-inch iPhone 6 Plus. Making it easier to hold, and thin enough to finally use with one hand. This is the first Note that I felt comfortable holding, and knew I had to have it. The big screen is great for watching sports with WatchESPN, NBC Sports Live Extra, and Sling TV.
Since I rarely carry a wallet the Note 5 is also perfect for one more reason, Samsung Pay. Similar to Apple and Android Pay, Samsung Pay uses NFC to make mobile payments with your phone. However, it's also backwards compatible with old swipe-based magnetic strip terminals and POS machines. Meaning I can use the Galaxy Note 5 anywhere that accepts credit cards.
Read: Android Pay vs Samsung Pay: What's the Difference
I've actually left my credit card home (or in my Truck, which is unsafe) and carry my drivers license and the Galaxy Note 5. Samsung Pay has worked at places that accept Apple Pay, and at regular stores like Target, Gas Stations, and more. Only one time did it not work, and that was at a Subway, which accepts Apple Pay, so that was just a glitch or one-time problem.
The Galaxy Note 5 screen was rated the best in the market, and the camera received the same award. The 16 megapixel camera takes amazing photos, 4k video, slo-mo video, and has a full manual mode for the perfect photo, no matter the situation. Another thing that sealed the deal is the 5 megapixel wide-angle front camera takes great photos too.
What this all means is the screen can't be beat, the camera is among the best, and it's running on a carrier I find to fit my needs. However, there is one more thing I needed to address, and that's software. Yes the Galaxy Note 5 runs Android 5.1.1 Lollipop, but it's covered in Samsung TouchWiz, which isn't very good and slows down the phone. Thankfully I can change all of that, so I did.
Read: How to Make the Galaxy S6 Look Like Stock Android
I quickly downloaded the Google Now home screen replacement launcher, making my Galaxy Note 5 look and feel like stock Android. I disabled all the AT&T bloatware (over 20 apps to be accurate) then installed a custom theme. The Galaxy S6, S6 Edge, Note 5, and Galaxy S6 Edge Plus all can access Samsung's new Theme store. In here are a few themes with stock Android 5.0 Lollipop, called Material. I'm using the regular Material Theme, and there's also one called Material Dark. These changes the entire look and feel. From the icons, pulldown bar, settings menu and more.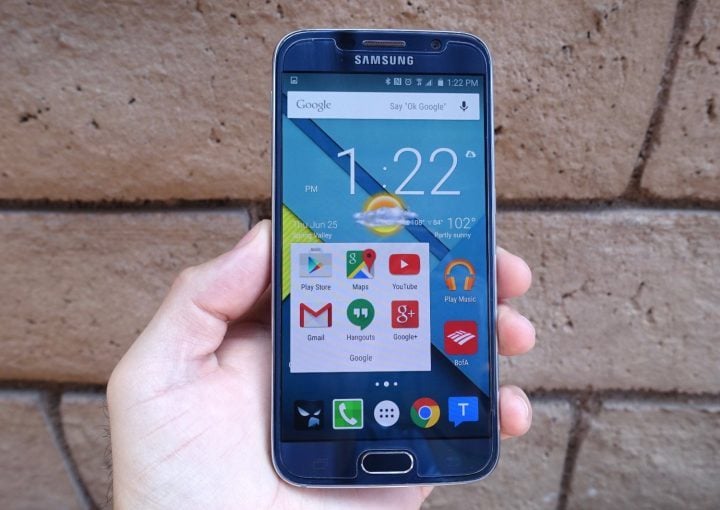 Now I have one of the best Android smartphones ever released with an amazing 5.7-inch screen, a class-leading camera, fingerprint security and easy mobile payments, a powerful 8-core processor, tons of multi-tasking features at my disposal, an S-Pen stylus I'll never use, and software that looks like stock Android.
It looks very similar to a Nexus device or pure vanilla Android, lets me make mobile payments anywhere I'd like, and is just an all around excellent device. As for the color, I chose Sapphire Black because black looks better while watching video, the notification LED is easier to see, and it looks blue in the right light, due to the aluminum and glass design. I'm not a fan of white phones.
I don't need 128GB of storage with Google Music and Photos putting my content in the cloud, so 64GB without a micro-SD card was just right. There are tons of options these days, but the AT&T Note 5 is exactly what I needed.
10 Exciting Official Galaxy Note 5 Accessories
Note 5 S-View Flip Case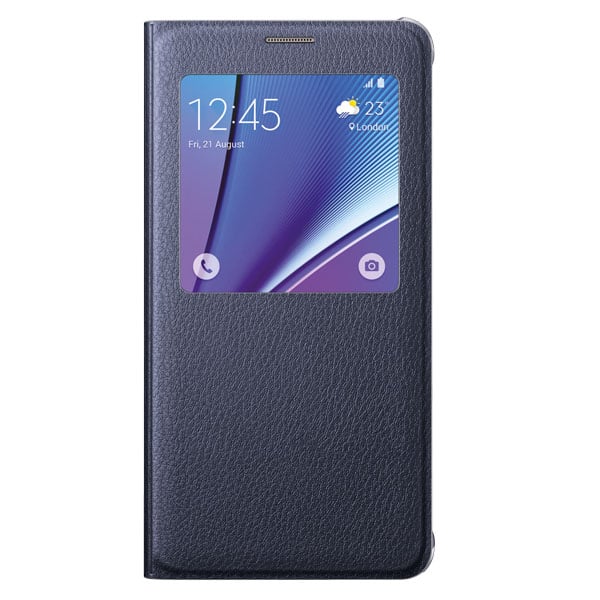 As expected, the popular S-View case is also available for the Galaxy Note 5, and currently all four colors are for sale online. Black, White, Gold & Silver. The S-View has been popular for years, and protects your device while letting you interact with it without ever opening the case. Basically offering full protection even while you answer calls, take pictures and more.
When closed, the S-View cover offers instant access to critical features through a unique window interface, thanks to the Samsung ID chip. View the home screen to check the time, weather and other status items. Accept or reject incoming calls with just a swipe, or reject calls with a preset message. Control your music playback directly on the S-View screen. If you miss anything, notifications are shown in the recent activity menu of your S-View cover.

As an Amazon Associate I earn from qualifying purchases.