Why I'm Not Buying the Samsung Galaxy S III
You may have heard. Samsung has announced its latest Samsung Galaxy smartphone, the Samsung Galaxy S III. I can say, without any doubt, that many people will end up buying this smartphone. However, I can also say, without any doubt, on day one, that I will not be one of them.
There are several reasons why this decision came so easy to me and I'll get to those in a second.
First though, I wanted to touch on some of the things I do like about the Galaxy S III.
Samsung got it right with the storage space. It's going to be offering three different variants. A 16GB model. A 32GB model. And a 64GB model. The Galaxy S III will also come with 50GB of free DropBox cloud storage space.
So, if I were to buy the 64GB model, I'd be getting a phone with 178GB of storage space, at least for the two years that I'd have DropBox. That, as our own Shawn Ingram points out, is a massive amount of space for a smartphone.
I like that.
I also like the fact that it will be 4G LTE capable. It's impossible for me to think about buying a phone that doesn't have 4G LTE data speeds. Seriously, once you make the switch from 3G, it's impossible to go back.
It'll also have a fantastic processor inside, either the quad-core Exynos from Samsung or a Snapdragon S4 from Qualcomm. The dual-core chip hasn't been confirmed but I suspect it will be the chip found in the 4G LTE models.
Both are good in my book.
So there are some things to like, but in my opinion, there are way more things that I dislike about the Samsung Galaxy S III.
First of all, a 4.8-inch phone is massive. The Samsung Galaxy Nexus display is way too big for me and it's 4.65-inches. I can't imagine owning a phone with a screen size that's bigger than that. To be clear, my ideal screen size for a smartphone is 4-inches.
Read: Five Things I'd Change About the Samsung Galaxy Nexus.
The display is also PenTile Matrix in nature. Yes, I get it. It saves battery life. But it also makes things appear less crisp and clear on-screen. It also can't handle the color white very well which is bothersome.
Second, Samsung hasn't sold me on any of the bells and whistles that are coming embedded with the software. S Voice and S Beam and Stay Smart all sound nice but I doubt I use any of them.
I own an Android 4.0 smartphone and I've never used Android Beam with another Android user. And if I owned an iPhone 4S, I know for a fact that I'd rarely use Siri. S Voice is Samsung's equivalent of Siri.
Stay Smart, which is Samsung's eye-tracking solution which shuts the phone off when your eyes are taken off the display sounds cool, but it also seems gimmicky.
It's not like these are just small pieces to the puzzle either. These are big components in the Galaxy S III experience and quite frankly, it just doesn't get me excited.
I also found it interesting that Samsung didn't say anything about TouchWiz. This leads me to believe that it hasn't done much with the user interface it puts over Android. That's a shame because I do not care for TouchWiz at all. I don't like HTC Sense, HTC's custom user interface either, but Sense is far and away better than TouchWiz.
Third, the Galaxy S III is plastic. Disliked the plastic on the Samsung Galaxy Nexus and I will dislike it on the Galaxy S III.
Fourth, I would have loved for Samsung to have pushed the bar camera-wise. The camera on the Galaxy Nexus sucks and I get the feeling that the camera on the Galaxy S III will be so-so. It's clear that they focused on the social aspect and not the hardware aspect.
I take tons of photos and video on my phone and I can't buy into anything less than a stellar camera. That's what intrigues me about HTC's One X, the camera.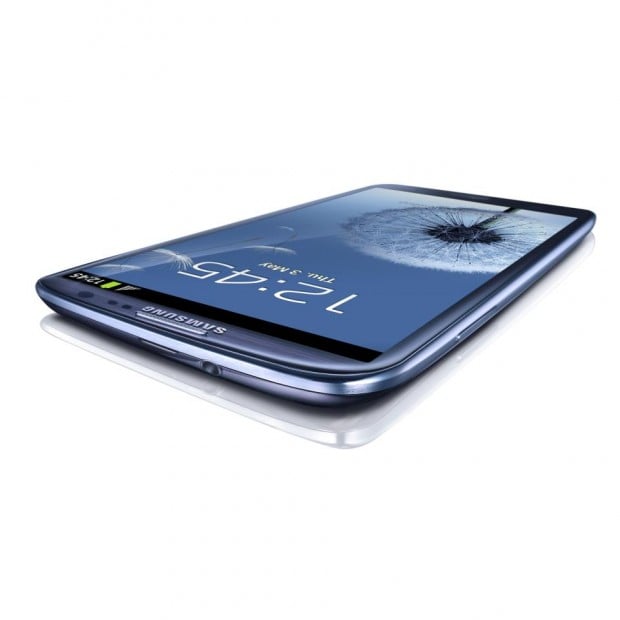 Read: Why I'm Buying the HTC One X Instead of the iPhone.
Overall, what I am getting at, is that I just can't bring myself to be excited about this phone. There isn't anything here that floors me, that makes me go, "I really want that device."
Samsung needed something big with the Galaxy S III. Something that would make me look past both iOS 6 and a 4G LTE iPhone, both of which will likely be out later this year.
And I can tell you that just mere hours after seeing the phone and its features that it didn't.
Do you feel the same way or are you picking up a Samsung Galaxy S III?

As an Amazon Associate I earn from qualifying purchases.