Why the Galaxy Note 4 Beats the iPhone 6 Plus From Samsung
The new Samsung Galaxy Note 4 ads explain everything the Galaxy Note 4 isn't, and a little bit about what it is. This is an interesting take on showing off the most important Galaxy Note 4 features and a nice change from ads that simply call out Apple.
Even though Samsung doesn't mention Apple the message is clear, the Galaxy Note 4 is more than just a big screen. Compare this to the iPhone 6 and iPhone 6 Plus ads that feature Jimmy Fallon and Justin Timberlake repeatedly saying Huge and talking about the big screen and Samsung has a winner.
Samsung focuses on the Galaxy Note 4's 2K display that packs a lot of pixels into a 5.7-inch display and earns praise for delivering an incredibly viewing experience. The second Galaxy Note 4 ad focuses on the S Pen and what you can do with it, as well as what the S Pen is not.
Expect to see some of these Galaxy Note 4 ads running on TV soon as the Galaxy Note 4 release date draws close on all major U.S. carriers.
Here's a look at what Samsung thinks the Galaxy Note 4 isn't, in the new ads that show a man and a woman using the Galaxy Note 4 during their day.
https://www.youtube.com/watch?v=GakJE90sBRw
In the first Galaxy Note 4 ad focusing on features Samsung explains what the Galaxy Note 4 isn't. The focus of this ad is to explain what the Note 4 isn't and what it actually is. Here's a breakdown. The Galaxy Note 4 display isn't just a screen and the camera isn't just a camera. It's also a;
A window, or two
A front row seat to the movies
It's a camera that can see in the dark
It's a camera that's a notebook.
In the second ad Samsung hopes to convince buyers that the Galaxy Note 4's S Pen is more than just a pen or a stylus. This is not a Pen, the ad explains, listing off what it actually is and showing off the new S Pen features on the Galaxy Note 4.
https://www.youtube.com/watch?v=Y8syBDcjySE
Here's what the Galaxy Note 4 is, in this new Note 4 ad;
A pair of scissors
A glue stick
A shortcut to your phone
Also a nifty head-scratcher
The new Galaxy Note 4 ads focus on what you can do with the new smartphone. This is an important step way from the iPhone 6 ad that simply shows off the big screen. Apple also highlights the camera, but these new ads aren't as good at showing off the features as the story ads Apple ran for the iPhone 5s, showing apps and accessories that made the iPhone "Gigantic" and "Powerful"
https://youtu.be/I3uAoeQBpcQ
Users can buy a pre-order a Galaxy Note 4 today and the Samsung Galaxy Note 4 release date is October 17th in the U.S. The new Galaxy Note 4 features a metal frame and a soft touch back, with a better overall build quality than the Note 3. The 5.7-inch display features a 2,560 x 1,440 resolution that bests the 1,920 x 1,080 resolution on the iPhone 6 Plus.
Samsung's experience with larger screens means users gain access to things like Multi-Window mode to run two apps on-screen at once and use the S Pen to take notes, perform tasks and more.
5 Exciting Galaxy Note 4 Cases
Samsung Galaxy Note 4 S View Case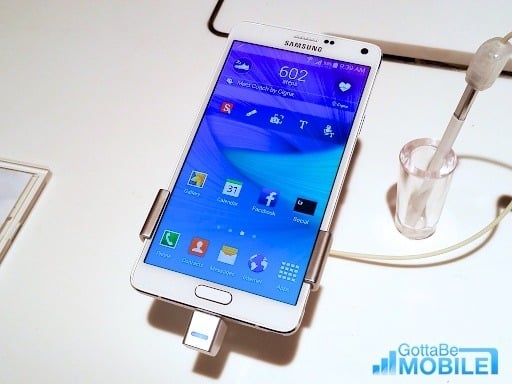 The official Samsung Galaxy Note 4 cases include a Galaxy Note 4 S View case with an opening on the front that shows notifications, the clock and other details like the weather and pedometer infromation.
When you get a call or text it will show through the small window so you can accept or ignore. You can also activate a quick camera that takes a square photo. When you answer a call you can leave this closed to prevent grease or makeup from getting on the display.
Samsung offers the Note 4 S View Cover in eight color options including white, smooth white, charcoal black, smooth black, gold, smooth pink, pink, plum and mint.
The best place to buy the Galaxy Note 4 S View Case so far is MobileFun where it is $54.95 and expected to ship in 3-5 days.