Why Wait? Galaxy S5 Health Features Available Now on Top Smartphones
Apparently in the world of mobile devices we've moved from consuming media to health and fitness monitoring. Given the trend, companies hope we will buy and use new devices so we'll all be much healthier while we sit on our couches and watch House of Cards. But you don't need to wait for these features as many of them are available today. At Mobile World Congress in Barcelona, one of Samsung's big themes was Health and Fitness as it unveiled its new flagship Galaxy S5 smartphone along with new Samsung Gear watches. Apple is rumored to be launching its own smart watch later this year that many speculate will have some of the same features Samsung demonstrated in the new products announcement.
The feature that has everyone's pulse pounding is heart rate monitoring. On the Galaxy S5 if you hold your finger over the camera it can sense your pulse and feed that data to an App for monitoring. It's a part of Samusng's S Health series of Apps and accessories that it introduced after the launch of the Galaxy S4.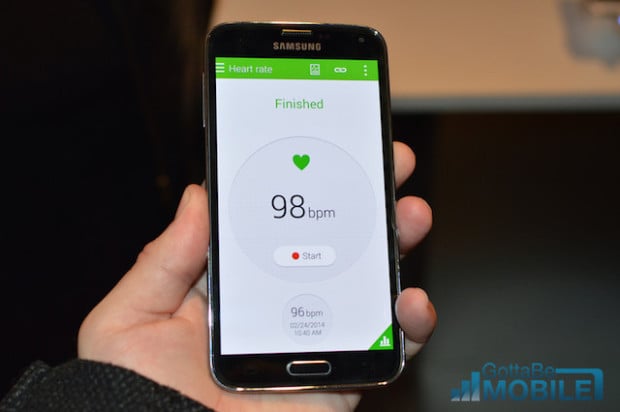 But, you can already measure your heart rate or pulse in a similar fashion on some current smartphones from Samsung and other companies. With the iPhone 5s and its included M7 coprocessor to read sensor data you can monitor any number of physical conditions thanks to the efforts of third party companies who have been working at this for awhile. Android and Windows Phone also have Apps from third party makers that make this possible today.
So, don't fret about saving up enough dough to jump on the new wearable technology and health monitoring bandwagon. Depending on your gadget lust, needs, and desires you won't need to purchase a new smartphone or gadget to monitor certain aspects of your body's health or fitness activity. Don't get me wrong, everybody's health is different and everybody chooses to pay attention in ways that are meaningful for them. Mobile gadgets offer unique experiences and that's part of the fun. But one person's gadget fetish is another's gadget that gets lost in a drawer.
As we've been suggesting in this year of wearable technology, we haven't seen a decided need for the new technology and gadgetry yet. If health and fitness are going to be what companies like Apple and Samsung focus their next devices on, they've actually done a pretty good job of that already. Certainly newer devices should be capable of doing more than the existing crop does, otherwise there is no need to try and build and sell them. But let's look at a small selection of what's available already.
Apple and iOS
Apple's iPhone 5s comes with a new M7 Motion coprocessor that takes sensor data and stores it until it is called on by an App. Those sensors can measure your physical activity like walking, cycling, and running and, depending on the App, translate that data into statistics that help you evaluate your goals and progress. You don't need an external device to do this. All you need to do is have your iPhone on you.
Two excellent Apps I've used for this include Argus and Moves. Both measure your movements and can give you a daily, weekly, and monthly total of steps taken. Moves can actually begin to discern what kind of movement you are doing, whether that be cycling, running or walking, although sometimes that's hit or miss.
The Argus App is made by Azumio and also lets you plug in data from other devices and other Apps, like a scale, a blood pressure meter, or a pulse reader.
I use a Withings scale and also a blood pressure cuff to keep track of my weight and blood pressure and the data is reported to the Argus App for me to monitor. Of course I could use Withings own Apps for this kind of monitoring as well.
As for measuring your heart or pulse rate there are a number of iOS Apps that take advantage of the iPhone camera to accomplish this. Two of those I've tried include Cardiio and Instant Heart Rate by Azumio.
Instant Heart Rate ties directly into Argus. In both Apps you measure your heart rate by placing your finger over the camera, just like what Samsung showed at Mobile World Congress.
Android
Like iOS there are quite a few Health and Fitness Apps on Android. Azumio again has a number of Apps available on this platform including Instant Heart Rate that uses the camera of your Android phone to measure your pulse. Withings also has Apps for its device and measurements available on Android.
Windows Phone
You'll find Apps from Azumio (Instant Heart Rate) for Windows Phone along with Apps that work with Nike Fuel, FitBit, and the Withings Scale. Many of these are third party Apps that bring in the data, but some are made by the company that makes the device. Microsoft has also just released a new Bing Health and Fitness App for Windows Phone that will do some of the basic physical activity tracking.
Existing Wearable Devices and Apps Might Be Enough For You
Both the Android and iOS platforms also have Apps that work with a number of the existing Fitness and Health wearables that are already in existence from makers like Nike, Fitbit, and Jawbone. I'm sure there are others. The point here is that using today's existing devices and wearable gadgets, you can monitor many aspects of your health and activity without having to get all exercised about getting the next model smartphones in order to stay fit.

As an Amazon Associate I earn from qualifying purchases.