Will Google Commoditize Gaming Phone Experience of PlayStation Phone?
Just as we're hearing more information about the Sony Ericsson PlayStation Phone emerging with Android 2.3, developers have found more traces of Android's potential foray into gaming in the the Android 2.3, also known as Gingerbread, SDK package available for download.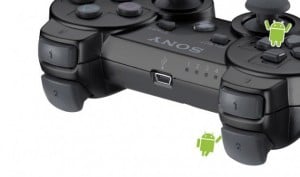 According to Mobile Crunch, developers who looked at the SDK noticed that biuttons for L1, L2, R1, and R2 were found, along with generic A, B, C, and X, Y, and Z buttions. The L and R series buttons are similar to the shoulder trigger on Sony's PlayStation 3 controllers, and rather than the square, triangle, and circle controller buttons, it looks like Google's gone for A, B, C, X, Y, and Z.
Even the buttons are part of the "game controller" reference within the SDK package, showing evidence that Google will be tackling the gaming space.
Google's deeper gaming push on Android will carry several implications. First, it will show that Google is committed to Android as a gaming platform, especially in light of Apple's success in gaming with iOS, and this could push the hardware limits even further. Second, it could diminish the importance of Sony and Sony Ericsson as a player in the mobile Android gaming space with the PlayStation Phone.
In terms of gaming on Android, Google has had limited success in coaxing high-end game developers to create compelling and feature-rich titles for the platform. One reason is that developers thus far aren't happy with the DRM implementation used by Google, and those developers are concerned about the ease of which their games can be pirated. These developers want Google to implement stricter DRM mechanisms.
More importantly, with the push behind gaming, Google's OEM will have more of an incentive to release the best hardware with the most current CPU and GPU to support current-generation and next-generation gaming. With Apple already said to rival the best living room game consoles in terms of power on its mobile devices, the same potential exists for Android and its partners. And now, Android partners will also need to think about making hardware that will be capable for today's and tomorrow's games. As I've expressed my disappointment of the Nexus S not being innovative enough in its CPU and GPU feature set–the core is still a Hummingbird chipset that was announced at CTIA about 9 months ago–perhaps future Nexus products and future Android phones will be more cognizant of the rich potential of the gaming market.
As the game market begins to heat up, Sony and Sony Ericsson may find itself competing with Google and its partners in the Android space with the PlayStation Phone. Over time, other handsets from other manufacturers may come with gaming controllers, either via a slide out form factor or integrated into the front of the device (replace the keyboard portion of the Motorola Droid Pro for the game controllers for instance), and Sony Ericsson's competitive advantage may be lifted.
However, Sony's reach may not be in hardware and it may be going after the software market by signing up developers to create for a potential PlayStation Phone Store rather than Android Market. With Sony's history of working with developers on the console market, it has experience doing this and understanding DRMs and developer's needs, so it has a chance of implementing a rival gaming store front against games on Android Market. If this happens, we may experience a certain fragmentation with Android games and that a number of Android titles will only be available on the PlayStation Phone while a bigger chunk will be available for both PlayStation Phone and other Android handsets through Android Market.
Where Sony and Sony Ericsson can focus right now on games is through its negotiations with developers. As this happens, and if a PlayStation Game Store/App Store was created, we will see more exclusive arrangements being made across different phones, similar to how some titles enjoy exclusivity on the home consoles.