YouTube Music: What You Need to Know
YouTube Music is a new streaming service that lets you listen to all the music and watch all the music videos found on YouTube in one dedicated app, for free. And for $9.99 a month, everything on YouTube Music is ad-free.
Along with YouTube Music, Google announced YouTube Premium, and that's on top of Google Play Music and a few other services. It's all a little confusing, so here's what you need to know.
What is YouTube Music?
Moving forward, YouTube Music will be Google's new music streaming service. This app will combine everything you love about music and videos on YouTube. It's how the company plans to compete with Spotify and Apple Music. And yes, there are both free and paid subscriptions tiers.
Whether you want to watch, listen, discover, or browse, YouTube Music has you covered. It's basically a music streaming service with the power and catalog of YouTube in its back pocket. Making music and videos easier to find and enjoy. You can listen to a hot new song, then watch the video, all inside the same app.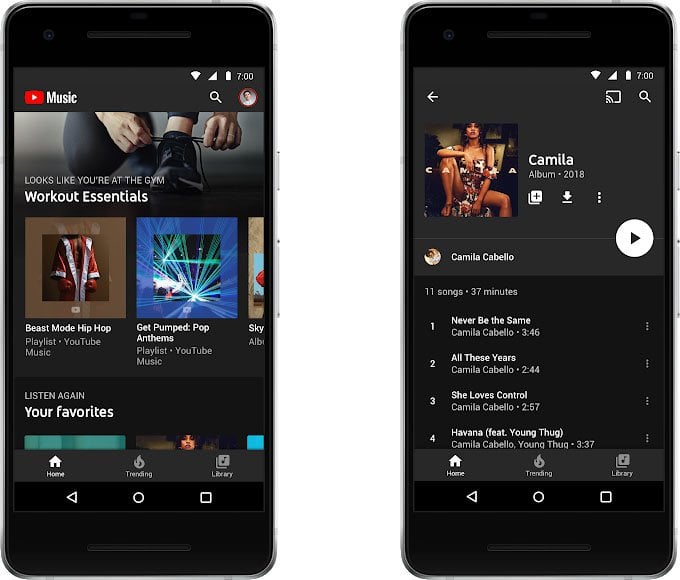 Think about everything that's on YouTube. You can find original songs, remix versions, live tracks, music videos, covers, and more. You'll get all that for free, but with ads.
How Much Does YouTube Music Cost?
This is all completely free and a great alternative to some of the other options on the market. Free users get ad-supported videos, you can't download your favorite songs for playback later, and you can't listen while you do other things on your phone. That's known as "background playback" and it's only available if you pay. Basically, you get a better experience with less headache by going premium.
YouTube Music Premium is basically Google's version of Spotify or Apple Music, but with one big difference. It gives you access to all the videos on YouTube in the same app. That's something Apple and Spotify can't offer.
For $9.99 you can listen to any song you want, watch tons of videos (without ads), and download songs for playback later. Like when you're traveling. Yes, this is like Google Play Music, but more on that in a moment.
Read: How to Download YouTube Videos & Music on Android
As you can see above, Google also offers a new YouTube Premium subscription. This gives you a paid subscription to YouTube Music, and what was previously known as YouTube Red. That higher $11.99 tier combines Google's music streaming and video streaming services into one monthly fee.
YouTube Music Missing Features
Here's where things get a little confusing. YouTube Music has a lot to offer, but there are some notable features missing. Although we could see them added at a later date.
What we don't know yet, is how this will work with playlists, podcasts or users own private music collections. I have thousands of songs on Google Play Music, and I can buy more or listen to podcasts. You can't "buy" a song on YouTube. Instead, you're paying to stream it when and wherever, like Spotify or Apple Music. Google made no mention of podcasts in its announcements.
YouTube Music Release Date
YouTube Music's official release date is May 22nd in the United States and select other regions. You can try it in the US, Australia, New Zealand, Mexico, and South Korea. Then, Google will quickly expand to other countries like Canada, Germany, France, Russia, Spain, Sweden, and more.
You can click here for more details, and to sign-up and get it first.
What Happens to Google Play Music?
So where does this leave Google Play Music, the service millions of people use and love? The service that competes with Apple Music and Spotify already. We're not really sure.
At first, Google will continue to offer both Google Play Music and YouTube Music. Google Play Music subscribers will actually get YouTube Music Premium for free, at least for now. That said, the plan is to eventually replace the service completely with YouTube Music.
If you use Google Play Music, nothing will change — you'll still be able to access all of your purchased music, uploads and playlists in Google Play Music like always. However, at some point that will change when Google eventually replaces it with YouTube Music.
Final Thoughts
The end goal here is to leverage the power, popularity, and content from YouTube to take on Apple Music and Spotify. This gives Google a big leg up over the competition. Hopefully, once Google combines all of its services into one, YouTube Music will be a great option for users.
In closing, YouTube Music gets you something that's similar Spotify for free. Then if you want ad-free streaming, downloads, and other features for a better experience it's $9.99 a month. If you're going that far, you might as well pay $2 more per month and get all YouTube video ad-free, along with original content.