YouTube TV vs Hulu Live: Which One to Try?
If you want to cancel cable and are looking for a live tv streaming service, two of the best options are YouTube TV and Hulu with Live TV. They both have pros, cons, and different channel lineups, and here's what you need to know about both.
These two cable tv alternatives have several important differences you'll want to know about, aside from just how much they cost each month. We'll compare everything about each option below for those trying to cut the cord this year.
YouTube TV vs Hulu + Live TV: What to Know
Pricing
Channel Lineup
Supported Devices
Multiple Streams
Cloud DVR Recording
Final Thoughts
These days almost everyone already pays for at least one streaming service, like Netflix and Amazon Prime, but they don't offer live television. If you still want sports, ESPN, CNN, Fox News and more, you'll need to also subscribe to a live TV streaming service like YouTube TV.
Luckily for you, we've already tested all the popular options and below is a breakdown of two of the best live TV streaming services.
YouTube TV vs Hulu Live: Price
Both of these services increased their pricing into 2019, but they're still way more affordable than traditional cable. At first glance YouTube TV is cheaper, by a few bucks, but that's not the only thing you'll want to consider.
With Google's popular YouTube TV option you don't have a bunch of extra packages like Sling TV, or crazy add-ons like cable, and it costs a straight $50 per month. This takes some of the decisions and confusion out of the process, which some people might like.
That said, they do offer some important upgrades like EPIX or Showtime — so you don't miss Homeland or Shameless episodes.
With Hulu, you have one main option with a few differences. The regular Hulu with live TV is $55 per month, or you can pay $61 to get it with no ads. There is a Live TV Only plan for $53.99 per month that doesn't include the traditional Hulu plan at all, but that's almost pointless.
Additionally and perhaps the best thing ever, is that Hulu partnered with Disney to offer everything on Hulu, Disney+ and ESPN+ all for just $62 per month. That gets you TV shows, movies, live TV, Mandalorian, and sports which is pretty tempting. Honestly, that's probably your best bet.
Otherwise, you're getting about 60+ channels from Hulu and local stations, which is a big deal, but we'll talk more about that in our next category.
Both YouTube TV and Hulu are more expensive than something like Sling TV, but they also have more content and channels which will likely appeal to the entire family.
YouTube TV vs Hulu Live: Channels
For most people the price is important, but what's equally as important is the channel lineup. Luckily for you guys, both Hulu and YouTube TV is among the best in this regard.
When it comes to channels YouTube TV has a few more than Hulu, but not by much. They do, however, have almost all local channels and things like PBS. I mean, you can always buy a digital HD antenna for local channels, but it's easier to have an all-in-one solution.
With Hulu you get tons of content, including sports AND major networks, but YouTube TV offers something similar. Most users will find the four major networks like ABC, CBS, Fox, and NBC — or their local affiliates depending on your region, not to mention most major channels for sports. Hulu does not have AMC, which is a big one for The Walking Dead fans.
Overall YouTube TV has more sports, but I feel like Hulu has a better overall selection. Plus, you're getting access to Hulu's big library of TV shows.
Keep in mind that channel lineups change, often, which is why we don't have a huge list of them. Go to YouTube TV and Hulu and look for what you need, then decide.
Supported Devices
You can access both YouTube TV and Hulu + Live TV on a wide wide array of devices, but YouTube has a small advantage here. Both platforms work on phones, tablets, smart TV and smart box devices, streaming boxes and more. You can stream Youtube TV from your phone, TV or computer with ease, and the same goes for Hulu.
This basically means that no matter which streaming TV service you decide to go with, you'll have no problems watching it on your smart TV, or just about any other device.
Both services are compatible with Roku, Fire TV, Apple TV, Google Chromecast, and several others. We recommend you simply buy a Fire TV and get to watching TV.
Multiple Streams
One thing you'll want to pay attention to if you have a big family is the number of streams available for the service you choose. This is known as "multi-streaming". By this we mean your kids can watch cartoons or Disney in one room, while you stream a movie or something else upstairs or in the living room. YouTube is the winner here at first, but Hulu will give you more options if you pay for it.
YouTube TV can stream on up to three devices at the same time
Hulu Live can stream on up to two devices at a time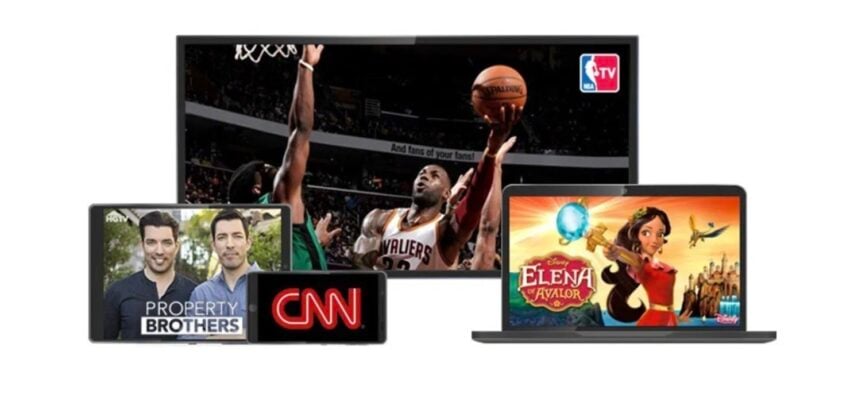 At first, YouTube wins, but you can actually stream Hulu on unlimited devices and streams for an extra $9.99 per month. That's expensive but if you have a large family it'll be worth it not to run into issues as you might with YouTube.
Cloud DVR Recording
The last thing we want to mention and compare is Cloud DVR options or DVR recording.
YouTube TV's cloud DVR is the best of the best, and something we wish every other service offered. They'll give you absolutely NO limits on what or how much you can record. Seriously. You can access your entire library of recorded shows, an unlimited amount, for up to 9 months with Youtube TV.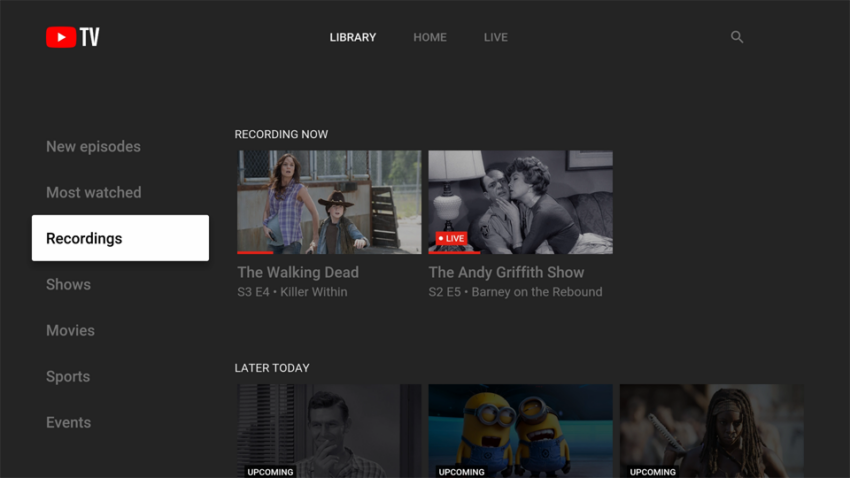 YouTube: Unlimited DVR Recording
Hulu + Live TV: 50 hours of cloud DVR included, or $9.99 per month for 200 hours and the ability to fast forward through commercials
Overall Hulu isn't bad and 50 hours is better than the 10 hours offered by Sling TV, but nothing can compete with what YouTube has to offer here. At the same time, 50 hours should be more than enough as long as you watch, delete, and manage your recordings.
Final Thoughts
To wrap things up, we want to go ahead and recommend the Hulu + Disney + ESPN first, as it feels like the best value. That said, if you're still on the fence regarding which service to try — just try them both. Hulu and YouTube TV both offer a 7-10 day free trial, that way you can try to software, interface, and make sure it works with your entire family and all of your devices.
As far as a replacement for traditional TV YouTube has a pretty complete package with a lot of shows, sports, and local stuff. That said, the huge library of content plus all the channels with the "+ Live TV" part of Hulu makes it very compelling too. Honestly, you can't go wrong with either of these, as they're both way better than spending $200 a month on Cox Cable, DirecTV, or Comcast and having 2,000 channels you never watch. Right?
Read: Best WiFi Routers in 2020
Another thing to keep in mind is that while they're both under $60 right now, that could change in the near future. Plus, once you add Showtime, HBO, or some other things and extra DVR content, you can quickly raise the price on these services to levels that aren't that great of a deal. Just know what you want, what you need, and look for that.
Personally, Sling TV is what I use at my house as it's cheaper and has everything I need for the most part. Everything else I supplement with Netflix and Amazon. That said, lately, I've been testing Hulu + Live TV and feel like it could be exactly what I need. So, again, look at the channels available and decide what you or your family truly needs, then choose what is right for you and your budget. If you're still stuck deciding, here's a bigger roundup of every major streaming service compared.