10 OS X Yosemite Release Date Tips
The OS X Yosemite release date is here and if you plan to upgrade to OS X 10.10 there are some tips to make sure your Yosemite update is a smooth one.
Apple's OS X Yosemite update is available for a lot of Macs, even older ones, and it is a free update, which means a lot of users will start downloading Yosemite as soon as it is on the Mac App Store.
This list of OS X Yosemite release date tips will help you avoid stress and problems that come from major upgrades like this, as well as general things you can do to prepare for the Yosemite download.
Apple announced the OS X Yosemite release date of today at the special event where the company announced a new iPad Air 2 and iPad mini 3 as well as a sweet looking new iMac Retina with a 5k display. Apple also updated the Mac Mini for 2014 to add in a cheaper Mac option for new users.
The exact OS X Yosemite release time is up in the air, but Apple already shared the OS X Yosemite download link so it will soon be in the Mac App Store. If you are thinking about installing OS X Yosemite today, listen up to these tips.
Here are 10 essential OS X Yosemite release date tips to remove the stress from upgrading and help you avoid potential problems.
You Don't Need to Install OS X Yosemite Today
There is no need to stress out and clear your schedule to install the OS X Yosemite update today, or even this week. This is a free update, but it is not a limited time deal. Apple will not start charging for the update next week, so if you are busy or you need to wait for apps to update do that and forget about stressing over when the OS X Yosemite download will start.
Installing a major update like OS X Yosemite is no small thing and there is always a chance that something will go wrong, a bug will appear or your favorite apps will not work. Do your homework before you start the OS X Yosemite installation.
Schedule Time for the Upgrade
The OS X Yosemite upgrade isn't something that will happen in 20 minutes. You'll spend at least 30 minutes downloading the update and potentially another 15 to 45 installing the update on your Mac.
Make sure you have at least an hour before you start the OS X Yosemite installation. You can start the download and then click install later, but when you click install make sure you've already followed the other preparation tips and can keep an eye on the computer until it completes the update.
Install OS X Yosemite from Home
Don't try to install OS X Yosemite from a coffee shop or while you are in a hotel room. There are too many things that can go wrong, potentially leaving you with a computer that needs troubleshooting or a restore from a backup to make this worthwhile. The chances of a problem like this are small, but it's still a risk you shouldn't take while traveling.
Backup Your Files and Mac
If you have time to install OS X Yosemite, you have time to make sure your data is backed up. You can do this with Time Machine to backup the Mac, or you can use a service like Dropbox or even a backup drive to store important files.
Make sure you verify the backup or double-check that very important files are backed up to a local drive or the cloud before you install OS X Yosemite.
Wait for OS X Yosemite Reviews
If you are using a new Mac, there isn't much to worry about. If you use an older Mac you should wait for OS X Yosemite reviews on your specific model before installing the update.
Last year the OS X Mavericks update basically broke an older MacBook Pro owned by a friend of Gotta Be Mobile. This is most likely when you install it on the oldest supported hardware. If you are using a Mac from 2007, 2008 or even 2009 you should wait to see how it performs.
Check to See if Apps Work
If you use apps every day it is a good idea to check with the developers to see if they support OS X Yosemite. For many apps there are already updates available, but users need to double-check with the company selling their essential apps before updating to Yosemite. Use Roaring Apps to check for OS X Yosemite compatibility.
Check With IT
If you are using a Mac for work, you need to check with IT before you update. You certainly need to do this for a work provided Mac, but even if you use your personal Mac for work it wouldn't be a bad idea. The reason to do this is to make sure you don't lose any functionality like checking work email, using custom software or services or breaking some accessories. This doesn't impact everyone, but it's a good overall idea.
Clear Space On Your Mac
If you routinely see notifications that there is no space on your startup disk, you'll need to clean up a lot of room for the OS X Yosemite download and for the installation. It's a good idea to have at least 8-10GB of free space before installing OS X Yosemite. You will certainly need over 5GB free to download the OS X Yosemite installer, and more to complete it.
Consider a OS X Yosemite Clean Install
You can perform a OS X Yosemite clean install that wipes the hard drive and starts fresh, removing any unwanted files and potentially slowness from your Mac.
You'll need a 8GB or larger thumb drive, the OS X Yosemite download that you have not installed yet and time to create a bootable OS X Yosemite thumb drive installer. We'll share detailed instructions as soon as we are able to verify that they work.
Know Your Apple ID and Password
You'll need your Apple ID and password to start the OS X Yosemite download in the Mac App Store and you may also need them to sign back into services like iMessage or iCloud Drive when the installation completes. if you can't remember your password you can reset it through Apple.
OS X Yosemite Release & Feature Roundup
New OS X Yosemite Design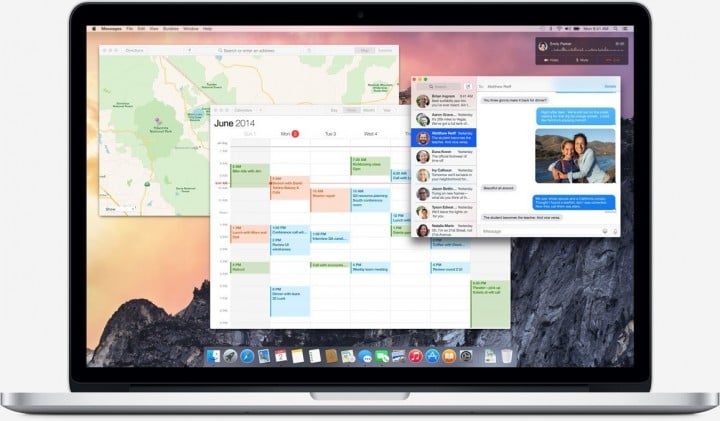 The biggest change in OS X Yosemite is the new look and design. Similar to the visual upgrade the iPhone and iPad received last year this free OS X update brings a new, but familiar look to your Mac.
Apple's new look for OS X Yosemite starts with redesigned buttons, windows and elements. You won't be lost when you open Yosemite, but you will notice a cleaner overall design. There are now translucent areas in some apps that show a blurred view of what's behind and the toolbars are now less cluttered and more useful.
Apple also changes the OS X Yosemite dock and system fonts to make OS X Yosemite look better on a Retina display. Notification Center and Spotlight are also new, which we cover in more detail below.
The OS X Yosemite video above walks through the various changes to OS X Yosemite design.