10 Things to Know About the Star Wars Battlefront Rogue One: Scarif DLC
The final Star Wars Battlefront DLC release is now available and today we want to take a close look at the most important things to know about the Rogue One: Scarif DLC for Xbox One, PlayStation 4 and Windows PC as we push into the new year.
Its been over a year since the release of Star Wars Battlefront. During that time, EA DICE has released a number of free updates bringing bug fixes and new features to the popular game.
On top of that, the developer's also released four Battlefront DLC expansion packs including Outer Rim, Bespin and Death Star.
In mid-December, the company released a brand new update and a brand new piece of Star Wars Battlefront DLC called Rogue One: Scarif. It's the game's fourth and final expansion.
As the title suggests, the Star Wars Battlefront Rogue One: Scarif DLC is based on the Star Wars: Rogue One movie which is now out in theaters.
As we push away from the Rogue One DLC's release there are a few things Star Wars Battlefront Season Pass holders and non-Season Pass holders need to know about the Battlefront Rogue One: Scarif DLC for Xbox One, PlayStation 4 and Windows PC.
This roundup includes a look at Rogue One: Scarif problems, fixes for problems, and some details about an upcoming patch.
We'll continue to update this roundup with new details as they become available so check back for frequent updates.
Star Wars Battlefront Rogue One: Scarif Problems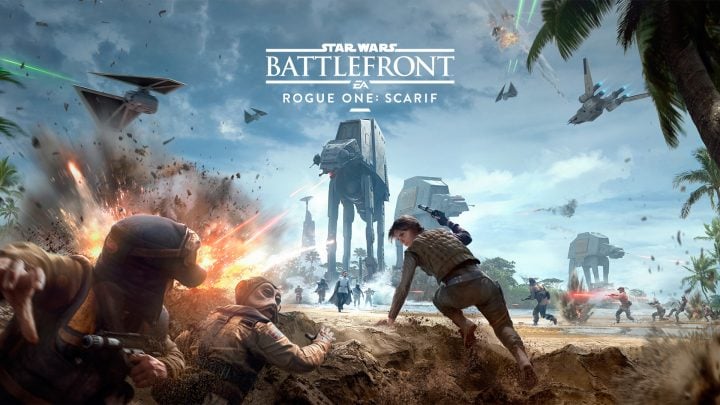 The free Star Wars Battlefront Rogue One: Scarif update that arrived alongside the DLC fixed a number of lingering issues but there are issues with the DLC and issues with the rest of the game.
As we push away from the DLC's release date for Season Pass holders we're starting to hear about some of the issues plaguing the expansion PS4, Xbox One and PC.
Rogue One: Scarif DLC problems include missing Season Pass content, issues with Lando, lag, texturing issues, issues with Hutt Contracts, problems with chat, and some serious issues with the Season Pass. Some people are saying their pass has been revoked.
The developer is currently tracking a number of known issues including:
- Can't Unlock Hutt Contract for the Medical Droid (Surgeon 1 and Surgeon 2). Won't register heals and resets.
- Infiltration U-Wing phase 1 exploit
- Sonic Imploder kills not registering
- Duck Roll issue on Turning Point
- Respawn hands wonky after being a hero
- X-Wing sometimes non-functional in final phase of battle station
- 2nd Loadout Hand Empty/Unusable post RO release
- Challenges Not Responding/Resetting
- Multiple Uplinks in WA glitch
- Infiltration Phase #1 X-Wing and TIE balance:
- Hutt Contract Disruptor Issue
- U Wing suddenly 10000m away! Never ending game.
Fortunately, the developer's started to address these issues.
DICE recently released a server-side update (it means it doesn't require a download on your end) that reverts the Heroes vs. Villains game mode to the way it was before the release of the Scarif DLC. It also features a key fix for a Scarif weapon:
- A crash fix for CJ-9 Bo-Rifle pickup (potentially happen when a user who did not own the bo-rifle killed two players that owned it, causing two pickups to be resident on the map, and then staying within the radius of the second pick up while it expired)
It's a small update but it's a start.
As for the missing Season Pass content, the developer is looking into a fix. In the meantime, take a look at this manual fix. It seems to be working for some Battlefront owners. The company also says it's working on a Lando fix in a client-side update.
If you do happen to discover a problem with the Rogue One: Scarif DLC, you'll want to report it to EA DICE so that the developer can tackle it in a future update. We expect a new client-side update to emerge later this year.

As an Amazon Associate I earn from qualifying purchases.