15 Best Computer Bags, Cases and Sleeves to Protect Your Tech
The best computer bags come in thousands of styles, colors, sizes and costs. We'll share three of the best computer bags, backpacks, messenger bags and sleeve cases for you to carry and protect your laptop computer or tablet around in, along with all the accessories that go with them.
Our round-up of the best computer bags includes six categories of bags, cases and backpacks with three options in each category for eighteen total. You can find decorative and functional options that will cost as little as 20 bucks up to hundreds of dollars. We also include the best computer bags for smaller 11-13 inch computers and larger bags for up to 15 or even 17 inch machines.

Best Computer Bags: Messenger Bags
The messenger bag gets its name from bike messengers who carried documents between offices in big cities like New York or Washington, D.C.. They needed something with a strap over the shoulder that usually covers over the opening to keep the contents safe and dry in the elements.
STM Radial 15-inch Laptop Messenger Bag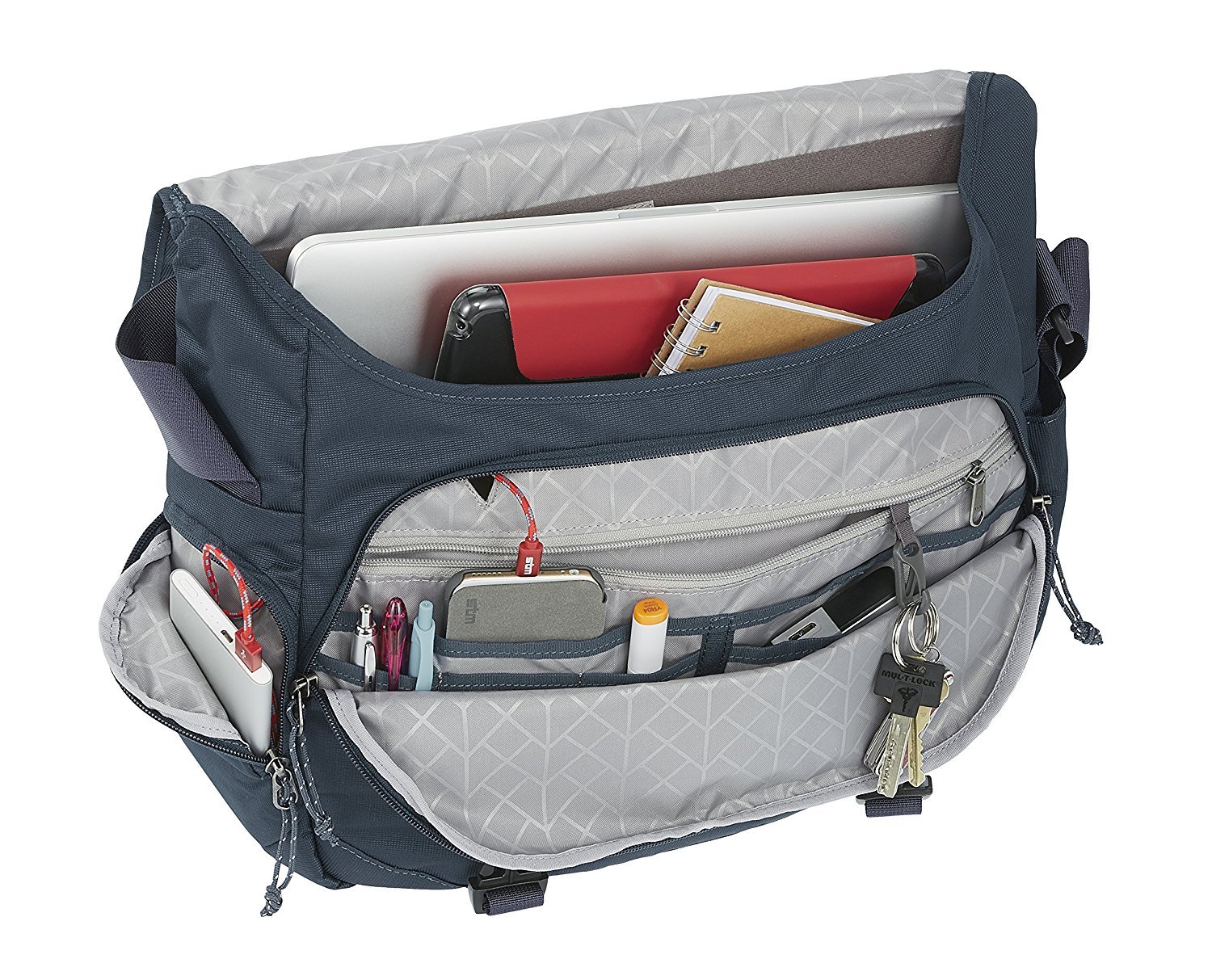 If you want a nice 15-inch messenger bag, check out the STM Radial 15-inch Laptop Messenger Bag. It's a compact bag that holds up to a 15-inch computer along with a tablet and a lot of accessories. The openings for routing cables from a storage pocket to your phone, tablet and even computer makes this a great option for road warriors. Put a backup battery in one pouch (see the pouch on the left above) and put the charging cables through the holes to your phone, tablet or computer.
It protects well thanks to the design, which includes some extra padding along the bottom of the bag. The fabric's durable and water-resistant.
The bag costs $100 and you can buy a battery backup from STM for another $50, although I just use one I already have. Get it in an attractive Steel, Moroccan blue or Black as seen above.
Vitesse Messenger Bag from WaterField Designs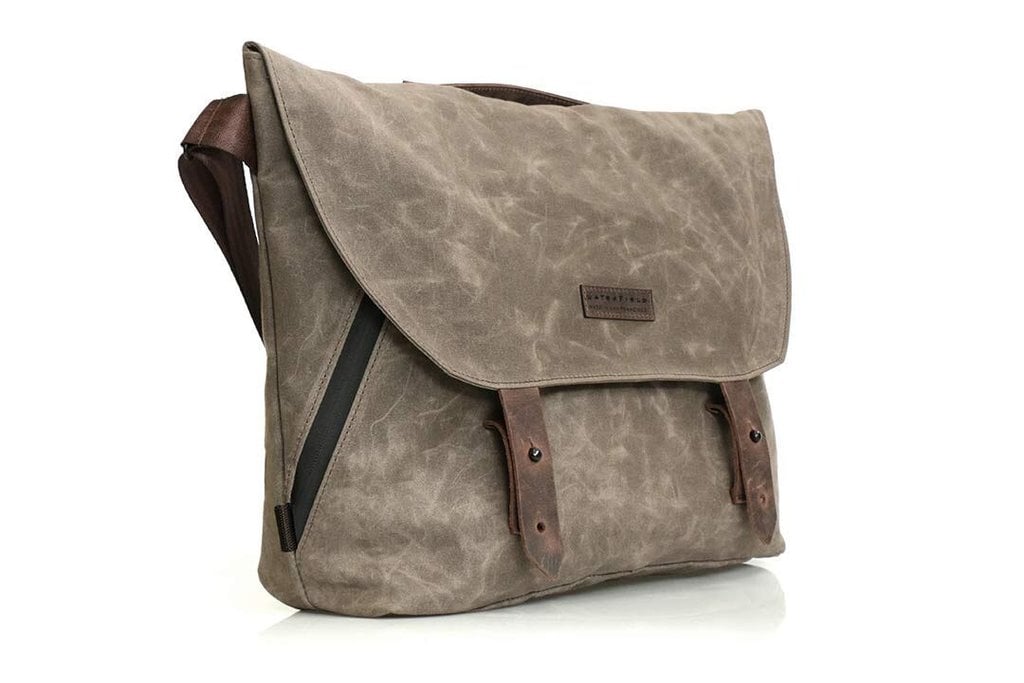 We love WaterField Designs cases because they are beautiful, high-end and last forever. The Vitesse Messenger Bag protects your gear in an attractive and lightweight material.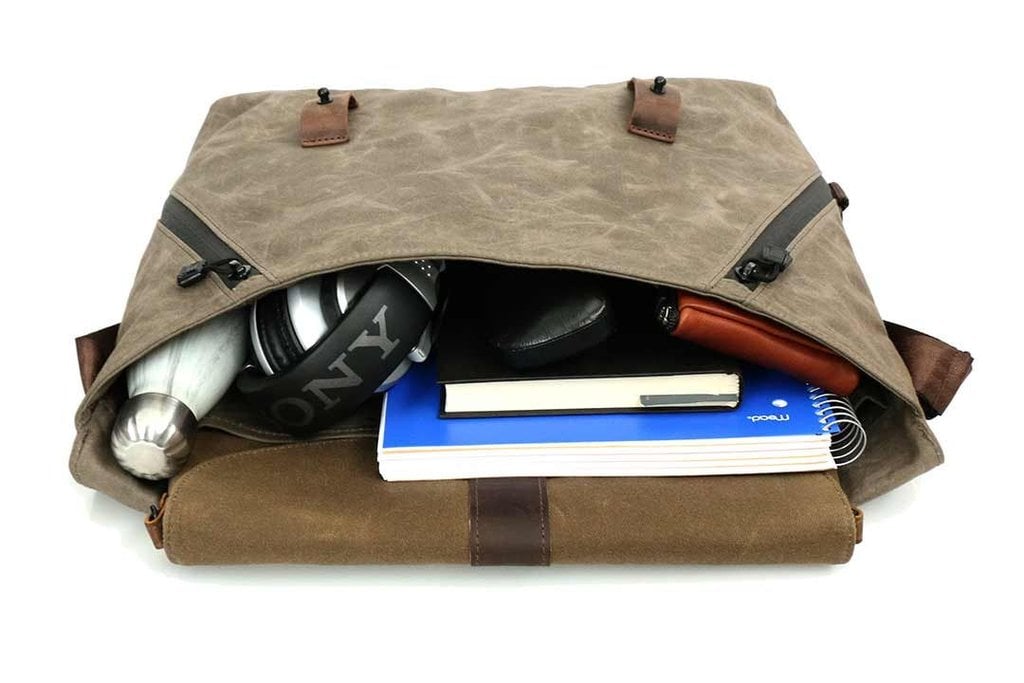 The Vitesse has a main compartment that fits a 15-inch laptop in a sleeve. Pockets hold smaller accessories. The flap connects with snaps and covers the top opening. Two side pockets let you put your phone or smaller devices in the case without opening the flap.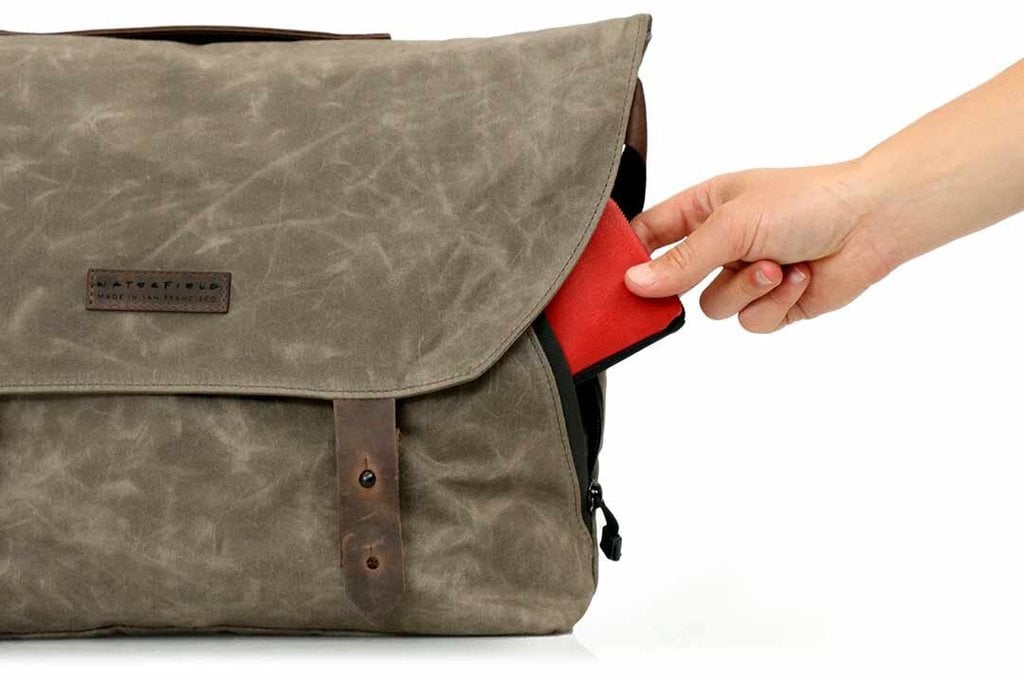 WaterField Designs makes some of the best computer bags hand sewn and crafted in San Francisco. The Vitesse comes in three colors, burgundy, brown and navy blue, for $169.
Snugg Messenger Bag
Snugg specializes in lower cost bags can cases for computer, tablets and phones. The Snugg 15-inch Messenger Bag looks beautiful but costs only $65 for a leather bag, making it one of the best computer bags at the lower end of the price spectrum. It's the same price at Amazon and available in multiple colors and materials including brown, black and gray. There's also a 17-inch version in black and brown.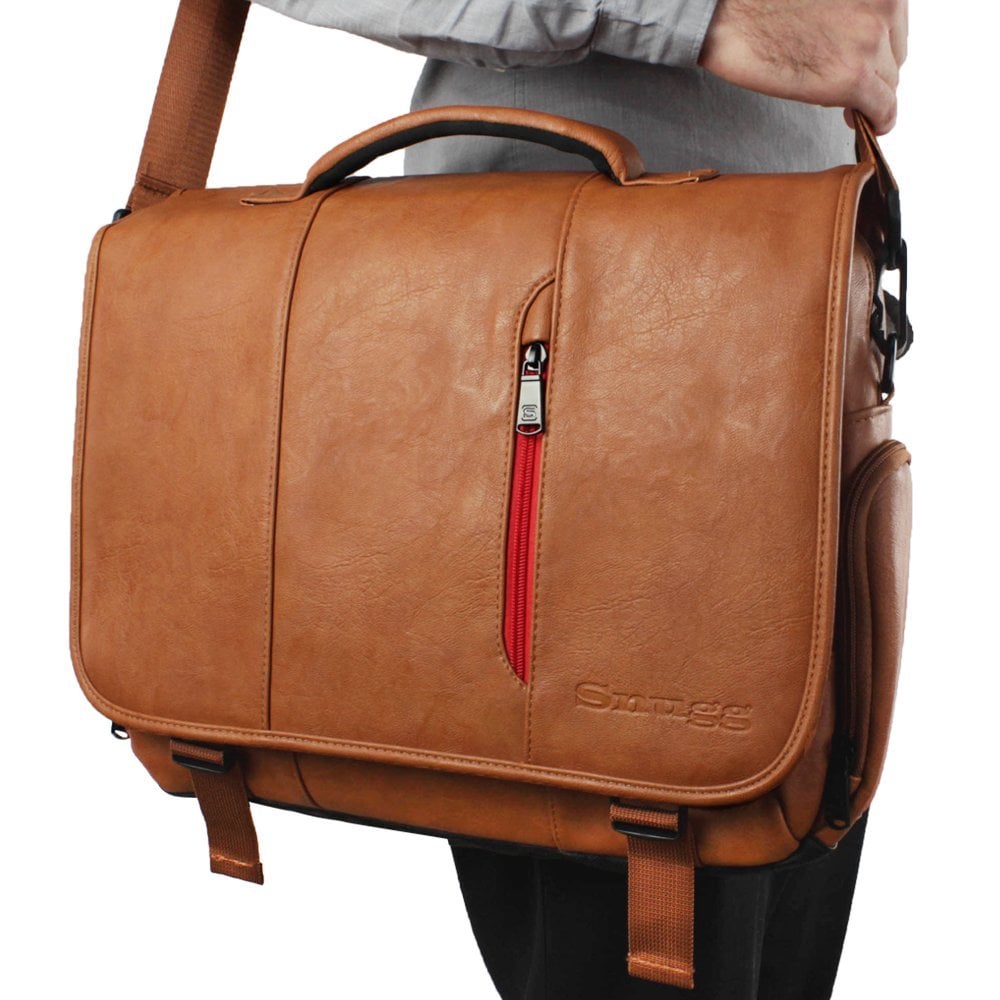 The bag holds a laptop, tablet and lots of accessories in a beautiful and compact design. The bag should last despite the lower price.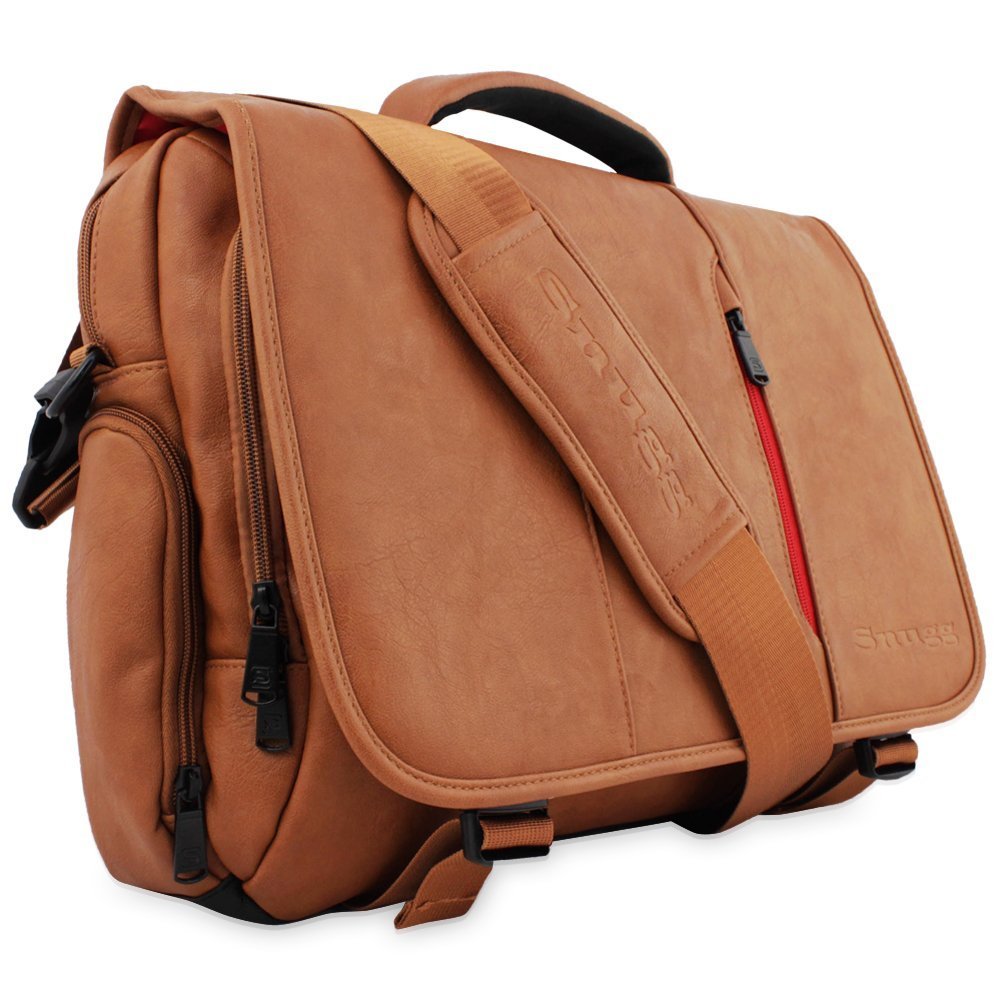 The lining inside comes in a red cushioned material for protection. On the outside we get four more pockets for quick access to peripherals.
Best Computer Bags: Backpacks
For some users the best computer bags come in backpack form instead of a messenger bag. I'm one of those and love the three bags in our round-up below. I've used each and continue to, even though a couple of them came out over three years ago.
Staad Laptop Backpack from WaterField Designs
For a few years now this backpack sits atop the list of best bags for your computer. It's beautiful, durable and functional. The Staad Laptop Backpack cost more than most, but it's worth the price. I review a lot of bags, but always come back to this one.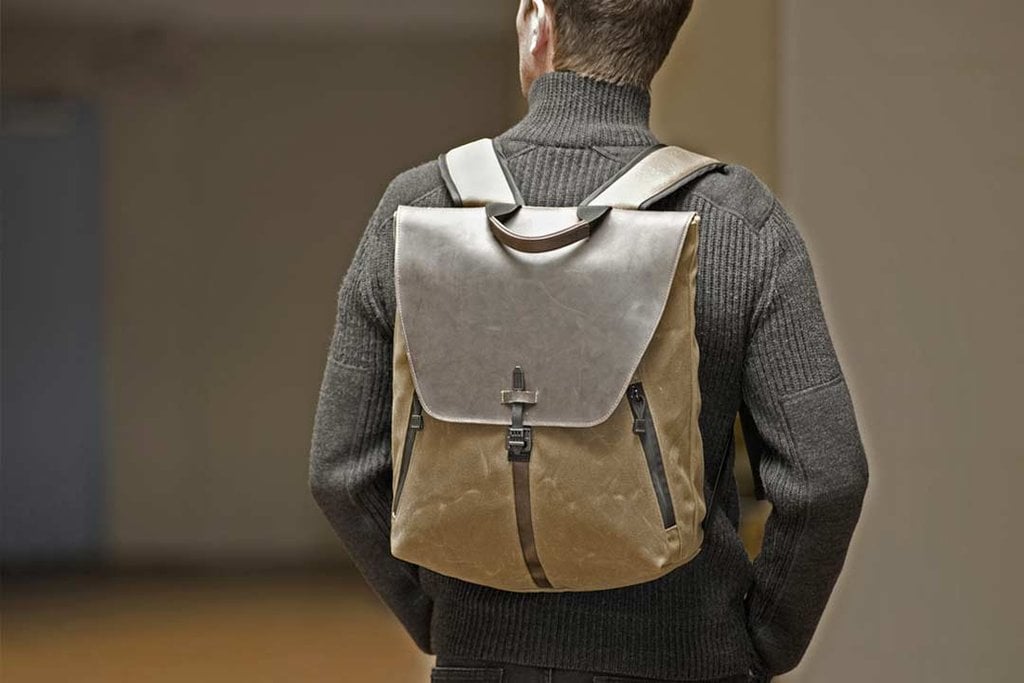 The Staad Laptop Backpack comes with a large internal pocket with another smaller pocket for up to a 13-inch computer. It has two smaller accessory pockets.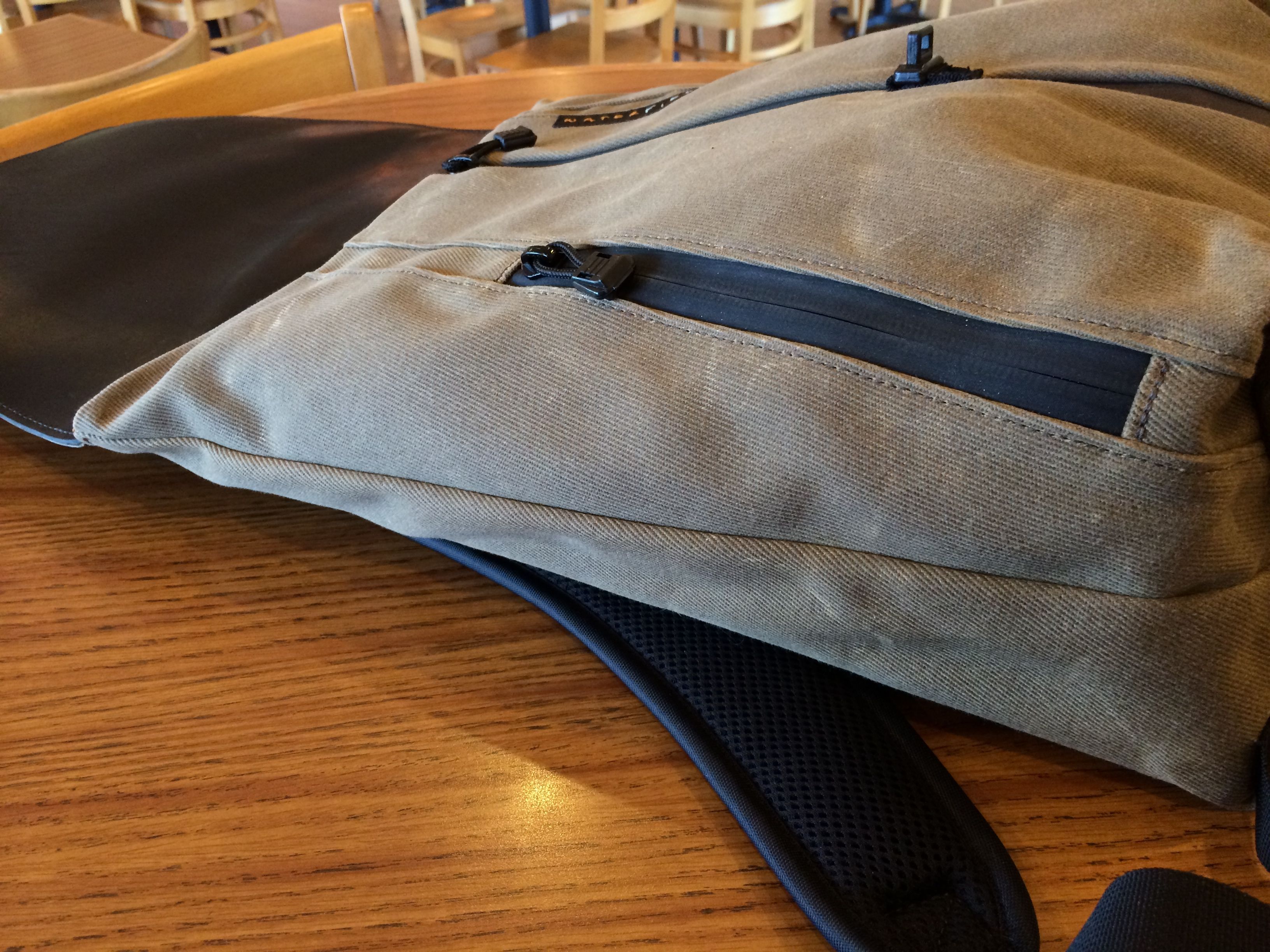 On the outside we get two more pockets with zippers. The bag opens wider when you open the zipper on the front of the top edge of the pocket.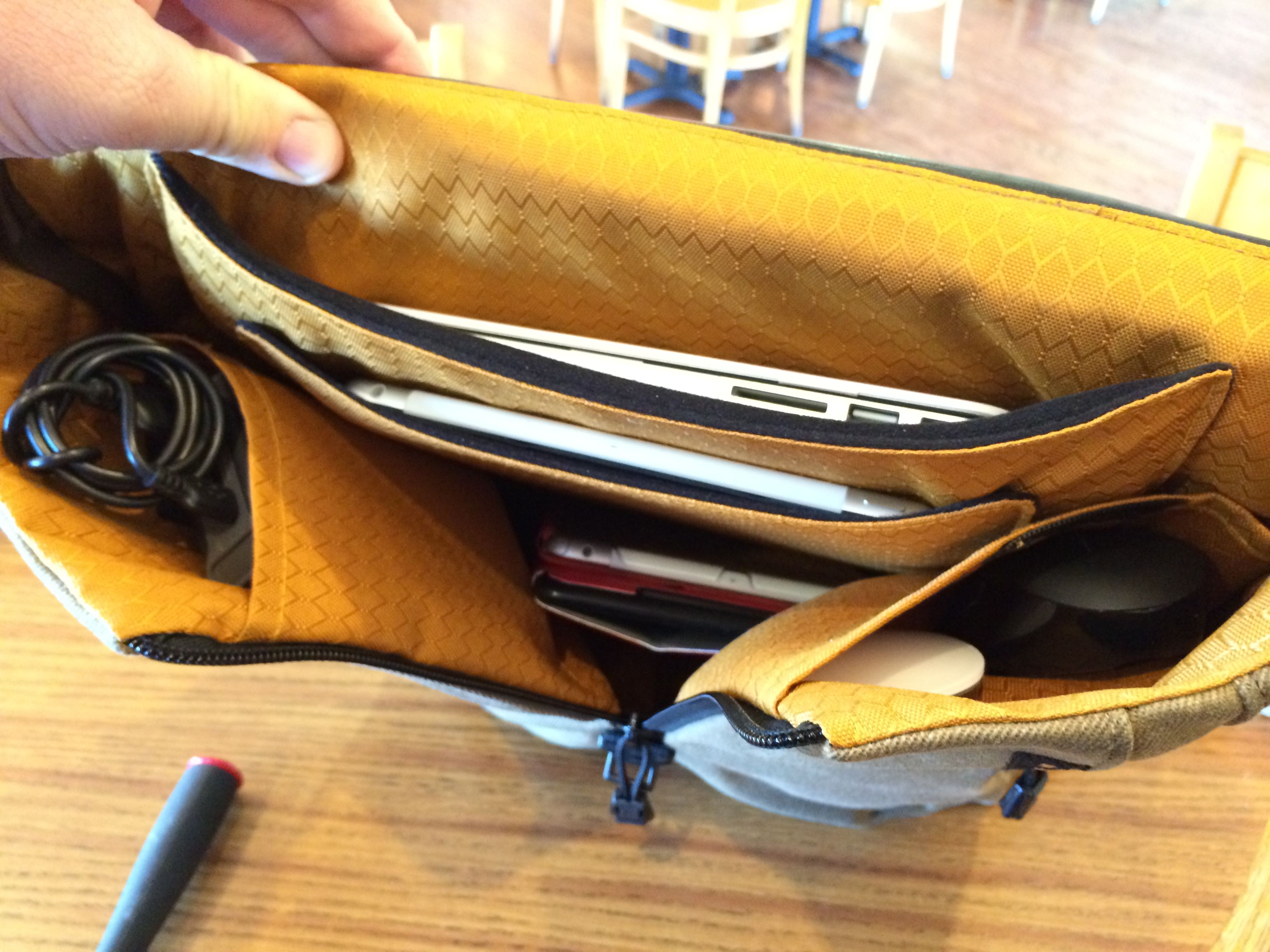 Two comfortable straps hold it in place. They loosen for large people. The backpack comes in multiple colors and two sizes, stout and slim for $319 to $329.
OGIO Renegade RSS 17 Backpack
If you need a large backpack that stores a tone of stuff plus a 15 to 17 inch computer, then the OGIO Renegade RSS 17-inch Backpack will work great for you.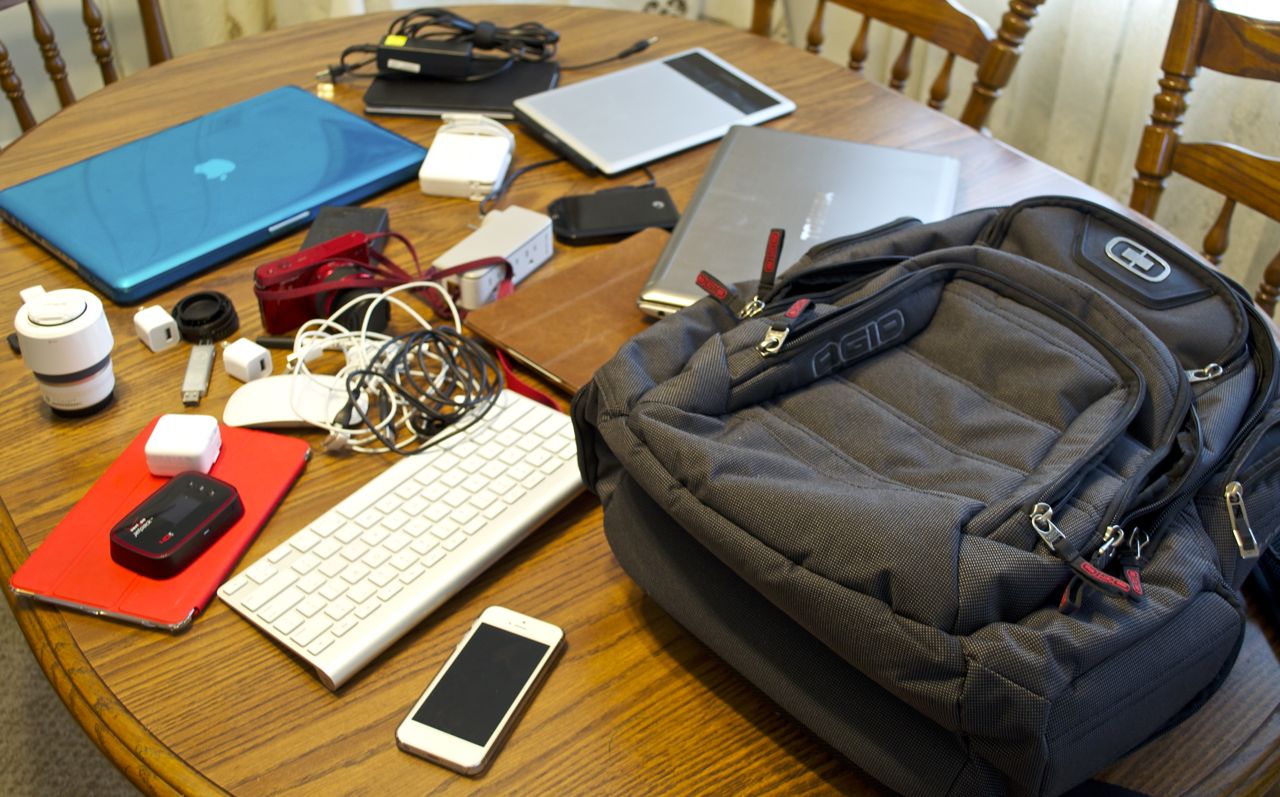 Like the Staad above, the OGIO's been on our list of best bags for a while because of the vast amount of extras it carries, including a ten-inch tablet pocket and plenty of external and internal pockets. Watch my son and I unpack the bag in this video below.
Get it direct from OGIO for $150 or less from Amazon. That's for the Black back that's made with an extremely durable nylon material. Another version costs $10 more in what they call Dark Static, a gray color.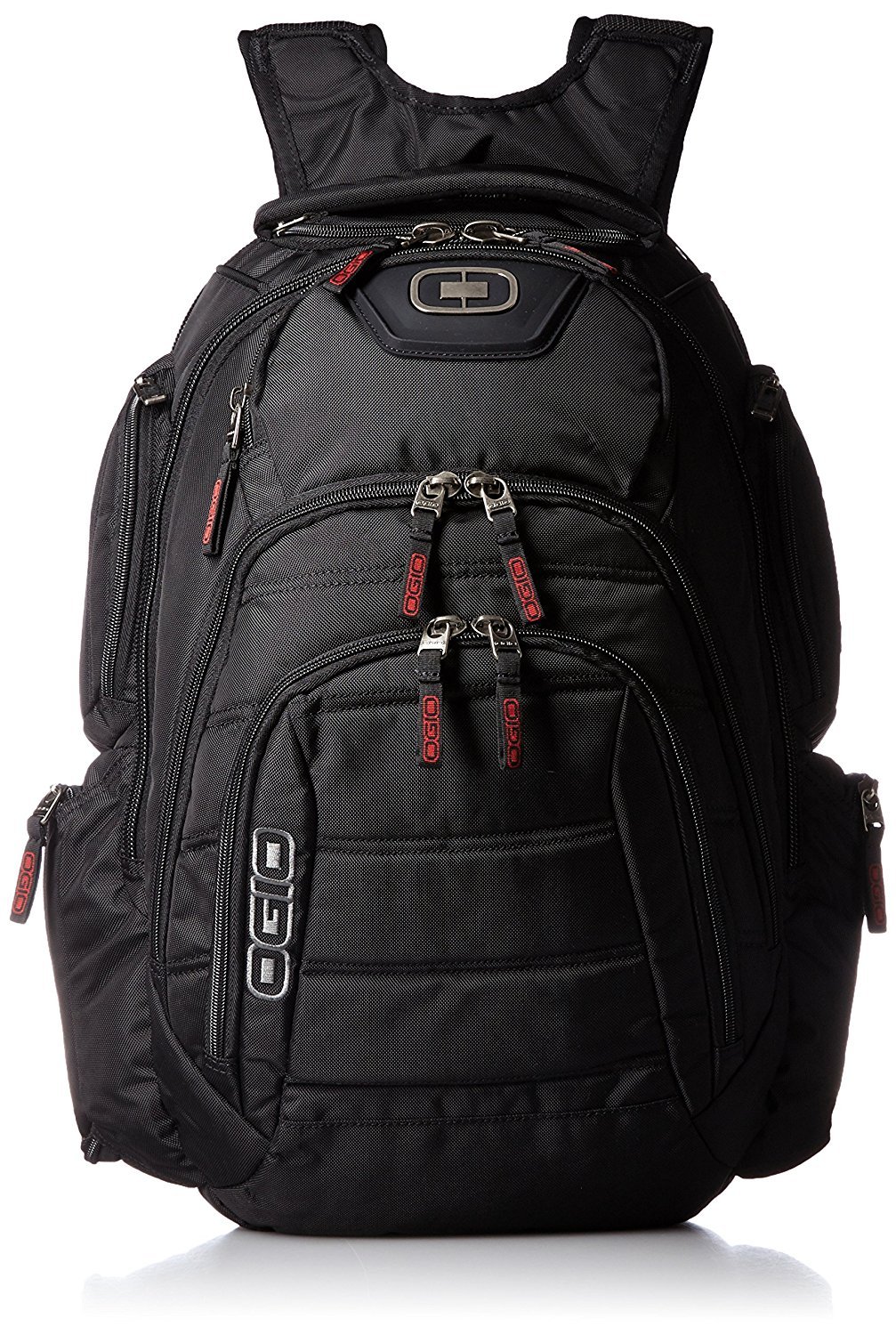 Both of the styles come with the RSS feature, which stands for reactive suspension system. It gives extra padding on the bottom of the bag if you drop it or set it down too hard.
Booq Daypack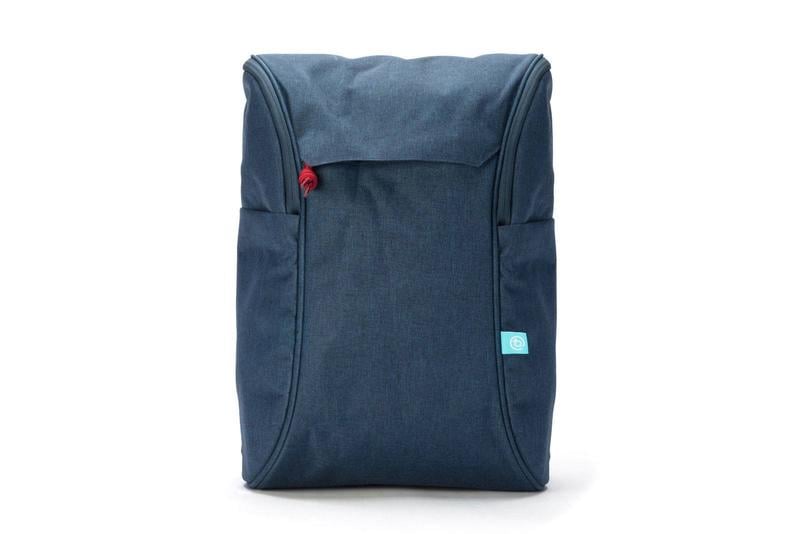 The Booq Daypack ($80) holds a lot less than the OGIO above and weighs less too. However, despite the compact design, it still will hold more than you'd think when looking at it.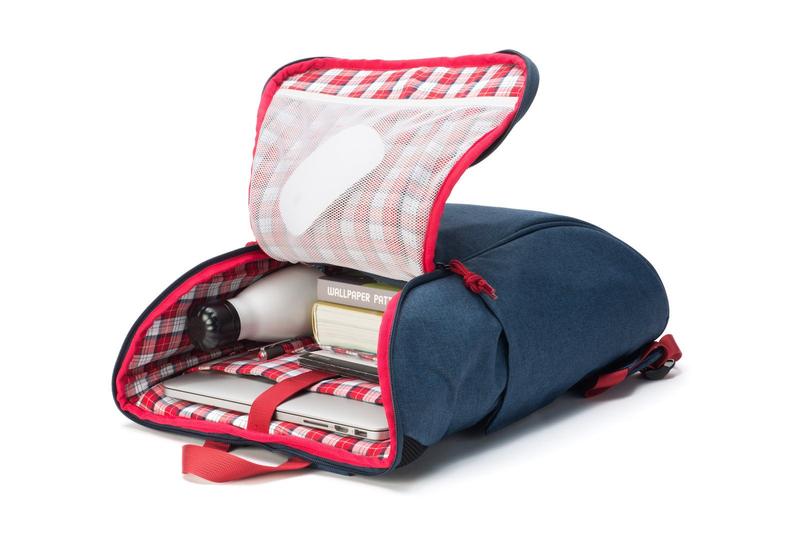 Booq makes them in four two-tone designs, Navy-Red, Cream-Dream, Clay-Canvas, and Black-Tan.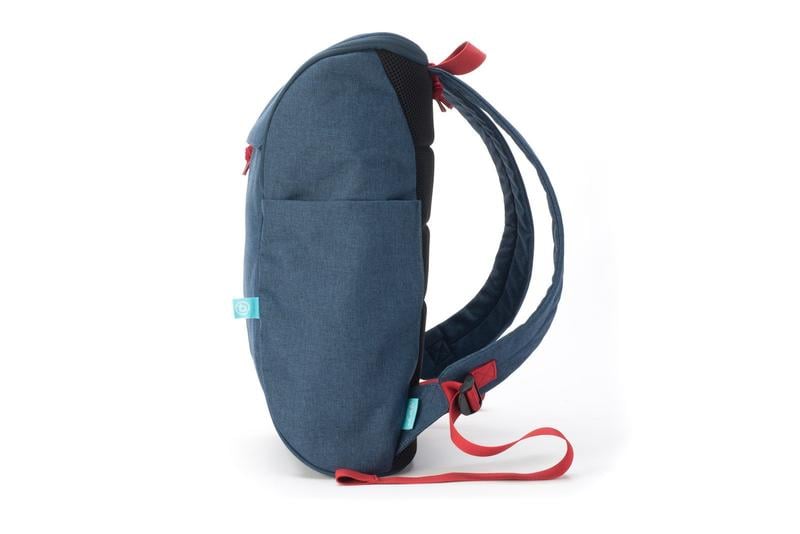 The bag's rounded design makes it spacious inside. There's a front pocket for small items. Two side pockets can expand or contract with a snap. Put a water bottle or some cables in there. Inside, the flap that covers the computer and tablet, as well as any accessories, has a mesh pocket on the inside of the flap. The bag fits up to a 15-inch computer and 10-inch tablet.
Best Computer Bags: Sleeve Cases
Some people carry their small and light computer around without any accessories or with one or two. A simple sleeve case makes the most sense. It covers the computer and maybe has room for a charger or mouse and little more. If that's you, get one of the three cases below.
Twelvesouth BookBook Case for MacBooks

Owners of any of the current generation MacBooks, from the Air to the 12-inch MacBook to the recent MacBook Pros, should take a look at the beautiful BookBook case from Twelvesouth ($79.99). It looks like a book and protects the computer with a leather hardcover exterior and soft interior lining that won't scratch the soft aluminum housing on the MacBooks.
If you don't own a MacBook, then you're out of luck. They proudly brag that they're an Apple-only company.
If you like the computer case, then consider the iPhone and iPad cases in this line.
Booq Viper Hardcase
The Booq Viper Hardcase will protect 11, 13 and 15-inch laptops (from $20-$45) with a hard outer shell and zippered compartment that holds the computer and some accessories.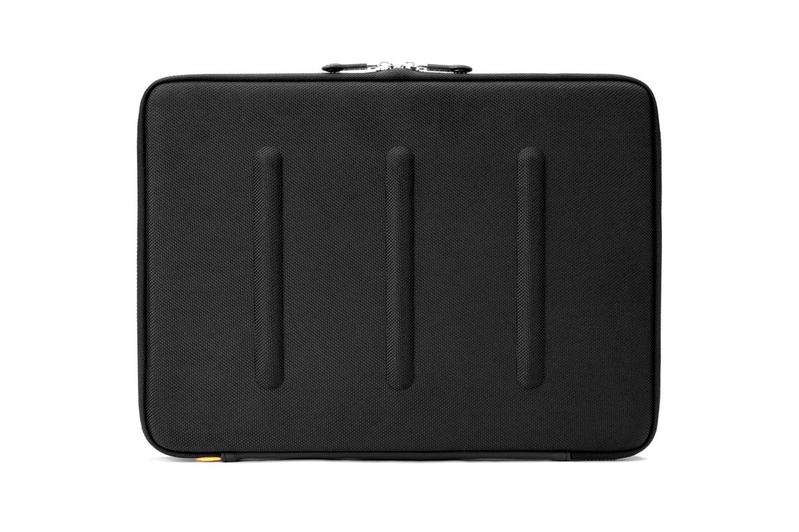 The case resists water thanks to the ballistic nylon outer material. It's a handle-less design.

The internal pockets fit an iPad, iPad mini or other small to ten-inch tablets. Slide a thin mouse into one of the two smaller pockets inside.
WaterField Designs SleeveCase for Multiple Models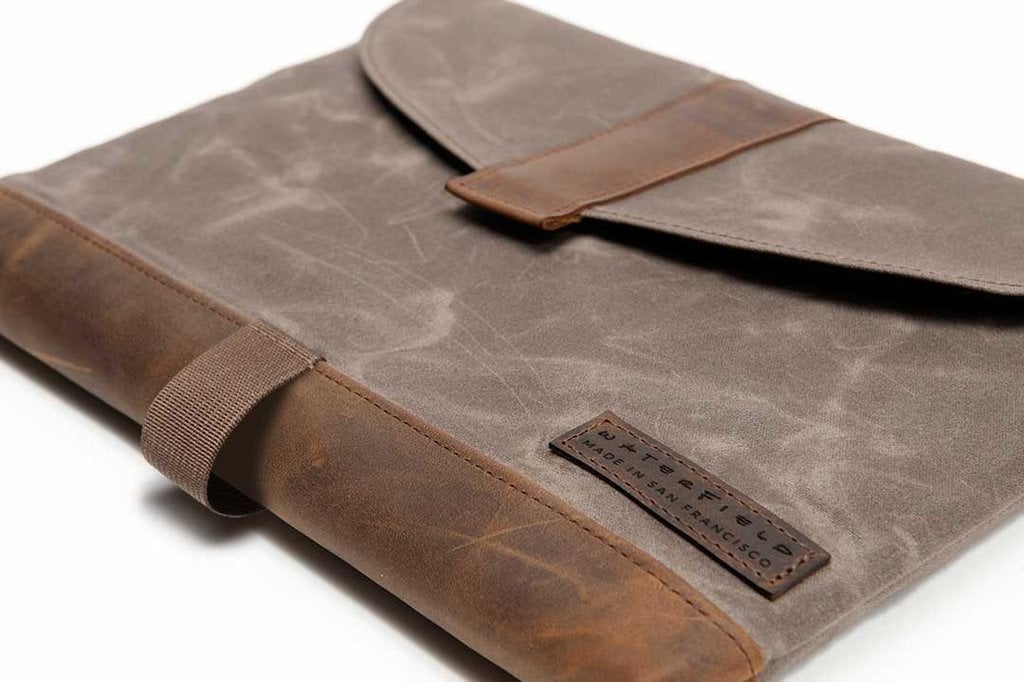 The best sleeve case comes from WaterField Designs. The WaterField Designs SleeveCase includes a nice leather flap to cover the form-fitting opening designed for multiple computer makes and models.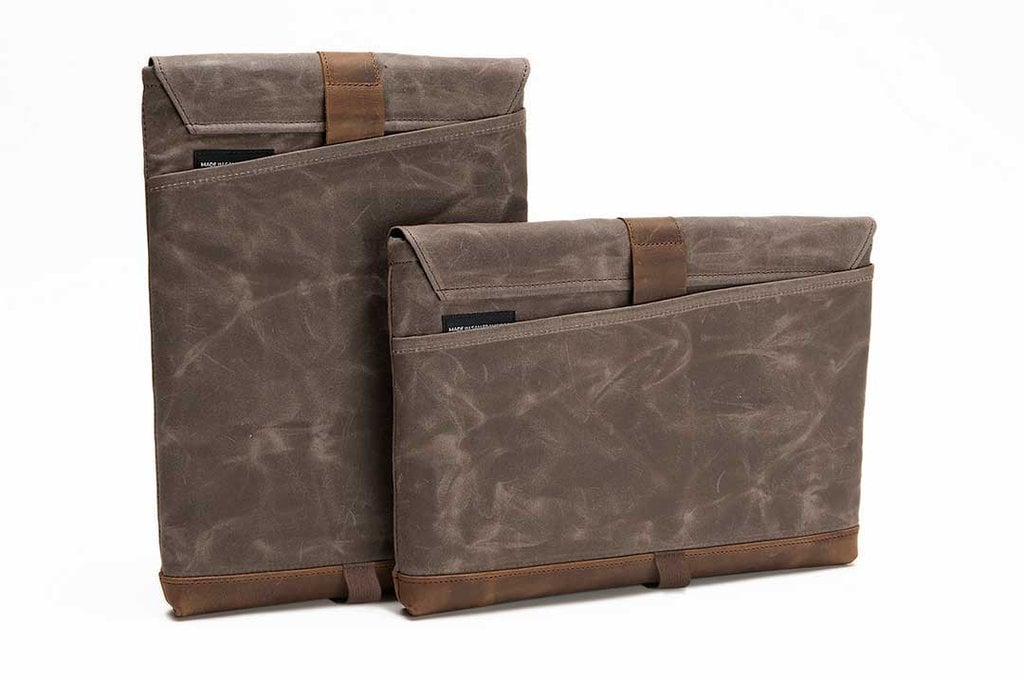 The opening comes in either a wide or narrow depending on whether you prefer to slide your computer in along the wide edge or the short edge. Along the bottom there's leather to protect the case and the laptop. They made the rest of the case with waxed canvas or ballistic nylon.
Grab the leather flap on the bottom to help pull the computer out of the form-fitting case. Internally, the computer gets protected by a soft nylon.
WaterField Designs makes them for Lenovo, MacBook, and other popular brands. If they don't list your computer, then you can order one with the right dimensions. They cost $69 unless you want a strap, then you'll pay either $5 or $22 more depending on the style of strap you order.
Best Computer Bags: Briefcase or Attaché Bags
My favorite computer bags come in the briefcase or attaché style with a should strap and an opening on the top of the bag. The computer and/or tablet goes in the bag in landscape orientation and then I like to have some internal storage for extras and external pockets for quick access to a charger or mouse.
Solo Bradford Laptop Briefcase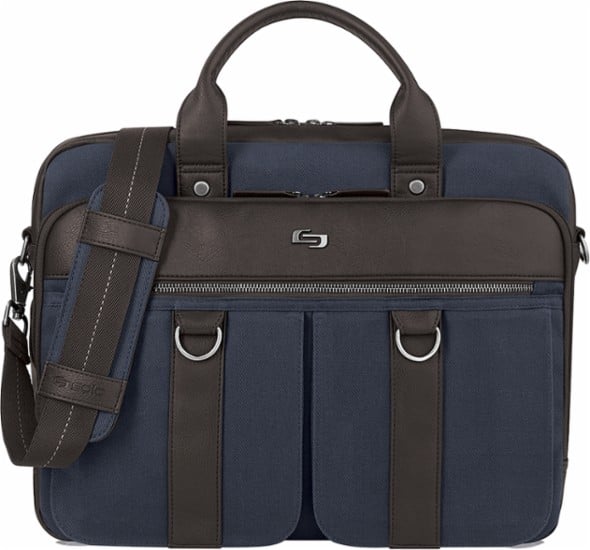 The Solo Bradford Laptop Briefcase is my choice in this roundup of the best computer bags. It's inexpensive and durable while looking nice. It comes in blue canvas with dark brown leather accents.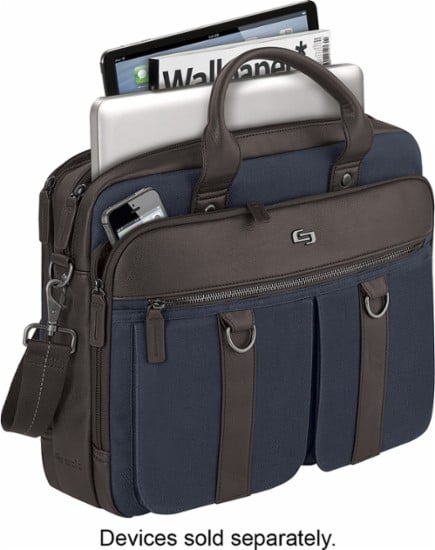 On the outside we get two spacious pockets on the front for accessories and a third wider pocket for small thin items, like a notepad or a small book. A fourth pocket sits behind those pockets and fits larger items, like a tablet. On the inside, there's room for a 15.6-inch computer and a ten-inch tablet. You also get a larger compartment for other accessories.

The bag has a comfortable shoulder strap and two durable leather handles.
Best Buy sells the bag for $55, the best price available from reputable resellers. Amazon has a similar version called the Executive Briefcase from Solo for $47.
Alienware Vindicator Briefcase
This Alienware Vindicator Briefcase ($70 from Dell) has enough room to carry one of the company's beefy 15-inch gaming laptops plus all of your accessories. They advertise it as the perfect travel computer bag since it's TSA checkpoint-friendly with a compartment that opens up easily.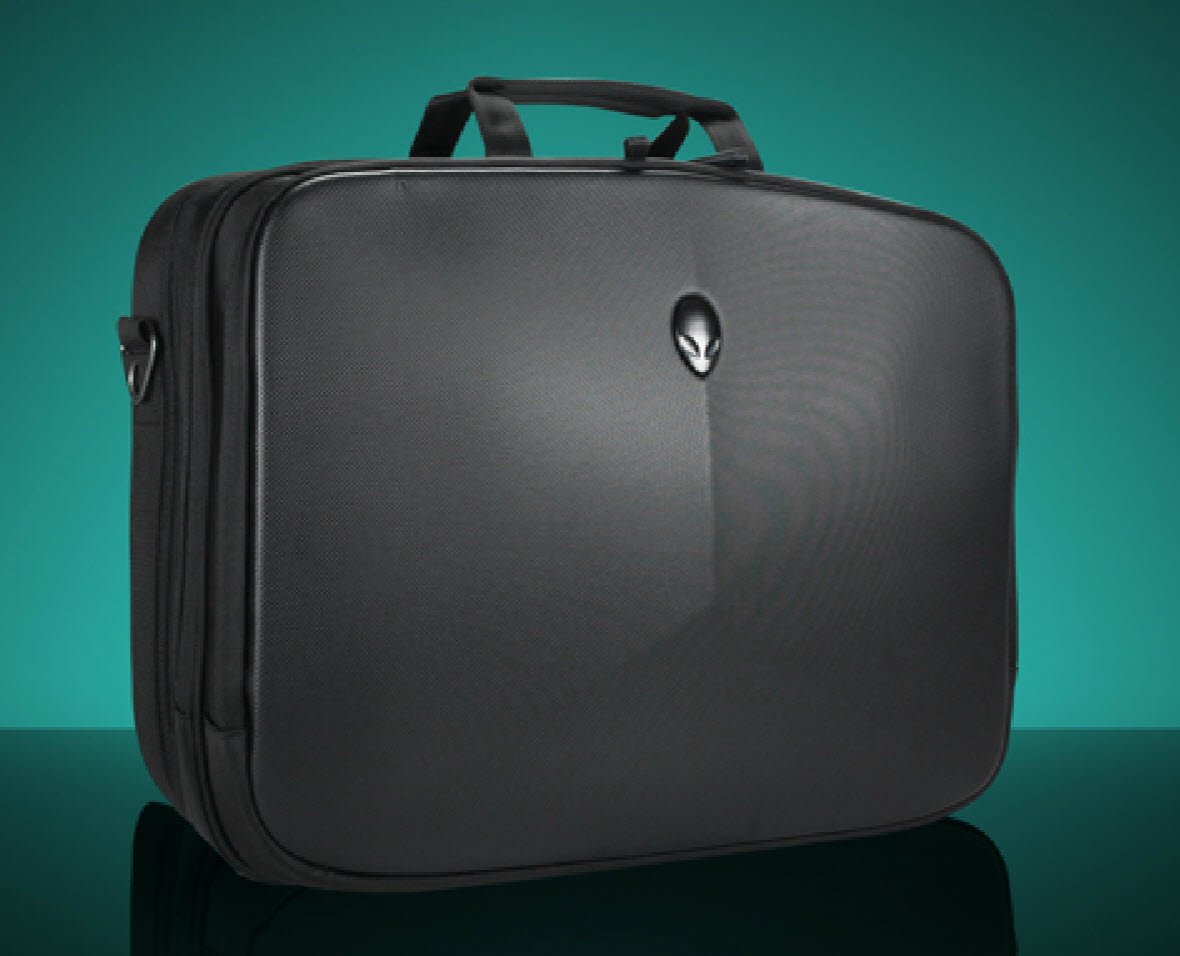 The bag has three zippered compartments, one for a laptop, for a tablet and accessories. The compartments open nice and wide to see what's inside easily.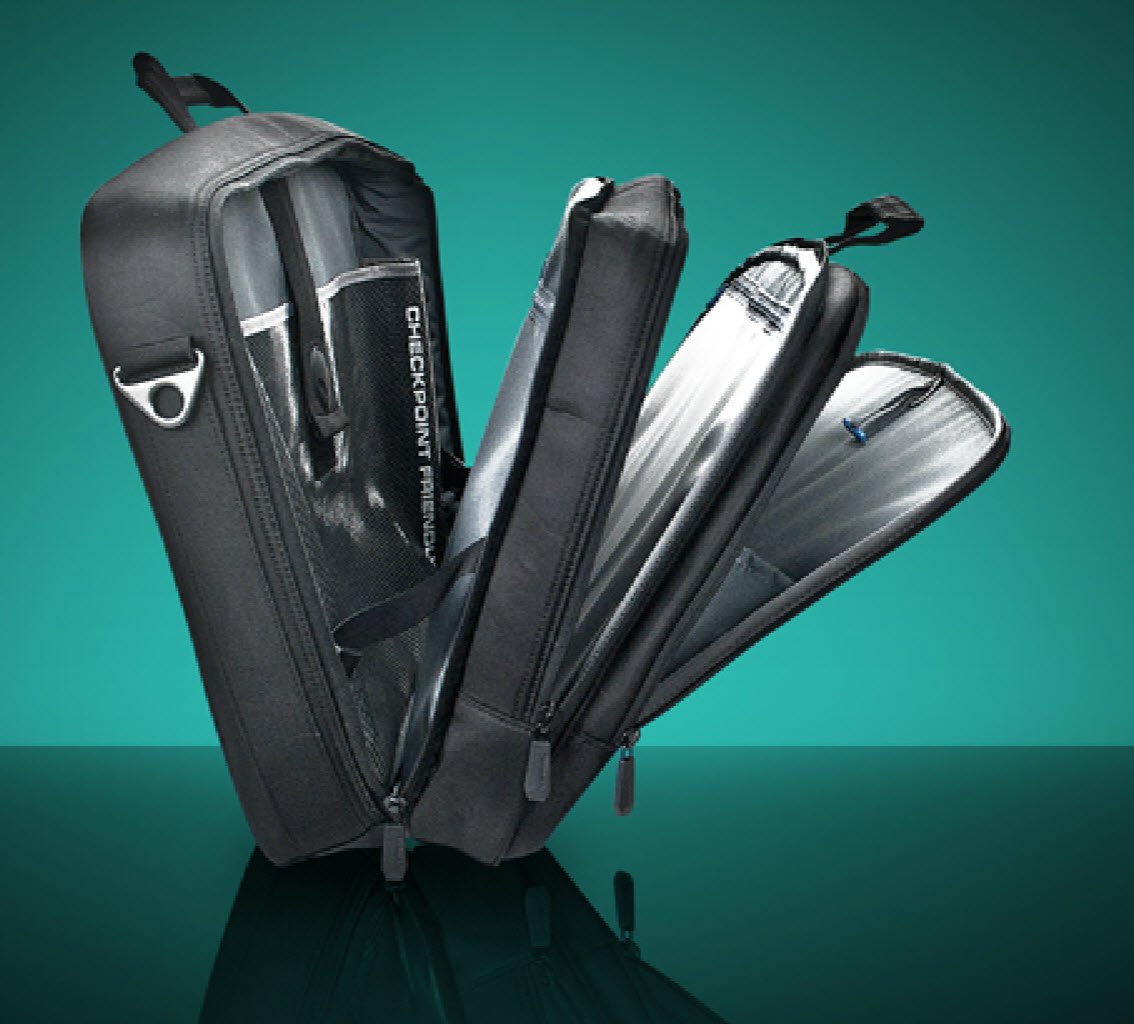 They made the case of black strong nylon on the outside with plenty of padding inside. The durable bag will hold up to a lot of use and strong handles will not fall off easily.
Clean Vintage Hybrid Briefcase Backpack Laptop Messenger Bag
In this roundup the bags fit in one category, but the Clean Vintage Hybrid Briefcase Backpack Laptop Messenger Bag fits in three. As you can see above it works like a laptop, but has handles on the side to use as a briefcase/messenger bag (see below). It also comes with a shoulder strap.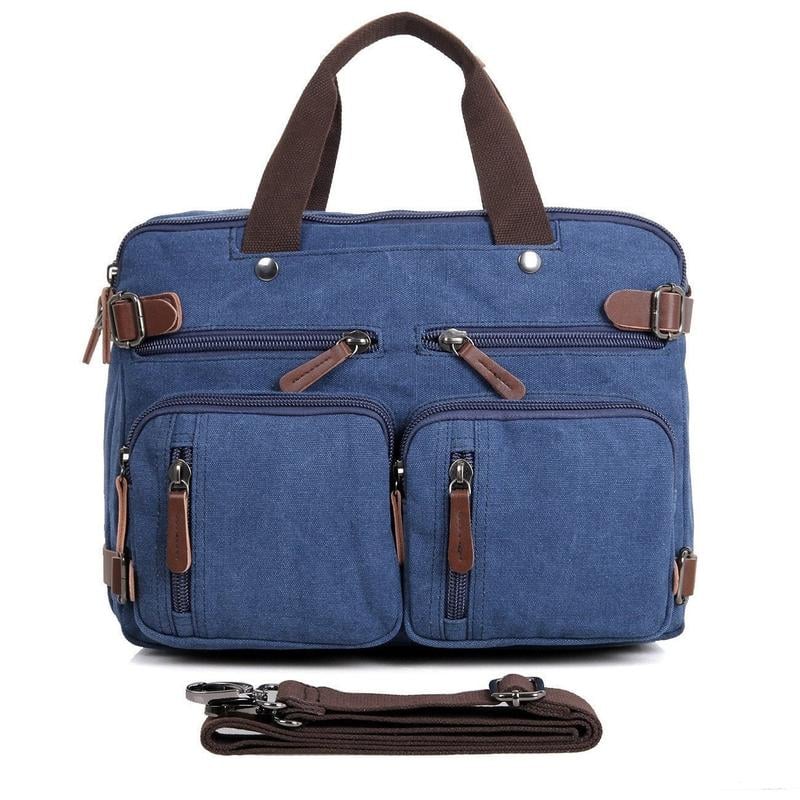 The backpack straps fit into a zippered pocket on the back of the bag. On the front you'll see multiple zippered pockets and compartments.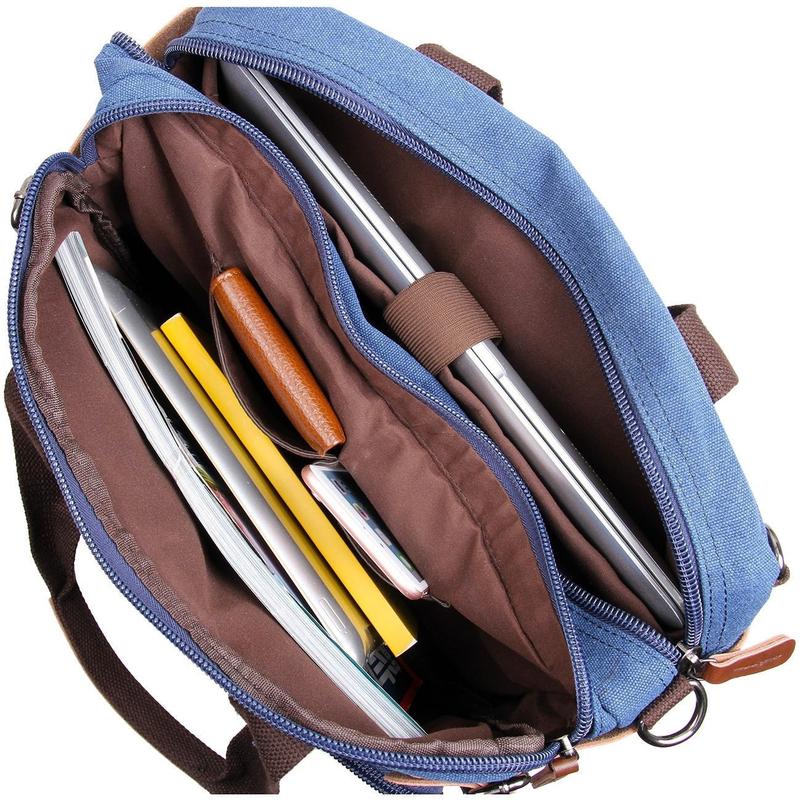 Fit your laptop into one internal compartment and accessories into a second spacious opening.
It's made of an attractive blue canvas with brown leather accents. The internal cotton lining protects your computer's chassis.
Get it for about $40 on Amazon, the best price now available.

As an Amazon Associate I earn from qualifying purchases.