6 Reasons to Pre-Order Cyberpunk 2077 & 4 Reasons to Wait
Pre-Order If You Want the Collector's Edition for $250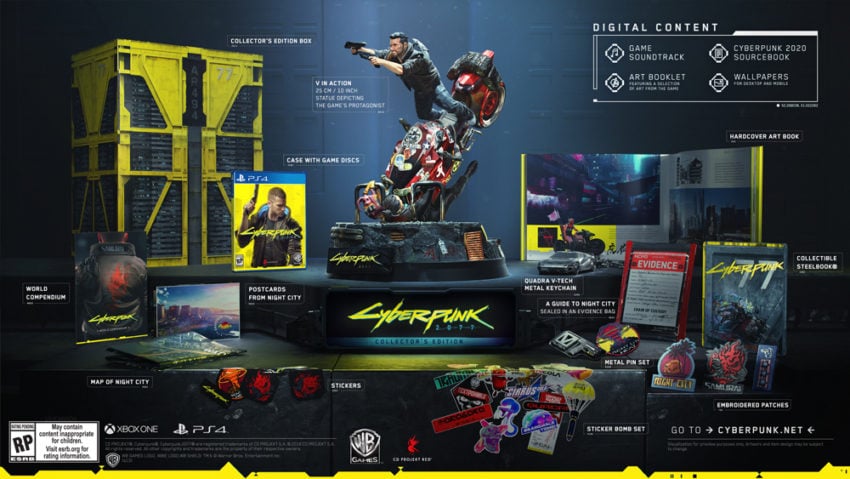 If you're a huge fan of the developer and Cyberpunk itself and you've got your eyes on the Collector's Edition, you should pre-order if you can.
For $250 you get a bundle that comes with an assortment of items that don't come with the standard version of the game. These items include:

Collector's Edition box
Case with game discs
Collectible SteelBook
25 cm / 10 inch statue depicting V - the game's protagonist - in action
Hardcover art book
Metal pin set
Quadra V-tech metal keychain
An annotated copy of A Visitor's Guide to Night City sealed in an NCPD Evidence Bag
Embroidered patches
World Compendium detailing the game's setting and lore
Postcards from Night City
Map of Night City
Sticker bomb set
Special editions for popular games often go in and out of stock and sometimes they even sell out ahead of launch. Unsurprisingly, the Collector's Edition is extremely hard to find right now.
If you want the bundle on December 10th, you might have to pay more than $250 through a reseller like Craigslist or eBay.
To avoid this, think about putting in a pre-order (if you can find stock available) and snagging it for face value.
If you're interested in buying the bundle ahead of the release date, make sure you track the stock as we push closer to the release.
We've got a guide for doing just that so check it out.

As an Amazon Associate I earn from qualifying purchases.