The 2017 Dell XPS 15 is proof that even one of the best laptops available has room for improvement. Beginning at $999, Dell's upgraded model has better battery life, a cooler processor and an improved graphics card.
The 2017 Dell XPS 15 is stuffed with hardware changes to address the original laptop's problems. A high-capacity battery gets users a boost in battery life. Its upgraded graphics card has more RAM for gaming and video editing. The 4K display that dominates its design is still gorgeous. It almost always runs whisper quiet thanks to 7th Generation Intel Core processors.
Dell has made a great laptop even better.
Read: Dell XPS 15 Equipped for the Amazing
2017 Dell XPS 15 Review: Design & Internals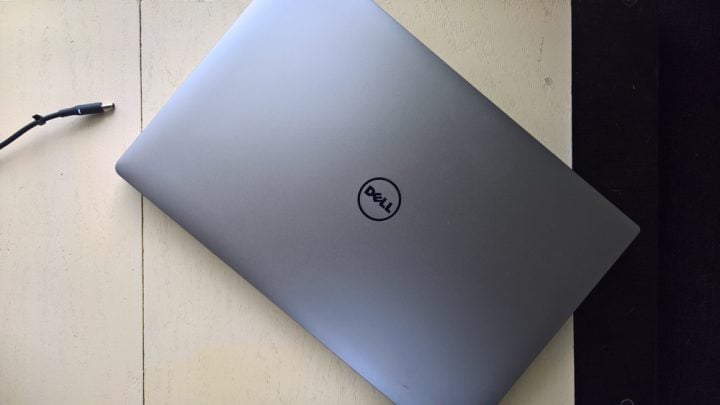 The lid and bottom of the Dell XPS15 are covered in polished aluminum. A Dell logo sits in the center of the lid. Air vents and pads on the bottom let the notebook's processor and graphics card breathe. With a solid-state drive and a high-capacity battery, the new XPS 15 weighs 4.5-pounds and is 0.66-inches thick. Models without a touchscreen and high-capacity battery weigh just 4 pounds.
Opening the laptop reveals the soft-touch keyboard deck, spacious trackpad and fingerprint reader. Each backlit key feels the same as the last generation. There's less friction as you run your finger across the spacious trackpad though. New technology inside the trackpad lets users switch programs and manage what's on their screen with two- and three-finger gestures easily. The fingerprint reader is new for this model. It's an option available to every configuration of the 2017 Dell XPS 15.
The 2017 Dell XPS 15's most striking feature is the 15.6-inch display. There are two versions of this display available online, and both have 5.7mm of bezels on three sides. One is a 15.6-inch 1080p model without touch. The other is a 15.6-inch 3840 x 2160 4K display that has touch.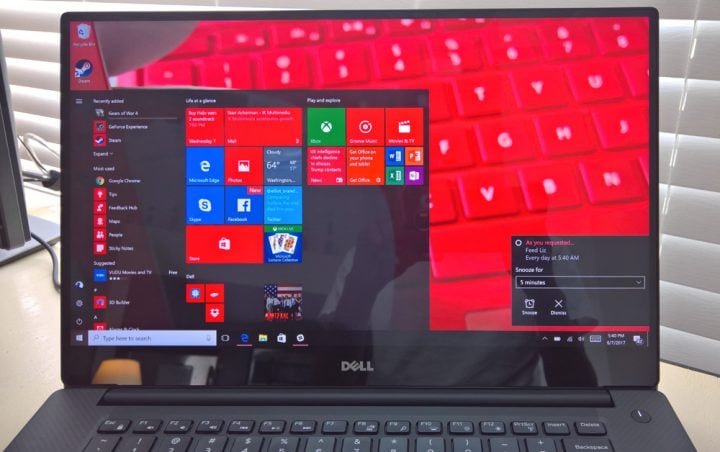 Gotta Be Mobile's review unit had high-end internals. It came with the 4K display, Intel Core i7-7700HQ processor, 512GB of solid-state storage, 97Whr battery, 16GB of DDR4 RAM. It had the optional fingerprint reader for Windows Hello. An NVIDIA GTX 1050 graphics card with 4GB of dedicated RAM was inside, too. Getting features costs shoppers $2174.
Shoppers can add as much as 32GB of RAM online. Intel's Core i3 and i7 processors are available there, too. Buyers worried about weight can replace the 97Whr battery with a 56Whr battery. Doing that drops the notebook's weight by half a pound.
Every 2017 Dell XPS 15 has an HDMI port, 2 USB 3.0 ports, a headset jack and an SD card reader. Its Thunderbolt 3 port can handle up to two 4K displays and dozens of accessories with just one cable.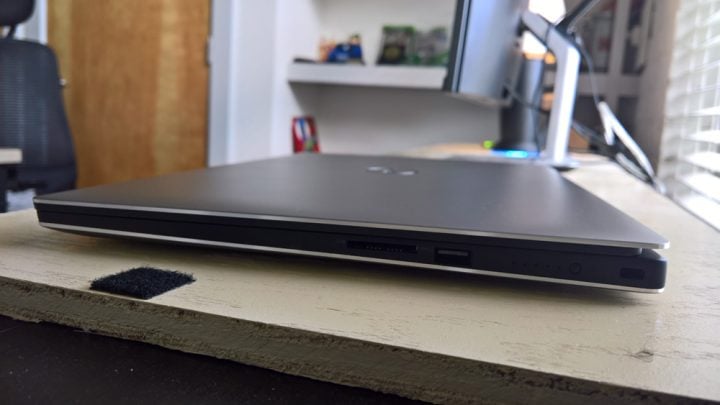 2017 Dell XPS 15 Review: Experience
This notebook makes a good case for why PC buyers should wait for hardware refreshes if they can. I own the last generation Dell XPS 15 with the 4K display. I love the laptop, but I have some qualms with it.
Even in the most basic of programs, the previous version's fan spins loudly. The keyboard gets very warm when playing games or rendering video. The trackpad buttons are loud and multi-touch gestures don't always work the first time. Its lack of Windows Hello login forced me to adopt a passcode rather than type my complicated password into Windows 10. It can't last a day on a single charge.
The 7th Generation Intel Core processors run cool and quiet in the new XPS 15. Only when attempting to push the notebook with games did I hear the fan come on. While browsing the internet, writing, editing photos and watching videos, I never heard the exhaust pick up.
Adding 4GB of dedicated video RAM allows the XPS 15 to meet the recommended settings for most modern video games, too. I tested the laptop out with Halo Wars 2, Planet Coaster and Gears of War 4. I noticed no stuttering or drops in frame rate on any of these games.
The new precision trackpad has better palm rejection and a slicker surface than the last model. Multi-touch gestures like zooming in on web pages or closing all apps work the first time, every time.
As for the fingerprint reader, I'm just glad to have it. I thought its small size would make using it a chore, but it wasn't. The notebook didn't ask me to shift my finger or try multiple times.
The laptop's 4K touch-screen display is so vibrant and bright that it still puts my Surface Pro 4 display to shame. Even setting the display to 0% brightness gets you a screen that's bright enough to work on in a room filled with light. The panel's contrast makes the colors in video and pictures pop. I watched the latest season of House of Cards with 100% brightness in 4K and hated to go back to my HD television for the last few episodes.
The 2017 Dell XPS 15's speakers are fantastic. New MaxxAudioPro software puts you in control of their bass and levels. They can fill any room with sound.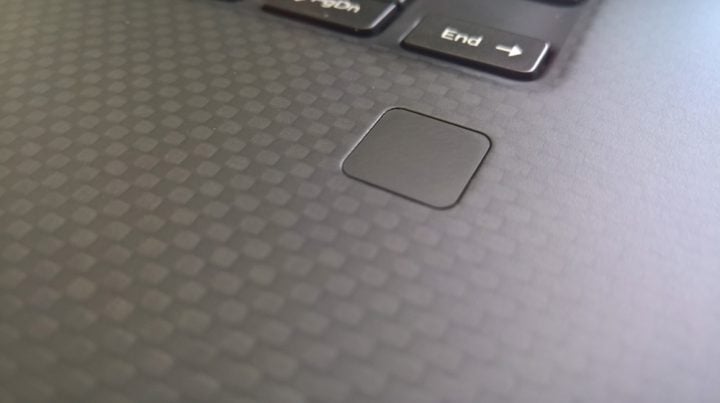 Creating on this PC is enjoyable. When working in Adobe Photoshop, you know that the colors you're seeing on your screen are what they'll be for your final project. The display has a 100% Adobe RGB rating and powerful software to get the tones and color your project requires. You'll never need a dongle to connect to get pictures off your phone or DSLR. It has USB 3.0 and a media card reader. Music makers, photographers and videographers can easily add more storage space and room to multitask through the Thunderbolt 3 port.
Dell tells users to expect around 19 hours of battery life from the XPS 15 with FHD HD display and 97Whr high-capacity battery. The company says that the same configuration lasts for 12 hours of Netflix streaming.
My real-world tests confirm that battery life is spectacular on the 4K model with the high-capacity battery. With 25% brightness, a web browser and Slack open, it managed 9 hours. The laptop lasted 11 to 12 hours of battery life with 50% brightness. 4K displays are big power hogs, which accounts for the differences in battery life between the two models. I'm confident that you'll worry a lot less about finding a wall outlet with the new XPS 15 than some other laptops.
Only the 720P web camera on the front bezel disappoints. Video looks grainy. Count on adjusting the display to avoid video calls with more of your hand than your head.
2017 Dell XPS 15 Review: Specifications
Processor & Graphics
3.8 GHz 7th Generation Intel Core i7 processors

(Core i3 and Core i5 Options)

Intel HD Graphics 630

NVIDIA GTX 1050 Graphics with 4GB of RAM Option

Memory & Storage
16GB of DDR4 2400 MHz RAM

(Up to 32GB of RAM Optional)

512GB Solid State Drive

(256 SSD, 1TB SSD and Hybrid Drive Options)

Display
15.6-inch 3840 x 2160 UltraSharp 4K UltraHD Touch Display

15.6-inch 1920 x 1080p FHD Display without Touch

Ports & Extras
·       Killer 1535 Wireless AC

(Intel 8265 Wireless AC Optional)

·       Thunderbolt 3

·       HDMI 1.4

·       2 USB 3.0 Ports

·       Headset Jack

·       Memory Card Reader

·       Kensington Lock Slot

·       Stereo Speakers

·       720 Web Camera

·       Backlit Keyboard

(Optional 97Whr High-Capacity Battery)

Battery Life
19 Hours of Battery Life for Model with FHD Display and High-Capacity Battery

12 Hours of Battery Life for Model with 4K Display and High-Capacity Battery

Dimensions & Weight
0.66-inches x 14.06-inches x 9.27-inches

4.0-lbs with Standard Capacity Battery

4.5-lbs with High Capacity Battery
2017 Dell XPS 15 Review: Should You Buy?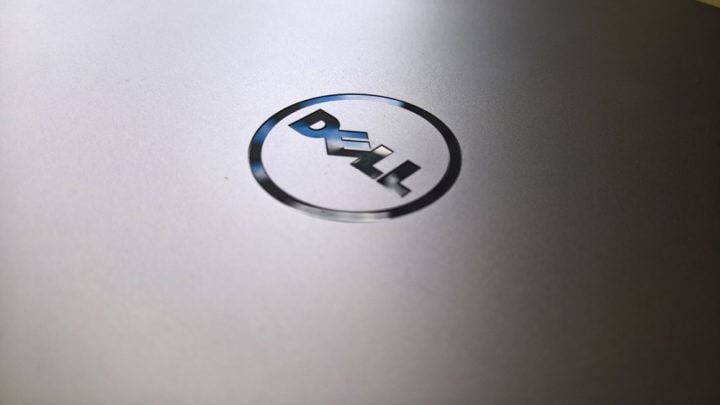 Upgrading the graphics processor, putting an end to the fan noise and bumping up battery capacity has made this great laptop an amazing laptop.
The 2017 Dell XPS 15 has no clear pitfalls. It's sturdy and highly configurable. The new graphics card makes it an obvious choice for creators and PC gamers than last year's model. Great speakers and the amazing display help it to keep its crown as a best-in-class way to watch videos and listen to music.
Unless its $999 minimum price tag is a concern, there's no reason why anyone looking for a premium laptop shouldn't consider the 2017 Dell XPS 15 as their next Windows PC. It's a terrific laptop.