2018 9.7-inch iPad: 5 Things to Know
Apple announced the first new iPad of 2018 today at an education event held in Chicago. This cheap iPad supports the Apple Pencil, is available with LTE and there's even a special price for schools. While unveiled at an education event, anyone can buy the 2018 9.7-inch iPad and it's already shaping up to be an excellent deal for budget tablet buyers thanks to huge upgrades over the earlier model.
This is what you need to know about the new iPad with a 9.7-inch Retina Display, the cheapest iPad you can buy in 2018.
2018 9.7-inch iPad Price
The 2018 9.7-inch iPad price is $299 for schools, but you will have to pay $329 to pick one up for yourself.
There is another model that you may be interested in. The 9.7-inch iPad with LTE is available for $459 at Apple, authorized retailers and carriers. This model includes an always on data connection that can share the data that your phone uses. You can connect this to your plan for $10 to $20 a month.
2018 9.7-inch iPad Release Date
The new 9.7-inch iPad is on sale today at Apple and will be available at Best Buy, Target, B&H Photo, MacMall, carriers and other retailers soon.
The new iPad ships later this week and will be on sale in stores later this week as well. Don't go to a store today to buy a 9.7-inch iPad unless you want the older model at the same price.
2018 9.7-inch iPad & Apple Pencil
This new 9.7-inch iPad is the cheapest iPad that works with the Apple Pencil. You don't need a new version of the Apple Pencil, so you can even pick one up used and start using it on the 2018 iPad. This is a major upgrade as this was an iPad Pro only feature. The Apple Pencil is $99, but is available to schools for $89.
With the Apple Pencil users can write, draw and interact with apps. Apple announced that the iWork apps including Pages, Numbers and Keynote will support the Apple Pencil. Apps like Microsoft Office, Notability and many others support the Apple Pencil. You can buy the Apple Pencil at Apple or Best Buy.
2018 9.7-inch iPad Features & Specs
In addition to supporting the Apple Pencil and LTE, there are a lot of great features packed into the new iPad. The 2018 iPad includes the following features;
9.7-inch Retina Display
A10 Fusion Processor
Stereo Speakers
Split Screen Multitasking
Full AR Support
Touch ID
8MP Rear Camera
FaceTime HD Camera
WIFi & LTE
10 Hour Battery Life
Bluetooth
3.5mm Headphone Jack
Apple Pay Support
The iPad also supports Bluetooth keyboards, bluetooth speakers and bluetooth headphones. With a huge screen the new 9.7-inch iPad offers a more immersive Augmented Reality experience than phones do.



2018 9.7-inch iPad Colors
The 9.7-inch iPad is now available in three color options. You can buy the 2018 iPad in silver, space gray or the new gold color. While Apple sold the older model in gold, this is an updated hue, that matches the gold available on the iPhone 8 and iPhone 8 Plus.
2018 9.7-inch iPad Deals
There are no 2018 9.7-inch iPad deals yet. You may see some retailers clear out the older models with a slight discount, but the newer iPad is a way better value even at full price.
We expect to see some 2018 iPad deals around graduation time and during the back to school push later this year. You can also expect to see some carriers offer $100 to $150 off the 9.7-inch iPad with LTE when you buy a new iPhone.
Best 9.7-inch iPad Cases (2017 & 2018 iPad)
STM Dux iPad Case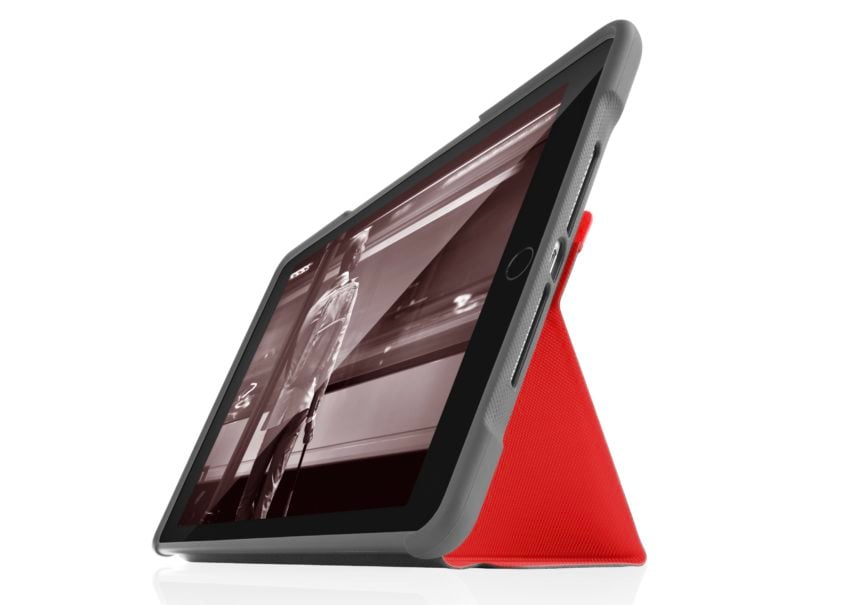 The STM Dux iPad case is an excellent option if you need a 9.7-inch iPad case that wraps up the iPad completely and can stand up to being used by a kid.
I handed this case off to a young tester to put through the paces and after about a month of use his iPad looks like new, despite it going almost everywhere and taking a drop or two during the test.
There is a front flap that protects the screen when carrying the iPad, and it folds up to allow you to use it as a kickstand that is pretty sturdy thanks to slots that lock it into place in kickstand mode.
This is an excellent iPad case, and one of the best options you will find if you are handing a kid a new 9.7-inch iPad.
$59.99 at Amazon