2019 Walmart Black Friday: 7 Things You Need to Know
We're quickly approaching the start of Walmart Black Friday 2019 sales and it is shaping up to be one of the biggest months, of deals on gadgets, games, tech and everything that the retailer sells. When you look at deals, the Walmart Black Friday ad is always one of the most sought after, and it's kept under tight wraps.
Once November rolls around you'll start to see early Walmart Black Friday ads appear and deals go live online and in stores. We typically see small price wars between Amazon, Walmart, and Best Buy; which can all mean great savings for shoppers.
This is what you need to know about the 2019 Walmart Black Friday ad, expected deals, when the sales will go live and what to keep in mind about the Cyber Monday deals that follow along closely.
When Will the 2019 Walmart Black Friday Ad Arrive?
We've already seen one 2019 Walmart Black Friday ad leak online, but it looks a little off, and is incomplete. Typically Walmart is very good at locking down the leaks, and it just isn't worth it for people to lose a job or face punishments over leaking the ad. Combined with the fact that Walmart shares the ad directly with shoppers well ahead of Black Friday, and it simply isn't worth trusting the leaks.
You should expect to see the official Walmart Black Friday ad arrive during the week of November 4th. Last year Walmart shared information on November 8th, and this year there is a good chance that the news comes on November 7th.
When do Walmart Black Friday Deals Start?
Walmart will kick off some Black Friday deals as soon as they announce the ad. Last year they started with 18 Walmart Black Friday deals as soon as the announcement went live. These were on Walmart's website, and we expect the same this year.
Expect to see 15-20 early deals as part of the 2019 Walmart Black Friday ad release and then you can count on more deals to drop daily in the lead-up to Black Friday and Thanksgiving Day.
Walmart Black Friday Hours in 2019?
The Walmart Black Friday hours actually kick off on Thanksgiving day. While Walmart doesn't normally close for Black Friday, they do start lining people up and setting up the crowd ahead of an evening start time on Thanksgiving.
Expect to see Walmart Black Friday hours as follows;
2019 Walmart Black Friday Online Sales start – 10 PM Eastern November 27th.
Walmart Thanksgiving Deals Start – 6 PM local time
Phone Activations Start – 8 PM local time.
While we've seen Walmart deliver some Friday only deals in the past, but last year they focused everything on Thanksgiving.
Walmart Black Friday 2019: In-Store vs Online
Walmart loves to deliver Black Friday deals online and in stores, so you can count on a mix of sales across the two shopping methods. In 2018 we saw Walmart kick-off online deals at 10 PM eastern the night before Thanksgiving, and that is something that will likely continue this year.
You can count on seeing many of the Walmart Black Friday doorbusters online during the evening and during Thanksgiving Day. The one catch in the past has been Walmart Black Friday phone deals, which only appeared in store.
This year Walmart started selling more phones online, so we could see some of the big 2019 iPhone Black Friday deals appear online this year for some carriers.
What Will the Biggest 2019 Walmart Black Friday Deals Be?
There are several things that you can count on seeing in the 2019 Walmart Black Friday ad. Here are the biggest deals we expect at Walmart this year. While the actual pricing won't appear for a few weeks, this will help you get an idea of what to expect.
4K 65-inch TV – Below $400
4K 55-inch TV – $250
iPhone 11 & iPhone 11 Pro – $200 to $300 Gift Card or BOGO Deals
Samsung Galaxy S10 & Note 10  – $300 Gift Card
PS4 Pro – Close to $300
Xbox One X – Close to $300
Xbox One S – $150-175
Nintendo Switch – $275 + Bundles
PS4 Slim – $150-$200
Chromebook and Laptop deals as low as $99
Huge discounts on streaming TV devices and smart speakers
Keep in mind that deals may be limited in quantity, so if you see one in-store or online, you should grab it and then you can decide if you actually want it.
Walmart Black Friday Pre-Black Friday Party
Last year Walmart kicked things off with a Light Up Black Friday party from 4-6 PM with coffee, hot chocolate and cookies. This is something that Walmart could continue this year in an effort to lure more shoppers into the stores. In 2018 the retailer prepped four million cups of coffee and 2 million Christmas cookies.
Walmart Black Friday Black Friday Maps
One of the things that Walmart does really well is telling you where the deals are in the store with Black Friday maps. There will be some maps in stores, but the best way to get the map is on the Walmart app.
Starting at 4 PM on Thanksgiving Day, you can expect to see the map switch from a standard store layout to an easy way to see where the Walmart Black Friday deals are. These maps typically show the top 5-10 deals.
2019 Walmart Black Friday Ad: 5 Things to Expect in 2019 & 2 Not To
Don't Expect a Valid 2019 Walmart Black Friday Ad Leak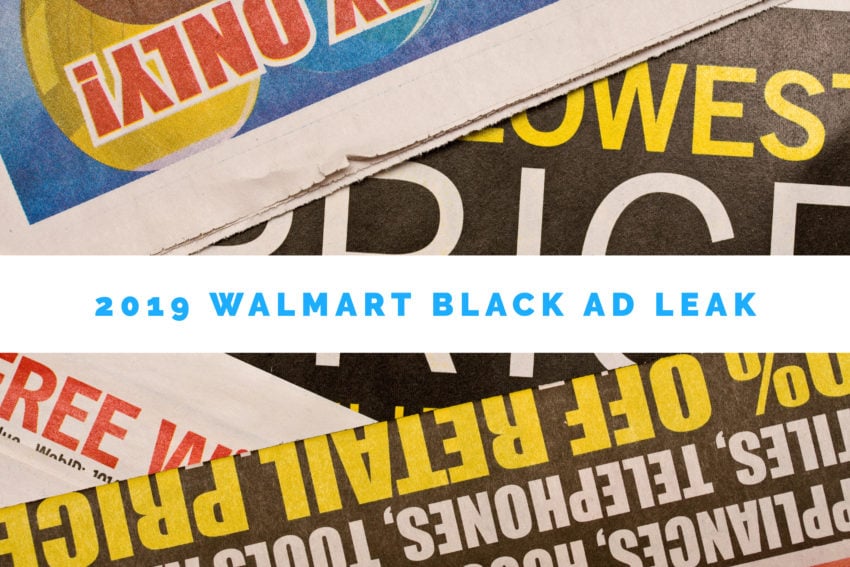 We've seen one reported Walmart Black Friday ad leak, but it looks too much like the previous Black Friday ad, with not enough information and there's also the fact that Walmart is notorious for lockin down their ad.
While there is a slim chance that ad shows some deals, and they are within the realm of possibilities, you shouldn't expect to see a full leak for the 201 Walmart Black Friday ad.
Instead, Walmart will announce the ad in about two weeks and show you everything that you need to know about the deals, the full ad and even some early deals.

As an Amazon Associate I earn from qualifying purchases.