2020 Nissan GT-R 50th Anniversary & Apollo 11 Share the Day
The 2020 Nissan GT-R 50th Anniversary edition marks 50 years of the GTR, and this weekend is the 50th anniversary of landing on the moon. It's impressive that Godzilla shares an anniversary with a giant leap for mankind, and I was lucky enough to get a special edition 50th Anniversary GT-R in silver with a white racing stripe and all the 50th anniversary trim to take on a space-themed road trip to the Armstrong Air & Space Museum in Wapokenata Ohio.
This iconic sports car shares more than an anniversary with the moon landing, and there's even crossover into the Nissan Murano, which I'll get to in a minute.
After topping off with fuel, we left Findlay, Ohio to caravan to Wapakoneta with the 50th Anniversary and a special 2020 GT-R NISMO. We stopped in a diner on the way to have lunch with Futurist Tobias Buckell where we caught up on space and enjoyed a little greasy spoon while talking cars with other patrons.
From there it was a quick, and yes it was quick thanks to our GT-Rs, drive down to Wapakoneta, OH. As we approached the exit, we could see the dome of the museum and a massive crowd of people celebrating.
This is the home of the Armstrong Air and Space Museum and a National Aviation Heritage Area where a week-long celebration was in full swing. From space shuttle inflatables to quintessential fair food, the museum was the place to be. The whole town basically shut down to celebrate with experiences surrounding the museum and through all of downtown.
According to Google, the Museum was nearly 3 times as busy as a normal Friday and that was easy to see with crowds of all ages enjoying the museum and checking out the awesome space memorabilia, including the aircraft behind our 2020 GT-R 50th Anniversary as shown above.
We checked out the area and while backing in to get the perfect shot of the Museum caught the attention of more than our fair share of onlookers. A 10-year-old with facepaint told me, "you have a cool car," with an appreciative stare at the GT-R.
Even though we're in the middle of a severe heat warning, crowds were drawn to the Museum to celebrate the 50th anniversary of landing a man on the moon. It's exciting to see younger generations enthralled with this feat as we look farther out to Mars and beyond. While I always enjoy the looks, waves, and nods from enthusiasts when testing a cool car like the GT-R, it's even more exciting to see a younger generation look at it like I did when I could only drive it in a video game.
Read: Nissan GT-R Review – From Gaming to Driving Godzilla
There's a lot of space tech that makes its way into Nissan vehicles, some of which is in the 2020 Nissan GT-R, and other parts that are in the Nissan Murano and other vehicles.
Radar-and camera-based ProPILOT Assist driver-assistance technology

LED lighting 

Zero Gravity seats with Temper Foam

GPS-based navigation

Computer software

Lithium-ion batteries 

Heat-resistant brakes 

Studless winter tires 

Exhaust heat shields 

 Satellite radio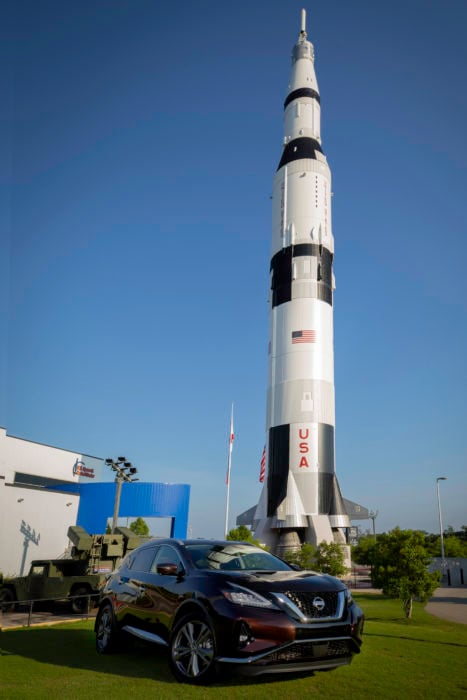 While driving the 2020 Nissan GT-R NISMO and 50th Anniversary trims I definitely feel like I can take flight and probably drew as much attention as if they had pulled a lunar module down Main street. The 2020 GT-R 50th Anniversary uses many of these technologies brought from space down to earth. Both vehicles feature LED lighting and I loved using GPS technology with Waze and Apple CarPlay to make sure the route was clear up ahead. Computer software, exhaust heat shields, and heat resistant brakes all round out the tech that originally protected astronauts and now delivers better performance and safety in cars.
The 2020 GT-R doesn't feature Pro-Pilot assist or Zero Gravity seats, but this tech is amazing when you're driving on a long trip. These are part of the Nissan Murano, Maxima and other vehicles. Pro-Pilot assist uses radars and cameras to deliver semi-autonomous driving that will keep you with the flow of traffic and in your lane. It's awesome for highway driving.
The Zero Gravity seats with Temper Foam are some of the most comfortable seats you will find in a car or SUV. These aren't in the GT-R, which features stiffer seats with bolsters to keep you in place during dynamic driving, but when you sit on one of these in a Murano or Maxima you'll fall in love with it.