4 Reasons To Buy the 2019 iPod Touch & 3 Reasons Not To
"Should I buy the new iPod touch?" That's a common question and it's about to be asked more often now that Apple announced the iPod Touch 7th generation. The 2019 iPod Touch which starts at $199 and now is available with the most storage ever in an iPod touch. This is the first major update in years adding a new processor and new features. We'll help you decide if you should buy the iPod Touch in 2019, if you should wait or if you should look at buying something else.
This new iPod touch is available at Apple and will soon be available from retailers like Best Buy and Amazon. We should start to see some deals as these retailers offer promotions and potentially some deals later this year as back to school and Black Friday approach.
The iPod Touch is on sale now for $199, $299 and $399 depending on how much storage you need. Apple offers it in six color options including Product(RED). You can add AppleCare+ to the new iPod Touch for $59, which brings the warranty up to two years and covers accidental damage with a deductible for the same period.
While it was the go to device for kids, the Fire 7 and the 9.7-inch iPad took over that role in recent years as well as parents simply passing down an old iPhone to kids. For some users, these will still be a better option.
Here are the reasons to buy the 2019 iPod Touch;
Buy for AR and Group FaceTime
Buy if You Want a Small Screen
Buy for Kids Who Aren't Ready for a Phone
Buy if You Want a cheap iOS Device
And since this isn't the perfect upgrade, here are the reasons not to buy the 2019 iPod Touch;
Don't Buy if You Want the Latest Features this Fall and Forward
Don't Buy if a Fire & is a Better Fit
Don't Buy if a Used iPhone is a Good Option
We'll walk you through these reasons in more detail below. This is a nice option, but there are plenty of competing devices and options to consider in 2019 — especially with iOS 13 looming.
Buy for AR and Group FaceTime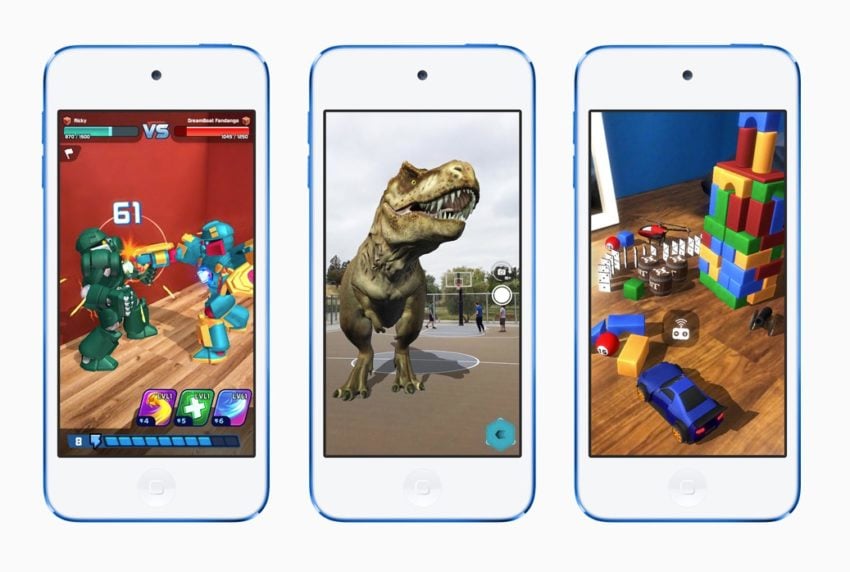 The new A10 processor and upgrades unlock some features for the first time on an iPod Touch. These include AR experiences and Group FaceTime.
If you or your child is interested in Augmented Reality games or learning apps, this is a great reason to buy the new iPod touch. It is the cheapest and most portable way to play AR games and use other augmented reality apps.
With Augmented Reality you look at the iPhone screen as it puts virtual items on the real world around you. It's a fun and cool way to use technology and there are a lot of interesting options.
Group FaceTime is a way you can group video chat with up to 32 people and it is available on the iPod Touch for the first time. You or your kid can use this to chat with friends and family members.
While you can do this on other iOS devices like the 9.7-inch iPad and most recent iPhones, you cannot do either of these on the older iPod Touch.