4 Reasons to Pre-Order Assassin's Creed Odyssey & 3 Reasons to Wait
The Assassin's Creed Odyssey release date is confirmed for October and pre-orders are live for Xbox One, PlayStation 4, and Windows PC. While there are some great reasons to pre-order a copy, there are also some reasons why you might want to hold off.
The Assassin's Creed series is leaving the pyramids and Egypt for a jaunt in Ancient Greece. Assassin's Creed Odyssey is Ubisoft's latest entry into the long-running series, the eleventh main installment, and it will take over for Assassin's Creed Origins as the company's flagship title.
The game puts you into the shoes of a Spartan hero, female or male, as you try and navigate a brutal war between Sparta and Athens.
Like previous games, you'll explore a vast open world that includes quests and familiar faces. The demo included the well-known Socrates and you'll encounter plenty of other famous names along the way.
Unlike previous games, there will be dialogue options that will alter your story. Your decisions will have an impact on the game's storyline and outcome. It also includes massive 150 vs. 150 battles between Athens and Sparta and naval combat on the Aegean Sea.
Fortunately, you won't have to wait too much longer to get your hands on the game.
The Assassin's Creed Odyssey release date is confirmed for October 5th on Xbox One, PlayStation 4, and Windows PC. And with the release just a few days away, some of you might be trying to decide whether to pre-order the game or not. The game is on sale at retailers like Amazon, Best Buy, and GameStop.
In this guide we'll take you through the best reasons to pre-order and some reasons why you might want to wait.
Pre-Order If You Want to Play ASAP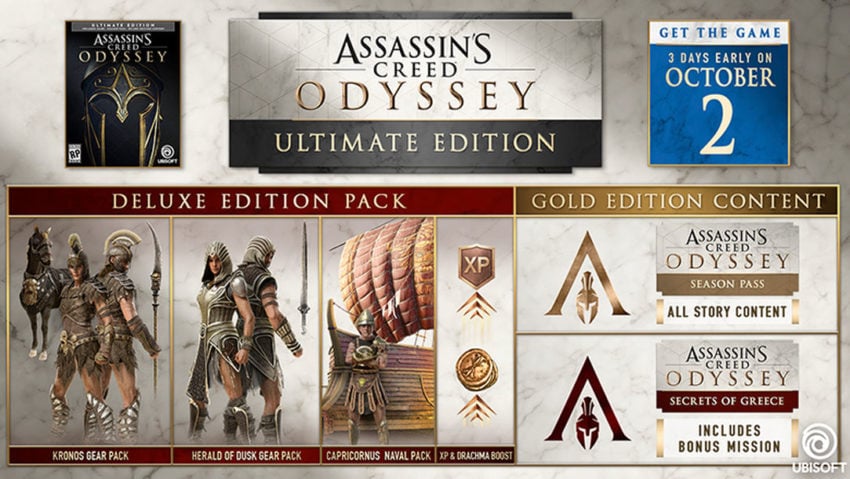 If you love the Assassin's Creed series, loved what you saw at E3, are excited about a trip to Ancient Greece, and want to start playing the game as soon as possible, you'll want to put in a pre-order.
One of the Assassin's Creed Odyssey pre-order perks is an early release date though it looks like it only comes with the expensive bundles.
If you pre-order the standard edition or the Deluxe Edition, you'll get your copy of the game on October 5th.
However, if you pre-order the Gold Edition ($100), Ultimate Edition ($120), Spartan Collector Edition ($160), or the Pantheon Collector Edition ($220), you'll get the game a few days earlier on October 2nd.
If you're rabid fan of the series, want some additional items/collectibles, and have some extra money to burn, think about pre-ordering one of these versions.