4 Reasons to Pre-Order Star Wars Jedi Fallen Order & 5 Reasons to Wait
Star Wars Jedi: Fallen Order pre-orders are live. And while some of you might want to buy the game ahead of its release date, others are better off waiting.
Respawn Entertainment, the developer behind Apex Legends and the Titanfall series, is poised to release its first entry in the long-running Star Wars video game series.
Star Wars Jedi: Fallen Order is a single-player action-adventure game that puts players into the shoes of a young Padawan named Cal Kestis.
It's a departure from EA's Battlefront series which features massive multiplayer battles. Star Wars Jedi: Fallen Order won't feature any micro-transactions either.
The Star Wars Jedi: Fallen Order release date is confirmed for November 15th. It's coming to Xbox One, PlayStation 4, and Windows PC with no plans for Nintendo Switch.
Now that the game is official, retailers are selling it. You can buy it at retailers like Amazon, Best Buy, GameStop, NewEgg, the Microsoft Store, the PlayStation Store, and Walmart.
Some of you, particularly huge fans of the Star Wars series, might want to put in an order right away. If you pre-order a copy right now you'll snag some bonus items and you'll be able to play the game right when it arrives in November.
There are also some reasons to hold off on a pre-order for the time being. We don't have the whole picture yet and it'll take months for EA and Respawn to outline all of the game's key details.
If you're currently on the fence, let us take you through the best reasons to pre-order Star Wars Jedi: Fallen Order right now and the best reasons to put your wallet away and wait.
Pre-Order Star Wars Jedi: Fallen Order for Bonuses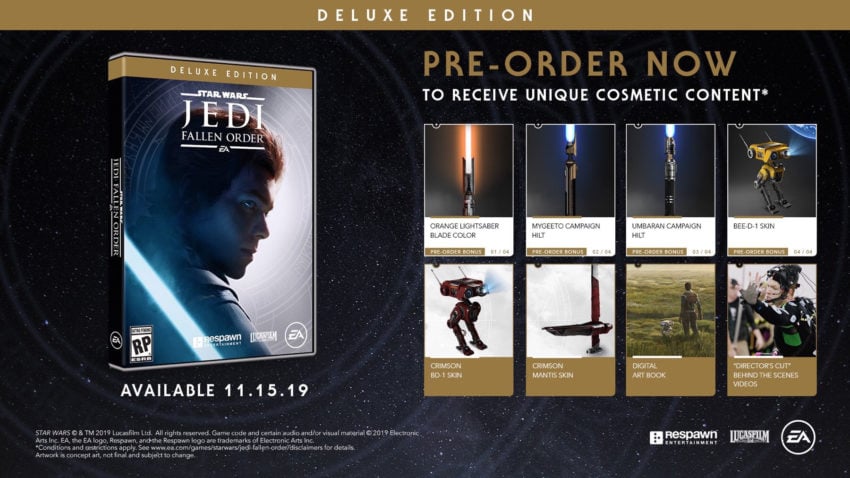 One of the best reasons to pre-order a copy of the game is for the pre-order bonuses.
If you pre-order any version of Star Wars Jedi: Fallen Order before its release in mid-November, you get some bonus in-game items.
These bonus items include an orange lightsaber blade color, a Mygeeto Campaign Hilt, an Umbaran Campaign Hilt, and a Bee D-1 Skin. You can get a look at them in the photo here.
If you pre-order the game for the PlayStation 4, you also get a game-related theme.
If you love customizing the look of your characters, you should think about putting in a pre-order.

As an Amazon Associate I earn from qualifying purchases.