4 Reasons to Wait for the Galaxy Book 3 & 3 Reasons Not To
Samsung might be working on an updated version of its Galaxy Book 2-in-1. With the Galaxy Book 3 now in the rumor mill, we want to take you through some reasons why you might want to wait for it and some reasons why you might want to skip it and go with something else.
If you're looking to buy a new 2-in-1 in July, you've got a lot of options at your disposal. The HP Spectre is an outstanding option and one that we recommend if you're looking to buy this year.
The Lenovo Flex 6 11 is an option if you aren't looking to break the bank and Microsoft's popular Surface line is absolutely worth a look if you're leaning toward a 2-in-1 over a full-fledged laptop or a tablet.
Samsung's Windows 10-powered Galaxy Book 2, which launched late last year, is also an option, especially now that it's a bit cheaper than it once was.
If you're on a budget, you might want to look at Samsung's original Galaxy Book which launched in February, 2017. It's a bit outdated, but it's affordable.
These devices should be on your radar if you're on the hunt for something new, but you should also take note of Samsung's rumored Galaxy Book 3, a new flagship that could land sometime in 2019.
Samsung Galaxy Book 3 Rumors
As of right now, we don't know a whole lot about the Galaxy Book 3. Most of the rumors coming out about Samsung revolve around the Galaxy Note 10 and Galaxy Tab S6.
That said, it looks like the company is gearing up to launch a new model ahead of the holidays which gives you something to think about if you're looking to buy a new device this year.
It probably won't launch in July, but there's a chance it arrives sometime next month or in the weeks after the Galaxy Note 10 launch in August.
While some of you should think about waiting, others are better off going with something else. In this guide we'll help you decide which path is best for you and your budget.
Wait Because the Launch Might Be Weeks Away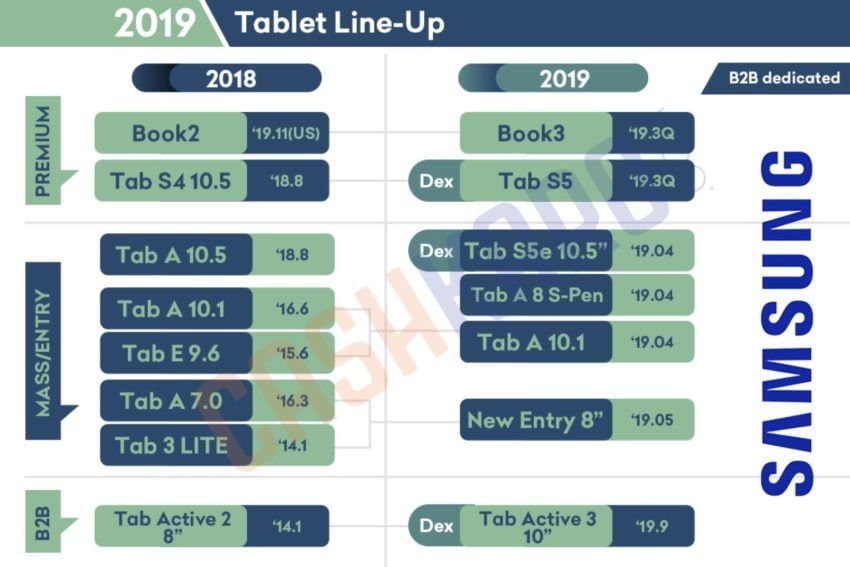 We haven't heard much about the Galaxy Book line since the Galaxy Book 2's launch back in October of last year. That is until earlier this week when CashKaro released what appears to be a Samsung launch roadmap for the rest of the year.
According to the roadmap which, we might add, appears legit, Samsung is planning to launch the Galaxy Book 3 sometime in the third quarter of this year. The third quarter spans from July to September.
Samsung is holding a launch event in New York City on August 7th and the Galaxy Note 10 will most likely be the star of the show. It's unclear if Samsung will use the event to launch other devices.
Last year, Samsung confirmed the Galaxy Tab S4 ahead of the Note 9 event so we could see something similar happen with the Galaxy Tab S6 in 2019.
The company announced the Galaxy Book 2 in mid-October, weeks after the Galaxy Note 9 launch and the end of IFA 2018. The device hit the United States in early November.
Assuming it doesn't get delayed, the Galaxy Book 3 could hit shelves as soon as next month. So if you're even remotely interested in a new Windows-powered 2-in-1 from Samsung, you might want to hang around for a few more weeks.

As an Amazon Associate I earn from qualifying purchases.