5 Exciting Galaxy Note 4 Cases
There are not a lot of Galaxy Note 4 cases available yet, so if you want protection for the Galaxy Note 4 release date you'll need to choose from a limited selection.
We've rounded up five exciting Galaxy Note 4 cases from brands we trust, which are available for delivery by the time you get the Galaxy Note 4 in your hands.
We're still waiting on word about the Galaxy Note 4 OtterBox cases and any waterproof Note 4 cases, but when it comes to overall protection there are several options you can choose from.
AT&T and Verizon don't sell any Galaxy Note 4 cases yet, which means you'll need to pre-order the Note 4 without adding a case to your cart. There is a small selection of exciting Galaxy Note cases available to order today, which should arrive in the next week or so.
Here's a look at the most exciting Galaxy Note 4 cases we found so far, from $10 and up. The $250 Mont Blanc Galaxy Note 4 case isn't available to order yet, so you'll need to hold off on this wallet busting case option.
Samsung announced the Galaxy Note 4 in early September and the Note 4 release date is on October 17th in the U.S. on most major carriers. There are already Note 4 pre-orders on AT&T, Verizon, T-Mobile and Sprint. The Galaxy Note 4 is $299 on every carrier but Sprint, where it is $350. You can also buy the Note 4 on a payment plan for around $35 a month.
Samsung delivers a new metal frame and soft touch back that complement a 5.7-inch Quad-HD display and hide an S Pen. Users can remove the back of the Note 4 to access the battery and a Micro SD card. Some cases also snap on as a replacement back.
Here's a look at the most interesting Galaxy Note 4 cases you can buy now.
5 Exciting Galaxy Note 4 Cases
Samsung Galaxy Note 4 S View Case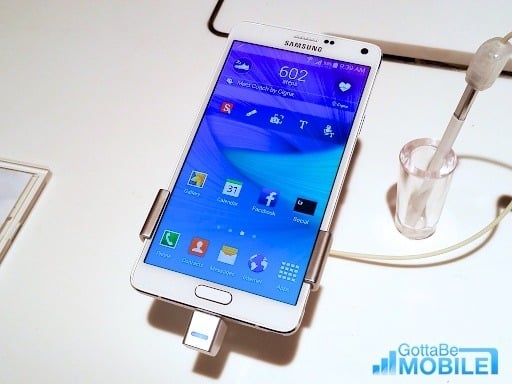 The official Samsung Galaxy Note 4 cases include a Galaxy Note 4 S View case with an opening on the front that shows notifications, the clock and other details like the weather and pedometer infromation.
When you get a call or text it will show through the small window so you can accept or ignore. You can also activate a quick camera that takes a square photo. When you answer a call you can leave this closed to prevent grease or makeup from getting on the display.
Samsung offers the Note 4 S View Cover in eight color options including white, smooth white, charcoal black, smooth black, gold, smooth pink, pink, plum and mint.
The best place to buy the Galaxy Note 4 S View Case so far is MobileFun where it is $54.95 and expected to ship in 3-5 days.

As an Amazon Associate I earn from qualifying purchases.