5 Reasons I Upgraded from the iPhone X to the iPhone XS Max
Here are the reasons I upgraded from the iPhone X to the iPhone Xs Max;
For a Bigger Screen
New Camera Features
Better Face ID
Stereo Sound
Better Water Resistance
The iPhone Xs Max is the biggest iPhone ever, and it was enough to convince me to upgrade from the iPhone X. Here's why I upgraded from last year's iPhone even though there aren't a ton of changes.
There are a lot of cool things the iPhone Xs Max can do, which helps cement the decision. There are a lot of reasons to upgrade from an older iPhone like the iPhone 7 Plus, but not as many if you own the iPhone X. While you get many of these features if you upgrade to the iPhone Xs, it's not as easy of a decision since you're missing out on a bigger display.
There are five reasons I decided to get the iPhone Xs Max, from a features standpoint, and it helped that I was able to upgrade and keep my payments about the same. I sold my iPhone X before the values dropped to a friend, traded in an old Galaxy S5 for a $100 trade-in promo at Verizon and bought the 256GB iPhone Xs Max. With the iPhone X paid off, and about $4.50 in monthly bill credits from trading in the Galaxy S5 my monthly payments are about the same. I just had to pay the tax up front. Look for iPhone Xs deals to get similar upgrade options.
Read: Best iPhone Xs Max Cases
While I am enjoying the phone thus far, it is a big adjustment to go back to a bigger screen from the iPhone X. You should consider going hands on with the phone at a store before you make the switch. Even if you are used to the iPhone 7 Plus, or 8 Plus, this is a bigger screen and will require you to reach further than on any other iPhone. For many users it may be a two-hand device even if the Plus models were usable with one hand.
Upgrade from the iPhone X for a Better, Bigger Screen
The biggest reason to upgrade from the iPhone X to the iPhone Xs Max is the bigger screen. I watch a lot of video and do a lot of work on my iPhone, in addition to using it for videos and photos all the time. A bigger screen means I can get more done.
Instead of bringing an iPad when I travel, I can now get by with the iPhone Xs Max for watching videos from iTunes, Netflix and Hulu. The larger display makes using the new camera features easier and makes an excellent viewfinder.
This larger screen packs in more pixels, better color accuracy and it's also brighter. These all add up to a better viewing experience that looks great in a wide-range of environments.
If you own the iPhone X, and you long for a bigger display this is the phone you want. Just keep in mind you'll need to reach farther to tap on corners and to use some gestures than you would on any of the Plus models.
Upgrade for New Camera Features
I own several cameras including the Sony a6500, but most of the photos I take of friends, family and even cars I review are on the iPhone. It's always with me and it's also my go to device for recording many of our car review videos with a DJI Gimbal. The improved stereo recording and microphones are a nice upgrade.
With new Smart HDR, the iPhone Xs and iPhone Xs Max can deliver better details in highlights and shadows, that come together to deliver better looking photos. It's early, but I'm already enjoying the results of this upgrade.
With the new camera I can also change the depth of field to change the bokeh after I take the picture. This is something I did with Slør on the iPhone X and iPhone 7 Plus, but it's nice to have built right into the editor.
The Portrait Mode Selfies are better, but they aren't perfect yet. I am hopeful that iOS 12.1 will tune this further. I also upgraded to get better low light performance and to capture action better. I take pictures of kids and dogs enough that I need to freeze a moment in time almost every day. I'm looking forward to testing the action performance more as I head to the track soon.
The upgraded front-facing camera now offers more frames per second and includes video stabilization. I use this camera to record videos for our YouTube channel, and look forward to this benefit.
Upgrade for Better Face ID
Face ID is a good alternative to Touch ID, but it is not perfect on the iPhone X. Apple upgrades this on the iPhone Xs and iPhone Xs Max.
Face ID is faster and it is more reliable than the iPhone X in low light and in bed. It is not perfect yet, as I still need to enter my passcode to unlock sometimes when I am laying in bed or at an odd angle.
I use my iPhone in bed more than I should, and I like that I can access the phone faster and more easily with Face ID on the iPhone Xs Max. Face ID still has room to grow, but it's better than on the iPhone X.
Upgrade for Stereo Sound
The iPhone Xs and iPhone Xs Max now support stereo sound. This is a nice feature when listening to music on the iPhone without headphones or a Bluetooth speaker.
While i use my AirPods very often, there are many times when I am walking around the house or when I am traveling and I want to listen to music without headphones or watch a movie.
The iPhone Xs Max stereo sound is a noticeable upgrade from the iPhone X, and it's one that I am glad I have after upgrading from the iPhone Xs.
Upgrade for Better Water Resistance
I don't specifically take my iPhone into the water, but I've accidentally exposed my iPhone X to water and I am around water very often while fishing and doing other outdoor activities.
The iPhone Xs Max isn't waterproof, but it is more water resistant than the iPhone X. This provides a little more reassurance while fishing, wading and using my iPhone Xs Max in the hot tub.
The Best iPhone XS Max Cases in 2019
Tech 21 iPhone Xs Max Cases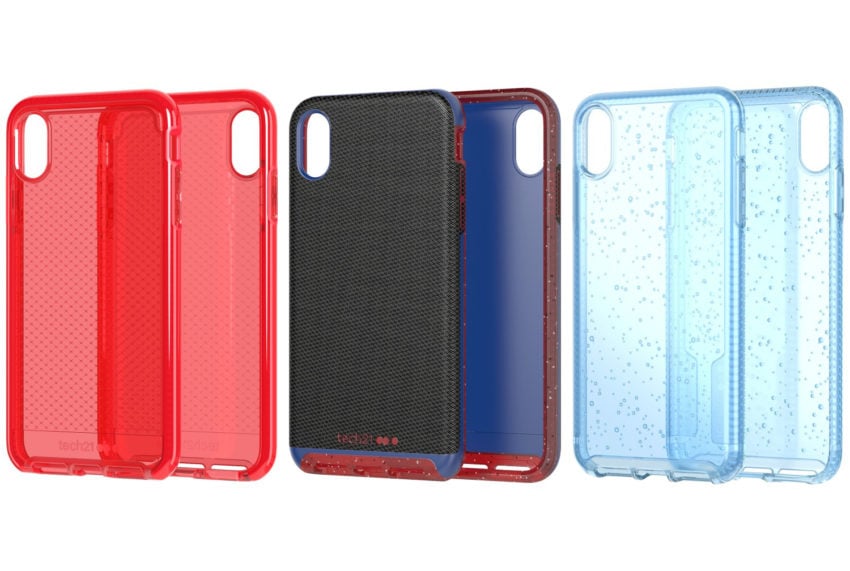 The tech21 iPhone Xs Max cases deliver the protection you'd expect from a rugged iPhone Xs Max case, but in a small and stylish package.
We love the look of the tech21 cases and the sheer number of options that you can get in both style and color. They offer options that show off the iPhone Xs Max color you picked as well as wrap it up in a luxurious faux leather.
Last year I spent a day throwing the iPhone 8 around with a tech21 case on it, and it survived all kinds of abuse. You can watch it in the video below. These same cases are available on the iPhone Xs Max.
&
The various tech21 iPhone Xs Max cases offer 10-12 feet of drop protection while still offering a minimalist design that doesn't add much bulk at all.

Pure Shimmer – Protect. Reveal, with an elegant shimmer. - $39.99
Pure Soda – Protect. Reveal, with a unique twist. - $39.99
Pure Tint – Protect. Reveal, with a hint of colour. - $39.99
Pure Clear – Protect. Reveal.  - $39.99
Evo Luxe (Faux Leather) – Protection meets luxury design. - $54.99
Evo Luxe (Woven Fabric) – Protection meets luxury design. - $54.99
Evo Luxe Active Edition – Break Boundaries. Not your phone. - $54.99
Evo Max – Maximum Protection. - $49.99
Evo Wallet – Travel light. Stay protected. - $49.99
Evo Check – More protection. Refined design. - $49.99
The tech21 iPhone Xs cases range from $39.95 to $54.99 and come in a range of color options. You can buy them at tech21 and you'll find some models available at Best Buy and at carriers.

As an Amazon Associate I earn from qualifying purchases.