5 Walmart Black Friday 2014 Deals to Avoid
The Walmart Black Friday 2014 deals are public and you can start planning your shopping trip with the Walmart Black Friday 204 ad, and perusing early Black Friday deals. Walmart is the source of some of the Best Black Friday deals around, like an iPad mini for $199 plus a $30 gift card guaranteed from 6-7 PM on Thanksgiving in the specific area to shoppers who get a ticket and an incredible Xbox One deal, but there are some deals that shoppers should avoid altogether.
Doorbuster deals, even those that Walmart guarantees for Black Friday 2014 are designed to lure you in the door with deep discounts, but many times the deal is not as good as it seems.
After analyzing the Walmart Black Friday 2014 ad it's clear that overall Black Friday and Thanksgiving Day deals are much better than in 2012 and 2013, but there are still many mediocre products with poor reviews.
Update: Clarified pricing and the 1 Hour Guarantee details. 
Looking through the Walmart Black Friday 2014 ad we discovered several bad buys. Traditionally CVS or a department store with no business selling tablets or gadgets takes the honor of the worst Black Friday deal, but there are still several deals in the ad that you should not wait in line for or even buy online.
Walmart Black Friday 2014 Deals to Avoid
Check out the worst Walmart Black Friday 2014 Deals you can buy this year. Based on reviews, price and what they offer you should not skip Thanksgiving dinner for these deals.
RCA 7″ Google Play Wi-Fi Tablet
At first glance the Walmart RCA 7″ Google Play Wi-Fi Tablet looks like a good deal, but user reviews offer a lot of complaints and the screen is not up to par with competing tablets.
The good news about this tablet is that it is ready for Google Play so you can download apps just like any other Android tablets, and there is a Micro SD card slot to add storage and there is even Android 4.4 on the tablet. So far that's good, but the quality starts to drop from there.
The Walmart Black Friday 2014 ad doesn't list a model number, but it is likely the RCA RCT6773W22 7-inch Google Certified tablet or a very similar configuration just for Black Friday.
You're looking at a 1024 x 600 resolution screen, which is very low compared to most other tablets on the market. This means text and graphics won't look as good as on your phone or HDTV. Specifically you'll see pixels in the text and graphics.
Users also complain about touchscreen and WiFi problems. A user review for this tablet with a keyboard complains, "Does everything just about right. Touch screen is difficult and non responsive often. Stalls sometimes if WIFI signal is 50 or below"
Looking at other RCA 7-inch tablet reviews turn up complaints about battery life dropping to 30 minutes, from an advertised four hours.
There are also numerous complaints about the tablet breaking after two to three months and RCA asking users to pay for shipping to get it fixed or replaced.
McAfee Antivirus Protection Software
Walmart Offers McAfee Antivirus Protection for just $9.99 on Black Friday. This is a savings of $50 off the regular price, but you don't need to pay for this service.
Windows 8 and Windows 8.1 includes free antivirus protection built-in and integrated with your computer. This solution is free and it won't try to sell you other services after the initial subscription runs out.
Other features that McAfee includes, to show if a search result is safe, are built in to most browsers right now. If you are using a Windows 7 computer you can download Windows Defender free.
Black Friday SD Card Deals
Walmart offers two SD card deals for $5 and $10 with 16GB and 32GB of storage. The value is good, but you shouldn't waste time on Black Friday looking for these in the store when there are much bigger savings out there.
You can buy [easyazon_link cloaking="default" keywords="SD cards" localization="default" locale="US" nofollow="default" new_window="default" tag="gbm-ea-20″]SD cards from Amazon[/easyazon_link] for just a few dollars more, and we'll see many online SD card deals. Black Friday deals are about finding big discounts that justify waiting in line and spending time away from the Thanksgiving tablet.
Black Friday USB Deals
The Walmart Black Friday 2014 ad includes a $5 16GB USB drive, which is a good deal overall, but again you don't need to spend time on Black Friday looking for deals that save you only a few dollars over buying online.
If you look on Amazon, you can find 16GB USB drives for as little as $8 without waiting in lines or dealing with crowds.
HDMI Cables
Forget buying an HDMI cable on Black Friday. You'll pay more than if you buy online through Amazon and you'll be wasting your time when you should be looking at bigger deals like a new HDTV that offers hundreds in savings or other items that are worth buying. Amazon offers a comparable HDMI cable for $6.
Walmart Black Friday Surprises
In a surprise, there are many more good and great Black Friday deals at Walmart. This includes the $249 HP touch screen notebook on Thanksgiving Day and the $159 15.6-inch HP notebook available at 8PM Thursday with Intel Celeron, 4GB RAM and a 500GB Hard drive. Even the 10-inch RCA Pro tablet reviews are overall positive.
Even though they may not be the best Black Friday deals, these surprises no longer warrant the caution that cheap Black Friday notebooks and tablets required for the last several years.
Black Friday 2014 Deals & Ads
Walmart Black Friday 2014 Ad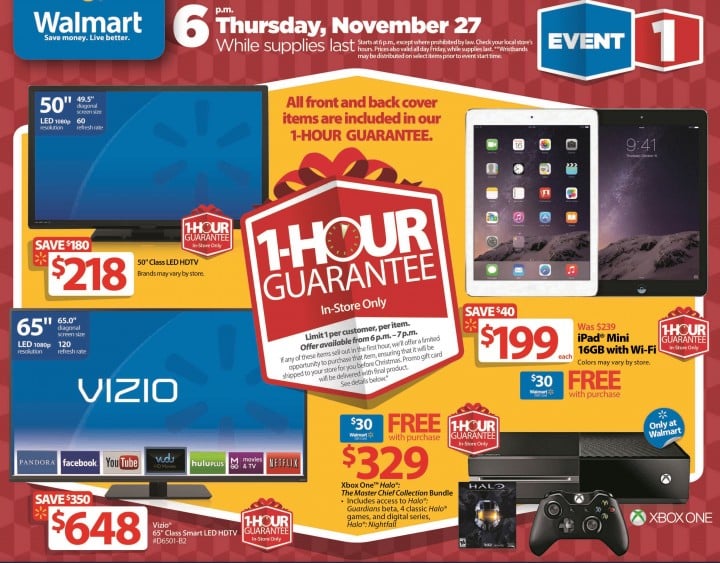 Walmart Black Friday 2014 deals start at 6PM on Thanksgiving and roll all the way through Cyber Monday. There are three specific events on Thanksgiving and Black Friday 2014, including nine 1 Hour Guarantee items that are in stock or you can get it by Christmas at the Black Friday price.
This includes a 65-inch Vizio HDTV for $648, the Xbox One with Halo for $299 after gift card rebate and an iPad mini for $169 after gift card.
You can check out more details on how the Walmart Black Friday 2014 1 Hour Guarantee will work. Duncan Mac Naughton, chief merchandising officer at Walmart states, "We've taken significant steps to improve the 1-Hour Guarantee process from beginning to end. It's simple and seamless."
Walmart beat our Xbox One and PS4 Black Friday 2014 predictions with big savings on the Xbox One and the PS4 GTA 5 and The Last of US Remastered bundle for $399. Here's a look at the nine guaranteed in stock items for 2014.

50" Class LED HDTV for $218 ($180 savings)
Vizio 65" Class Smart LED HDTV for $648 ($350 savings)
Apple iPad Mini 16GB with Wi-Fi for $199 with a $30 Walmart Gift Card ($70 value)
Xbox One Halo "The Master Chief Collection" Bundle for $329 with a $30 Walmart Gift Card
RCA 7" Google Play Wi-Fi Tablet for $29 (special buy)
Samsung Galaxy Ace Style on Straight Talk Wireless for $29 ($100 savings)
LG Blu-ray Disc Player for $35 (special buy)
Beats by Dr. Dre Wireless Headphones for $149 ($130 savings)
HP Intel Celeron Touch Laptop for $249 (special buy)

You can see the full Walmart Black Friday 2014 ad and deals online now. Wlaamrt will post store maps on November 18th and share more detials as the event approaches.

As an Amazon Associate I earn from qualifying purchases.