6 Exciting Android Tablets for 2013
Last year, we saw a host of exciting Android tablets emerge from the shadows, a lineup that included the Nexus 7, Nexus 10, the Asus Transformer Pad series and more. We are expecting more of the same from Android in 2013 as manufacturers try and wrestle away the iPad's stranglehold over the tablet market. Here, we take a look at six exciting Android tablets that are either already announced or are rumored to be making a debut this year.
Read: 6 Exciting Tablets for 2013.
While Apple's iPad is still the king of the tablet market, Android didn't go down lightly in 2012. In fact, the year saw some of the best slates that Android has ever produced arrive on shelves in the form of the Asus-built Nexus 7, a 7-inch tablet with vanilla Android, a solid build and a quality price. Tablets like the Nexus 10, also a Nexus tablet, with a high-resolution display, and a cheap price. And tablets like the Transformer Pad series which brought quality build designs, powerful hardware and swift updates to Android Jelly Bean.
In fact, Asus was faster to Jelly Bean than Sprint and Verizon were with their Galaxy Nexus smartphones. Of course, those weren't the only Android tablets to emerge in 2012. Those are only a taste. That said, while there is quite the quantity of Android tablets on the market, we certainly have seen an increase in quality and this year should prove no different.
Already, we've seen a number of Android tablets rumored to be on their way during 2013. We've also seen a few others announced already, waiting in the wings to take on the likes of the iPad, iPad mini, and Windows 8 for the hearts and minds of customers around the world. Suffice to say, there will be no shortage of Android tablets in 2013. But which do we find to be 2013's most exciting?
Let's take a look.
Nexus 7.7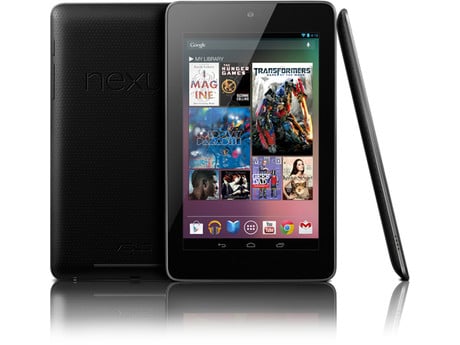 The Nexus 7 was one of the most popular Android tablets of 2012 combining high-end specifications with a cheap price and vanilla Android software. So, it should come as not surprise that Google is working on another Nexus 7 tablet only this time it's apparently working with LG.
Read: LG, Google to Cozy Up Again with New Nexus 5, Nexus 7.7?.
The LG-made Nexus 7.7 is rumored to be the successor to the Nexus 7 and it looks like it could bring a larger display to go along with upgraded specifications.
The Nexus 7.7 is rumored to have 1920 X 1200-pixel resolution with 294 ppi, a Tegra 4 CPU from NVIDIA, 8 GB of storage. Rumors also claim that the slate will also have front-facing and rear-facing cameras.
It's evidently headed to Google I/O, set to kick off in late May, which is the same event where the Nexus 7 launched last year If all of this is true, this could be one of the most sought after tablets of 2013.