6 Reasons to Install OS X Yosemite Today
The free OS X Yosemite update is available for download bringing new features to even your old Mac. We'll outline six reasons you should install OS X Yosemite today.
After only a little trouble on the OS X Yosemite release date this week, it's time for many users to think about installing the OS X 10.10 update on their Mac.
Apple includes a number of exciting new features in the OS X Yosemite release that users will enjoy, including a new look and better connectivity between the iPhone, iPad and your Mac.
While there are plenty of reasons to install OS X Yosemite today, some users should definitely wait before installing the update. We shared why you shouldn't install OS X Yosemite yesterday, which is a must read for anyone thinking of upgrading from OS X Mavericks or an older version.
There are plenty of reasons to be excited about the OS X Yosemite release, and if you can't wait to use this free upgrade on your Mac we outline six reasons to install OS X Yosemite today.
You're Using the OS X Yosemite Beta
For users who tested OS X Yosemite early through the official OS X Yosemite beta or as a developer running the OS X Yosemite GM, it is a good idea to transition to the final version. There does not appear to be a huge list of changes, but it's better to get on the official OS X Yosemite release now.
You may need to go to Purchases in the Mac App Store to download the update since the computer thinks it is already running the new software.
You need fixes for OS X Mavericks Problems
If you are experiencing a lot of problems on OS X Mavericks, you may want to skip trying to fix them and jump straight to OS X Yosemite. Apple adds many features and there are certainly bug fixes in place that could help solve any lingering OS X problems.
You own an iPhone or iPad
The OS X Yosemite update is a must have for anyone with an iPhone or iPad. If you own an iPhone you can take a call on your Mac, reply to text messages from your Mac that send as if you picked up the iPhone to type it out. Handoff also allows you to quickly switch between the iPhone and the Mac and keep working on an email or a file fast.
You are Prepared to Update
If you are prepared for the OS X Yosemite update then you should start the download and update to OS X 10.10 today.
This includes performing a backup of your Mac, cleaning up your Mac to remove unused apps and files, clearing enough space to complete the update, making sure your apps work on Yosemite and more.
Check out our guide on how to prepare for the OS X Yosemite update.
You Own a Newer Mac
Many of the most exciting OS X Yosemite features are only available on newer Macs. If you own a Mac that is four years old you may not be able to use many of the new features. The main features that only work on new macs are;
Handoff
Instant Hotspot
AirDrop
Check out these details to see what features are available on which older Macs.
You Want New OS X Yosemite Features
Another reason to upgrade is if you want to use all of the new OS X Yosemite features. In addition to the iPhone and iPad connectivity, AirDrop and Handoff there are other great upgrades like a new Spotlight search, better battery life in Safari and many more. Check out a listing of these features in the slides below.
OS X Yosemite Release & Feature Roundup
New OS X Yosemite Design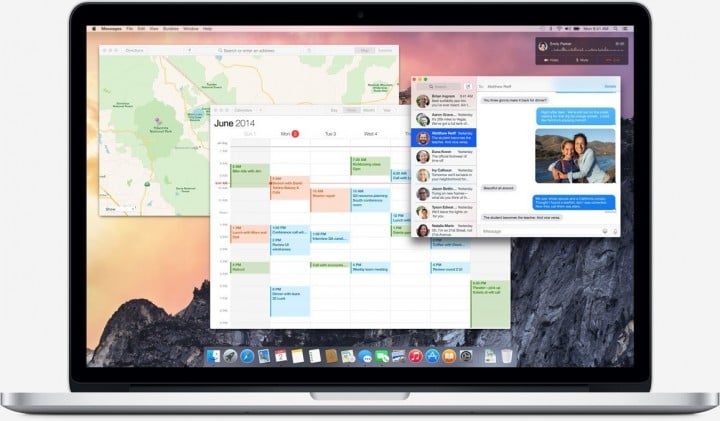 The biggest change in OS X Yosemite is the new look and design. Similar to the visual upgrade the iPhone and iPad received last year this free OS X update brings a new, but familiar look to your Mac.
Apple's new look for OS X Yosemite starts with redesigned buttons, windows and elements. You won't be lost when you open Yosemite, but you will notice a cleaner overall design. There are now translucent areas in some apps that show a blurred view of what's behind and the toolbars are now less cluttered and more useful.
Apple also changes the OS X Yosemite dock and system fonts to make OS X Yosemite look better on a Retina display. Notification Center and Spotlight are also new, which we cover in more detail below.
The OS X Yosemite video above walks through the various changes to OS X Yosemite design.