9 Exciting Things the Nintendo Switch Can Do
It feels like the gaming community collectively spent years thinking of the Nintendo Switch. It certainly, spent a lot of time dreaming about what the new handheld would be able to do, carefully attempting to plot out how Nintendo might be able to convince more people to pick up its next living room console. Fully revealed last Friday, the Nintendo Switch is what the rumors said it would be. It's a living room gaming console that can travel with you anywhere.
Almost immediately after Nintendo's press conference, dedicated fans flocked to snap up any available Nintendo Switch pre-orders that they could get their hands on. That makes sense given Nintendo's track record of not having enough new consoles at launch to meet demand. For everyone else, it's now time to evaluate with the Nintendo Switch is, why they might want to consider purchasing, and how owning one might affect their gaming habits.
Read: Nintendo Switch Buying Guide: Bundles, Games & Accessories
To begin to figure all that out, you need to know what the Nintendo Switch does. You need to understand its strengths. It'd be wise for you to be ready for its weaknesses too. Above all else, you must consider the console's selection of launch titles and every game that Nintendo and its partners plan to release soon after.
Here's 9 exciting things that the Nintendo Switch can do. The Nintendo Switch arrives on store shelves March 3rd.
Go Mobile by Attaching the Nintendo Switch Joy-Con Controllers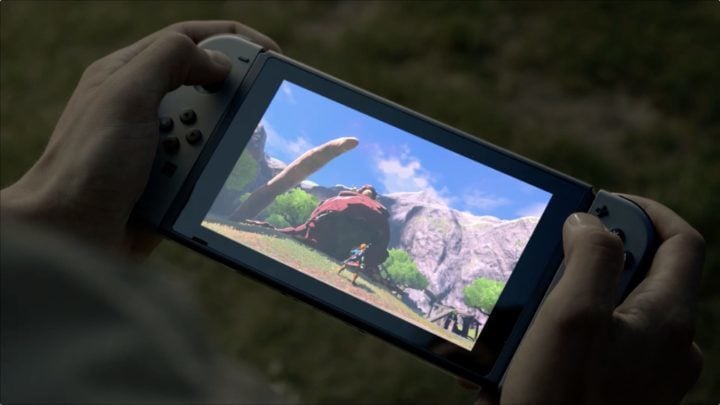 By their very nature, every living room video game console can connect to a television set. Lots of people expected Nintendo's latest entry in the console space to be more traditional than the Wii and Wii U were.
Nintendo decided to take the road less travelled. When docked, the Nintendo Switch behaves like a normal console. There's a wireless controller and support for high-definition televisions. Magnetic strips – Nintendo calls them rails – on the left and right edge of the Nintendo Switch allow you to connect to Joy-Con controllers to either side of the console itself.
By attaching these miniature controllers and lifting the Nintendo Switch out of its dock, you enable a handheld mode that lets you play your games away from your television set for as little as 3 hours and as much 6 hours.
In introducing a hybrid mobile and living room gaming console, Nintendo is trading on its strength in mobile gaming and its popular selection of living room characters. The console gets you the best of both worlds, with only a single hardware purchase.

As an Amazon Associate I earn from qualifying purchases.